The Best Gambling Twitter Accounts
17 May, 2023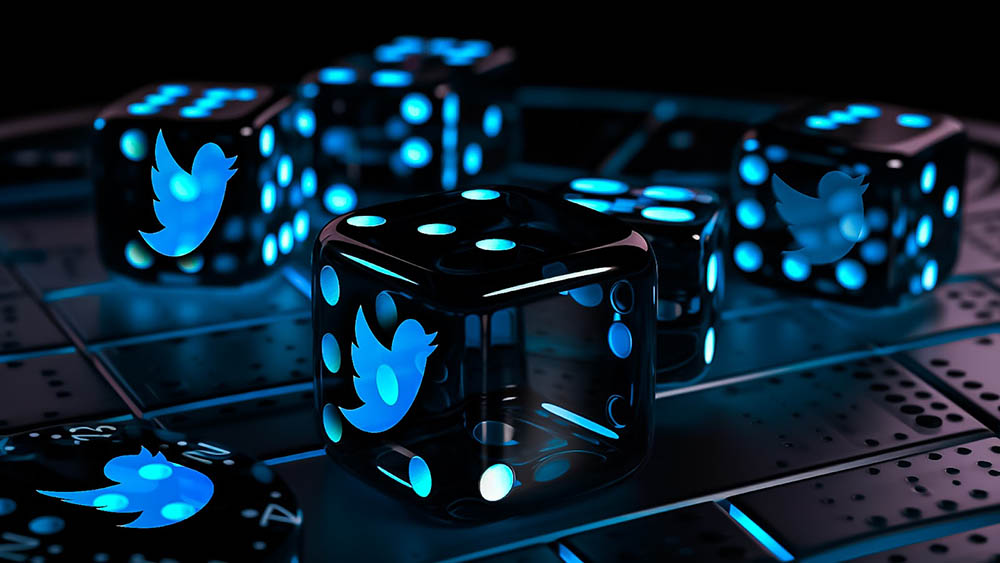 Due to the growth of the online sphere, many iGaming business owners, operators, and marketers are looking for new channels of promotion. In today's world, many turn to social media, such as Twitter to target their advertising to the right audience and achieve maximum results. In this article, we will explore the best gambling-related Twitter accounts that can be beneficial for iGaming projects, publishers, and platforms.
Top-10 gambling Twitter accounts based on the "Gambling/iGaming Twitter Marketing Inventory List 2023" dataset. It is crucial to remember that the list presented in this article is by no means exhaustive. There are 2142 other Twitter influencers and communities related to iGaming out there that are worth exploring.
Please note that the number of followers is accurate at the time of data collection and article writing.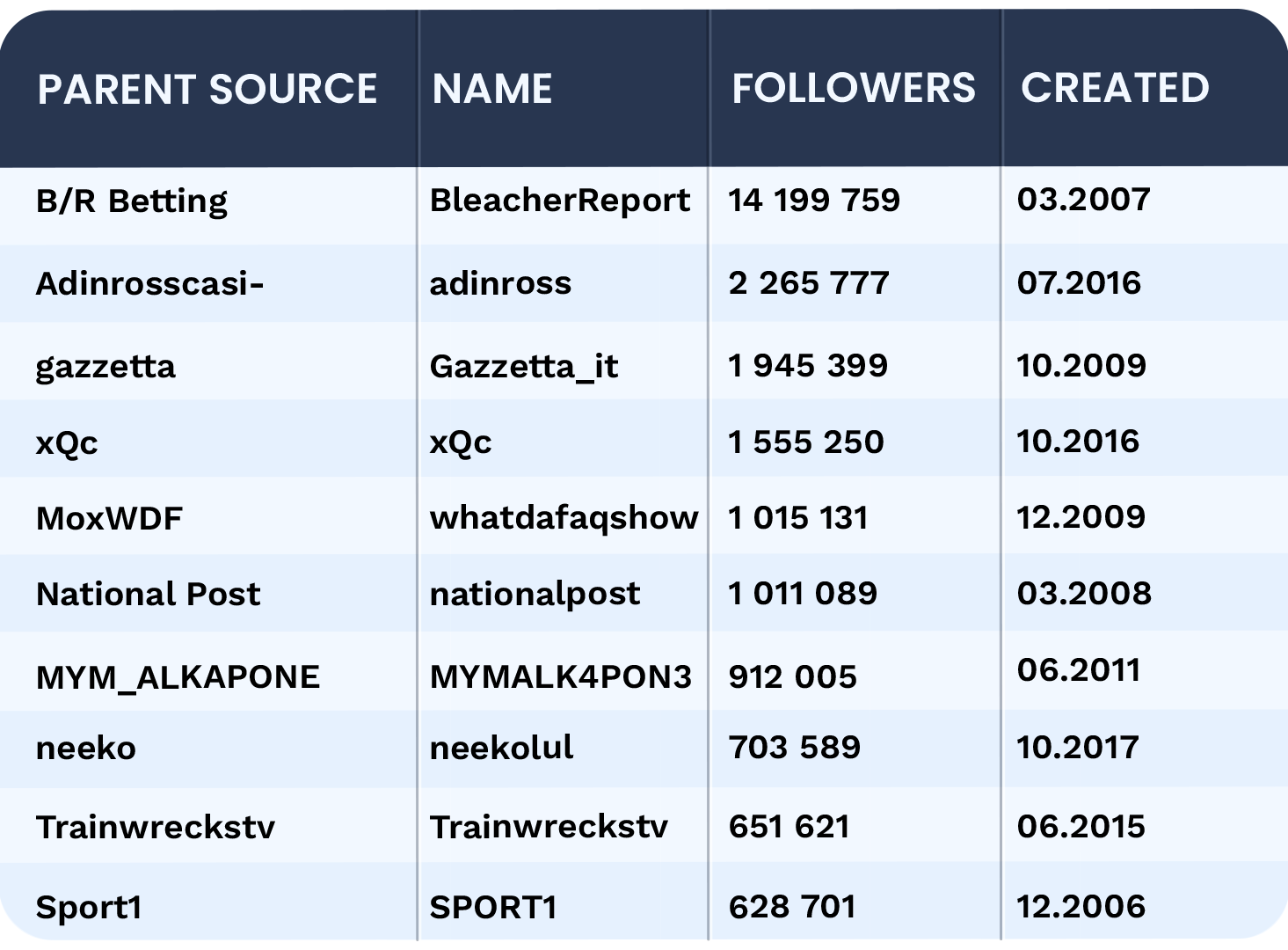 Followers: Almost 14,200,000
This is a sports news account that provides coverage of a variety of sports including basketball, football, soccer, baseball, hockey, and more. Bleacher Report has its own website that was launched in 2007 and has since become a popular source for sports news, analysis, and highlights.
On its Twitter account, Bleacher Report shares breaking news, highlights, and analysis from the world of sports, as well as memes, jokes, and other entertaining content related to sports. The account has over 14 million followers and is known for its engaging content and interactive approach to sports coverage.
Followers: Over 2,200,000
Adin Ross is a 22-year-old Twitch streamer and YouTuber. Adin started streaming on Twitch in 2019 and has since amassed a large following on both Twitch and YouTube. He is known for playing games such as Grand Theft Auto V, Fortnite, and Among Us, and has also streamed various other games and IRL content.
In addition to streaming, Adin also creates YouTube videos where he shares his daily life and experiences with his viewers. He has collaborated with other popular content creators such as Sykkuno, Pokimane, and Ludwig. Adin is known for his outgoing and entertaining personality, as well as his ability to connect with his audience through his streams and videos.
Followers: Almost 2,000,000
This Twitter account belongs to La Gazzetta dello Sport, which is an Italian daily newspaper focused on sports news and events. The newspaper was founded in 1896 and is headquartered in Milan, Italy.
Twitter account provides updates on the latest sports news, including football, basketball, cycling, and more. In addition to news updates, the account also shares articles, videos, and photos related to sports events and personalities.
Followers: Over 1,500,000
xQc's real name is Félix Lengyel, and he is originally from Canada. xQc is known for streaming a variety of games, including first-person shooters and battle royale games, as well as reacting to viral videos and memes. He is also active on social media platforms such as YouTube. xQc has participated in various esports competitions and is considered one of the most successful and popular streamers in the industry.
Followers: 1,000,000
Mox, whose real name is José Alberto Romero, is an internet personality and content creator known for hosting the web show called "What Da Faq Show" (WDF). Mox gained popularity for his humorous and sometimes sarcastic commentary on viral, funny, or bizarre videos and news from the internet. The show was primarily in Spanish and catered to Spanish-speaking audiences around the world. Mox's engaging personality and his entertaining take on the featured content contributed to the success of "What Da Faq Show".
Followers: 1,000,000
The National Post is a Canadian English-language newspaper, founded in 1998. It is based in Toronto and is owned by Postmedia Network, which also owns other Canadian newspapers such as the Toronto Sun and the Ottawa Citizen. The National Post covers a range of topics including news, politics, business, sports, entertainment, and lifestyle. It has won several awards for its journalism, including multiple National Newspaper Awards. The newspaper also maintains an active presence on social media, including Twitter, where it shares news updates and engages with its audience.
Followers: Over 900,000
ALK4PON3, also known as MYM ALK4PON3, is a Mexican YouTuber and content creator. He is known for his entertaining gaming videos, commentaries, and vlogs. ALK4PON3 gained popularity by playing various video games, such as Minecraft and Grand Theft Auto, and sharing his experiences on YouTube. As a result, he has amassed a large following on social media like YouTube and Twitter.
Followers: 700,000
This Twitter account belongs to Neeko, a popular Twitch streamer and content creator. She rose to fame in 2020 for her viral TikTok video where she lip-synced to a song about playing the online game League of Legends. Since then, she has gained a large following on social media platforms such as Twitter and Instagram.
Neeko's content typically revolves around gaming, anime, and pop culture. She often streams herself playing games such as League of Legends and Among Us on Twitch and interacts with her viewers in real-time. Her Twitter account also features updates on her streaming schedule, personal thoughts, and memes.
Followers: 650,000
The Twitter account "trainwreckstv" belongs to a popular Twitch streamer and content creator named Tyler Niknam. He is known for streaming a variety of games such as World of Warcraft, League of Legends, and Valorant, as well as engaging in discussions on various topics related to gaming, politics, and pop culture. In addition to his streaming and social media presence, Tyler has also been involved in various esports events and tournaments as a commentator and analyst.
Followers: Almost 630,000
This Twitter account belongs to a German sports media company called SPORT1 GmbH. The company is headquartered in Ismaning, Germany and is a subsidiary of Constantin Medien AG.
SPORT1 provides sports news, live scores, and coverage of various sports including football, basketball, handball, and esports. The company operates various media channels including television, radio, online platforms, and social media.
On the @SPORT1 Twitter account, you can find sports news, highlights, and updates from various leagues and events around the world. The account also engages with its followers by running polls, contests, and asking for their opinions on various sports-related topics.
Empowering brands
Marketers must constantly adapt marketing strategies to effectively reach their target audience and stand out amidst the sea of content. By actively monitoring and engaging with influential accounts and trending topics, marketers can harness the power of social media to amplify their brand's message and connect with potential customers on a more personal level. It is also crucial for marketers to stay aware of emerging platforms and innovative features, as they present new opportunities for creative storytelling and audience engagement. Each platform has its own opinion leaders. And it takes a lot of time, resources and budget to find the right influencers or communities. Therefore, we have prepared a ready-made dataset – Gambling/iGaming Twitter Marketing Inventory List 2023, that will be useful for any iGaming business.