Company
Headquartered in Nur-Sultan city, Republic of Kazakhstan, Data40 Ltd. is an international company and has decentralised structure – all employees work from different countries all over the world. Data40 team provides research services, data processing and analysis. We do it in two directions – ready-to-use and private solutions. Ready-to-use solutions mean studying certain topics, completely collecting and analysing data without client's inquiry. Private solutions mean providing services by client's inquiry. The key of them are: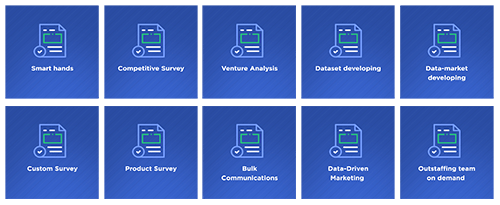 Smart hands
Competitive Survey
Venture Analysis
Dataset developing
Data-market developing
Custom Survey
Product Survey
Bulk Communications
Data-Driven Marketing
Outstaffing team on demand
Detailed information about it you can find in the chapter Key streams.
Company history
September 2019 – start of the Data40 team by collecting data for two first private clients
June 2020 – publication of the first Premium Study (first ready-to-use solution)
June 2021 – start of developing of The terminal D40
January 2022 – release of the alpha version of The terminal D40
March 2022 – incorporation in Astana International Financial Centre (AIFC), Republic of Kazakhstan
June 2022 – start of mass production of Premium Studies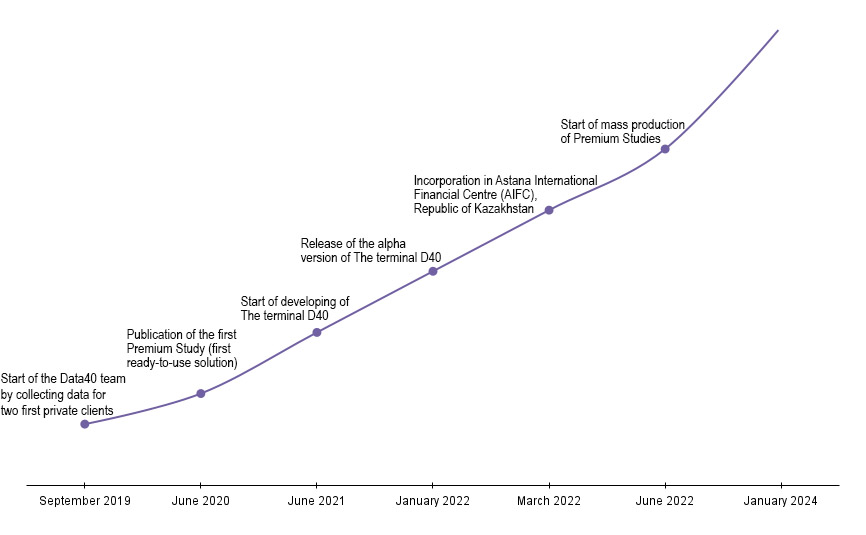 Company requisites
| | |
| --- | --- |
| Name | Data40 Ltd. |
| Registration Number | 220440900333 |
| Address | Republic of Kazakhstan, Nur-Sultan city, Yesil district, Dostyk street 20, office 1501, postal code 010000 |
| CEO | Danila Tarasenko |
| Email | danila@data40.com |
| Contact number | +79151920477 |