Company
Headquartered in Nur-Sultan City, Republic of Kazakhstan, Data40 Ltd. is an international company that adheres to a decentralized structure, with its employees working from different countries all over the world. Data40 Team provides research, data processing, and analytical services, separated into two major categories – ready-to-use and private solutions. Ready-to-use solutions include datasets on various topics, collected and analysed without a customer request. Private solutions mean services provided based on a client's inquiry. Key among them are: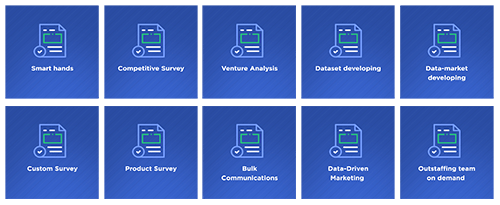 Smart Hands;
Competitive Survey;
Venture Analysis;
Dataset Formation;
Data Market Development;
Custom Survey;
Product Survey;
Bulk Communications;
Data-Driven Marketing;
On-demand Outstaffing Teams.
Company history
September 2019 – the team is founded to collect data for its two first private clients;
June 2020 – the company publishes its first Premium Study (first ready-to-use solution);
June 2021 – the developing of D40 Terminal begins;
January 2022 – the alpha version of D40 Terminal is released;
March 2022 – the company is incorporated in Astana International Financial Centre (AIFC), Republic of Kazakhstan;
June 2022 – Data40 begins the mass production of Premium Studies.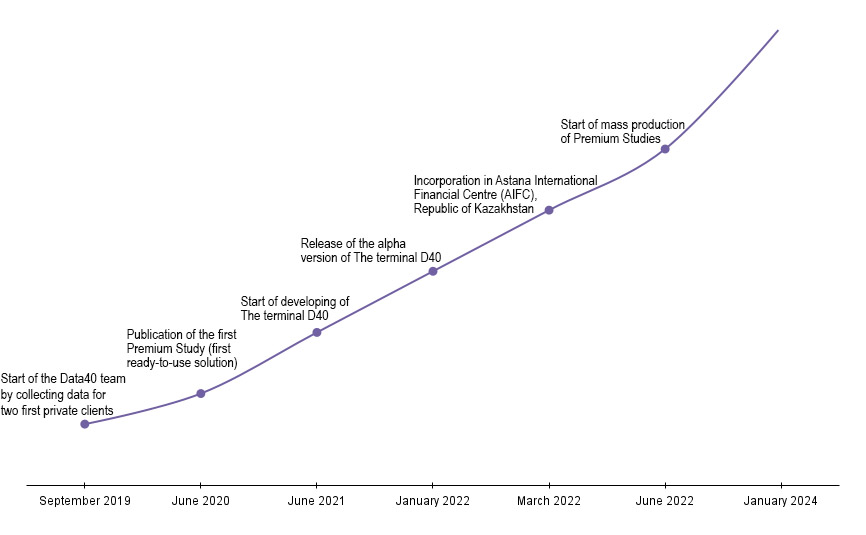 Company requisites