Is the gaming industry still attractive to investors?
17 Aug, 2023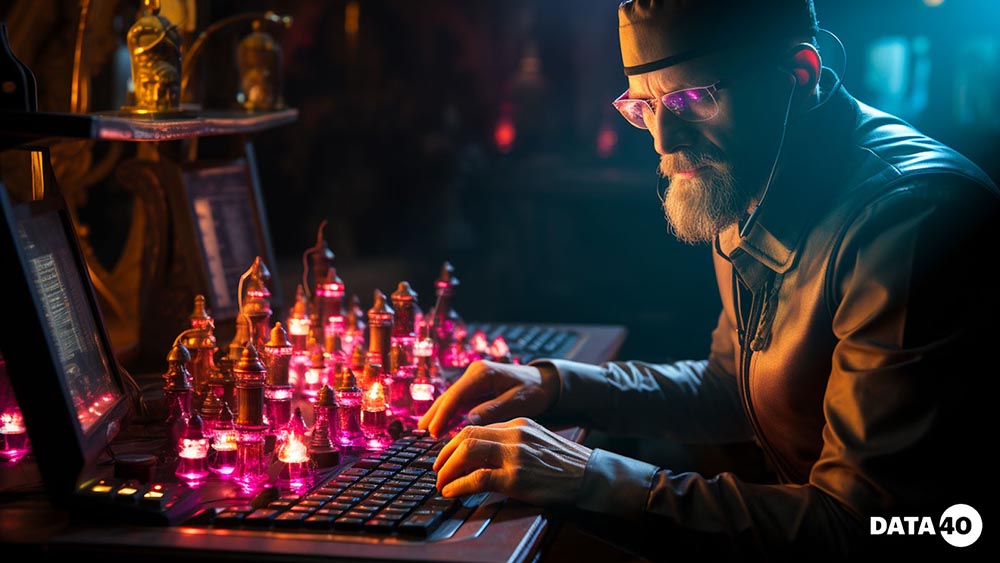 The gaming and technology industry has experienced remarkable growth and transformation over the years, captivating the attention of investors, entrepreneurs, and enthusiasts alike. As this dynamic sector continues to evolve, understanding the prevailing investment landscape becomes crucial for making informed decisions and identifying lucrative opportunities. In this article we will try to introduce the world of gaming and technology investments, presenting a comprehensive analysis of the market's current state. By examining a diverse range of data, including deals by segment, funding stages, and deal values, this study sheds light on key trends and factors shaping the industry's trajectory.
Current state of the gaming industry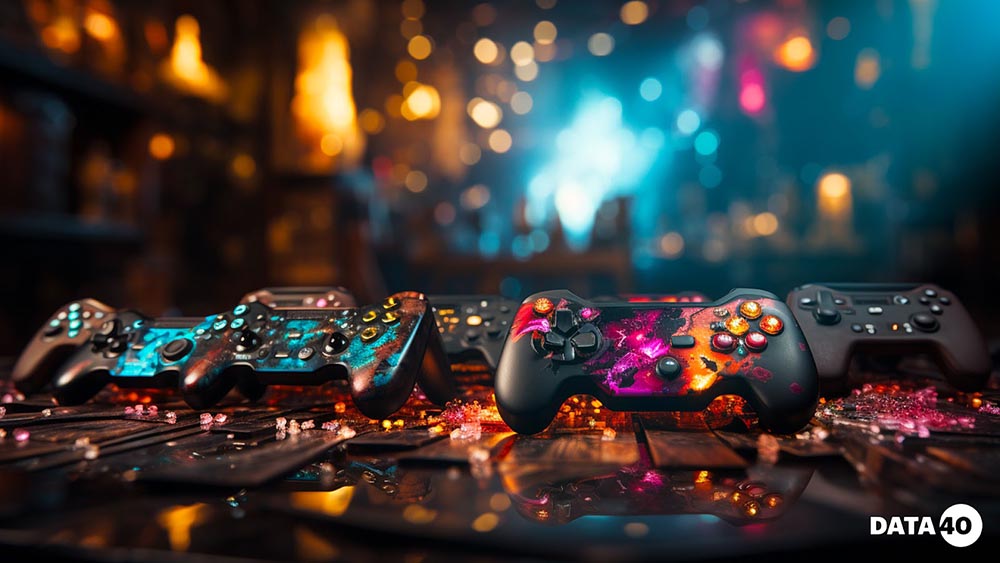 While we were collecting the data we noticed some things must be known in order to get deeper in the topic:
PC/Console segment emerged as a dominant force, boasting the highest number of deals and a substantial deal value of $74.9 billion. This highlights the enduring popularity and robust demand for gaming experiences on traditional gaming platforms;
While the Blockchain segment showed promise with a high number of deals (405 deals), its deal value of $3.9 billion indicated that the technology is still in the nascent stages of widespread adoption and investment;
Early-stage investments (752 deals) took center stage, underlining the industry's thriving startup ecosystem and the willingness of investors to nurture innovative ideas;
Platform/Tools segment garnered significant attention, with 131 deals and a deal value of $10.6 billion. This signifies a growing focus on technologies and tools that support and drive the growth of other companies within the industry;
Hardware, Esports, and VR/AR segments exhibited lower deal values, suggesting potential challenges in attracting substantial investments.
The overall industry continues to grow: PitchBook estimated that the gaming industry was worth $447.3B in 2022 and projects that figure will reach $562.3B by 2026. In Q1 2023, video game startups raised $1.1 billion across 140 deals, which was a 10.7% increase in deal value from the previous quarter but a precipitous 75.7% drop in deal value from the same time last year.
In 2022, 324 deals were announced/ closed with the value of $102.3B in disclosed deal activity. Drake Star, global tech investment bank, reported the following figures in gaming M&A Transactions & Valuations in 2022 (Figure 1).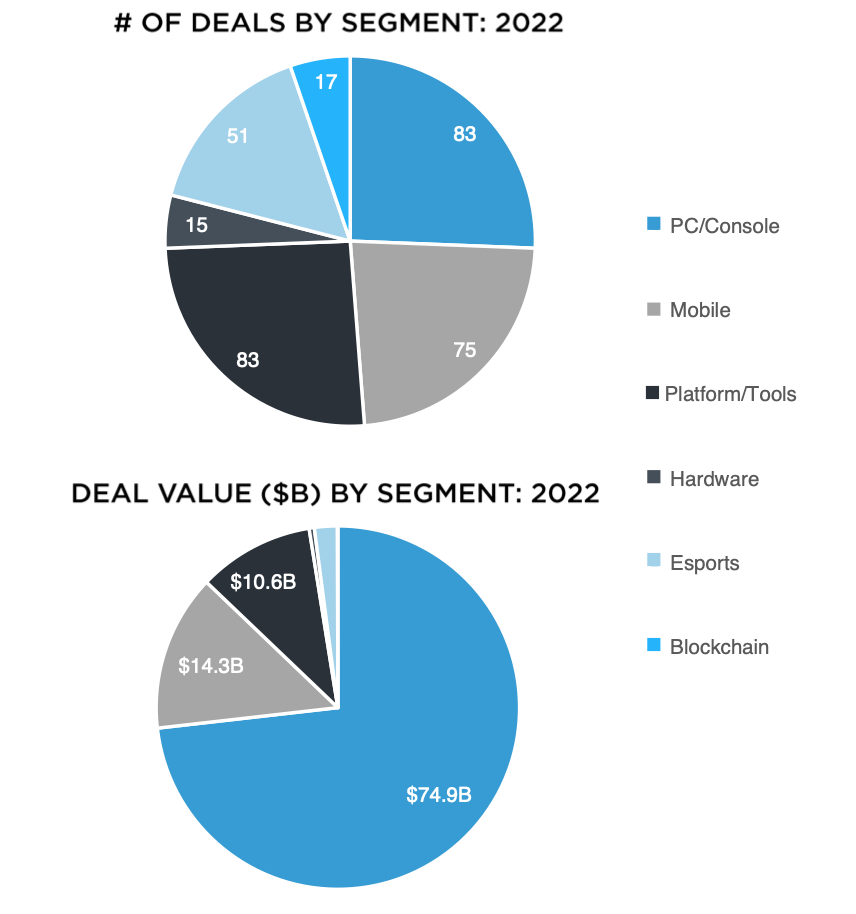 Among the mentioned segments, the PC/Console segment has the highest deal value, totaling $74.9 billion, followed by Mobile with $14.3 billion, and Platform/Tools with $10.6 billion. The remaining segments, Hardware, Esports, and Blockchain, have deal values of $2.5 billion. PC/Console and Platform/Tools have the same number of deals (83 each), the PC/Console segment has a significantly higher deal value compared to Platform/Tools ($74.9B vs. $10.6B). Mobile, despite having a similar number of deals as well (75 deals), has a lower total deal value than both PC/Console.
Also, there were 938 deals valued at $11.B in private placements (Figure 2). The distribution of deals across different funding stages provides insights into the investment landscape. The majority of deals are in the early stage (752 deals), indicating a vibrant startup ecosystem and investor interest in nurturing promising ideas. However, the number of deals gradually decreases as the funding stages progress, with mid-stage (107 deals) and late-stage (79 deals) investments being relatively fewer but indicating a focus on maturing companies.
The total deal value for each segment reveals significant variations in investment attractiveness (Figure 3). The PC/Console segment stands out with a substantial deal value of $74.9 billion, showcasing the robust demand for gaming and gaming-related products. Mobile, with a deal value of $14.3 billion, also commands considerable attention, reflecting the continued growth of the mobile app and gaming industry. On the other hand, hardware, esports, and VR/AR segments show relatively lower deal values, indicating potential challenges in attracting higher investment.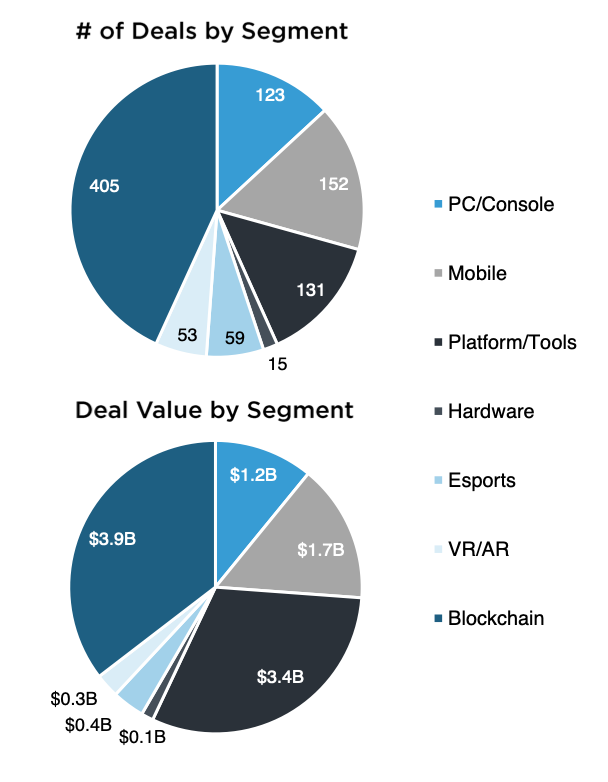 Despite having a relatively high number of deals (405 deals), the Blockchain segment's deal value amounts to $3.9 billion, suggesting that while the technology is gaining attention and interest, its overall market impact and ability to attract substantial investments are still developing.
The data on deals based on the amount raised provides insights into the financing needs of different companies (Figure 4). The highest number of deals falls within the $0-$5M range (383 deals), reflecting the prevalence of seed and early-stage investments in the industry. However, the data shows a decline in the number of deals as the investment amount increases, indicating that companies seeking larger funding rounds face a more competitive landscape.
The total deal value for each range of the amount disclosed further reinforces the significance of early-stage investments. While the $100M+ category attracts the highest deal value ($4.8 billion), it represents only 18 deals, indicating larger investments are rarer but substantial when they occur.
The data highlights a strong interest in the Platform/Tools segment, with 131 deals and a deal value of $10.6 billion. This suggests investors' focus on technologies and tools that facilitate the growth and development of other companies in the industry.
Can I get a good investment in the gaming industry?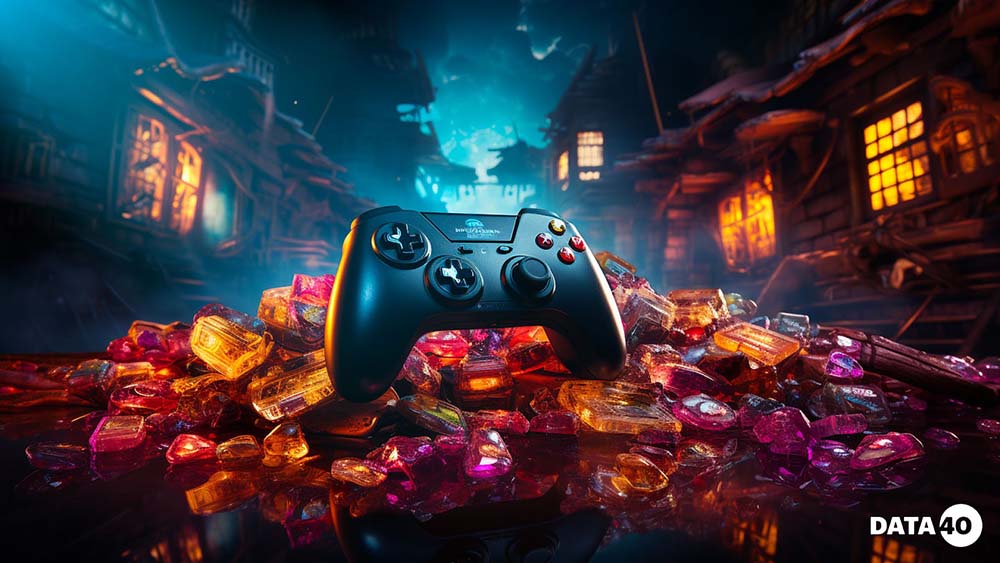 The gaming and technology investment landscape is dynamic, with various segments and funding stages showing promising opportunities for investors and companies alike. The PC/Console segment remains a dominant force, while early-stage investments and innovative technologies attract considerable attention. So, we would conclude that as the industry evolves, keeping track of investment trends and emerging segments will be essential for making informed decisions in this competitive market.
---
1Drake Star. Global Gaming Report 2022, 2022, [Electronic resource] URL: https://8573936.fs1.hubspotusercontent-na1.net/hubfs/8573936/Research/GAMING/Drake%20Star%20Global%20Gaming%20Report%202022.pdf (access date July 21, 2023)
2Drake Star. Global Gaming Report 2022, 2022, [Electronic resource] URL: https://8573936.fs1.hubspotusercontent-na1.net/hubfs/8573936/Research/GAMING/Drake%20Star%20Global%20Gaming%20Report%202022.pdf(access date July 21, 2023)
3Drake Star. Global Gaming Report 2022, 2022, [Electronic resource] URL: https://8573936.fs1.hubspotusercontent-na1.net/hubfs/8573936/Research/GAMING/Drake%20Star%20Global%20Gaming%20Report%202022.pdf (access date July 21, 2023)
4>Drake Star. Global Gaming Report 2022, 2022, [Electronic resource] URL: https://8573936.fs1.hubspotusercontent-na1.net/hubfs/8573936/Research/GAMING/Drake%20Star%20Global%20Gaming%20Report%202022.pdf (access date July 21, 2023)