Comparing The UK and Malta Gambling Licenses: Requirements for New iGaming Publishers
17 Mar, 2023
Getting a gambling license means obtaining official permission from a regulatory authority to legally operate an iGaming business. The license confirms that the company follows certain rules and requirements for operators and provides legal protection for players. Having a license gives the business owner advantages.

Benefits:
Having an iGaming license demonstrates to potential customers that the iGaming project is operating legally and ethically. This can help to build trust and credibility with players and be competitive, leading to increased traffic and revenue.
In general payment providers work with licensed gambling operators. By obtaining a license, iGaming projects can gain access to a wider range of payment providers. Payment systems are needed in any iGaming projects.
Reduced legal risks. This means that operating an iGaming project without a license is illegal in many jurisdictions. Having a license can help to avoid significant legal risks, including fines and even criminal charges.
Opens up for marketing opportunities. The license allows to legally advertise and promote business. For example, on Meta and Google sites.
Having an iGaming license definitely gives a new growth point for the business, however, difficulties may arise in the process of obtaining a license.
Disadvantages:
Obtaining a license can be a costly process, with fees ranging from thousands to hundreds of thousands of dollars. This can be a significant barrier to entry for small iGaming projects or startups.
iGaming authorities often impose strict requirements for obtaining and maintaining a license. Meeting these requirements can be time-consuming.
Some regulatory authorities only issue licenses to operators who are based in their jurisdiction or who have a physical presence there. This can limit the market access of iGaming projects that operate in other jurisdictions.
In some cases, having a license may impose restrictions on the types of games and services that can be offered.
To obtain a gambling license for a new iGaming publisher in Malta and the UK, the following are some general steps that may be required:
For Malta the first step is to incorporate a Maltese company and set up a registered office in Malta. The company must have a Memorandum and Articles of Association that comply with the Maltese Companies Act. For the UK to incorporate a UK company or register as a foreign company in the UK. The next step is to prepare and submit an application for a iGaming license to the Malta Gaming Authority (MGA) and the United Kingdom Gambling Commission (UKGC), which are the regulatory authorities responsible for overseeing iGaming activities in Malta and the UK. The application form can be downloaded from the MGA and UKGC websites, and must be completed in full. The application form requires detailed information about the company, its ownership structure, and the proposed iGaming activities. This includes information about the games that will be offered, the types of technology that will be used, and the policies and procedures that will be in place to ensure responsible gambling. The application must be accompanied by various supporting documents, such as a business plan, financial projections, and evidence of ownership and control of the company. The MGA/UKGC will conduct due diligence checks on the applicant and all key personnel associated with the company, including background checks and financial investigations. Then the regulatory authorities assess the application and supporting documents, and may request additional information or clarification. If the application is successful, the MGA/UKGC will issue a provisional license, subject to compliance with various ongoing regulatory requirements. Once the company has met all the necessary regulatory requirements, the regulatory authorities will issue a full iGaming license.
What are the differences between UK and Malta requirements for obtaining an iGaming license?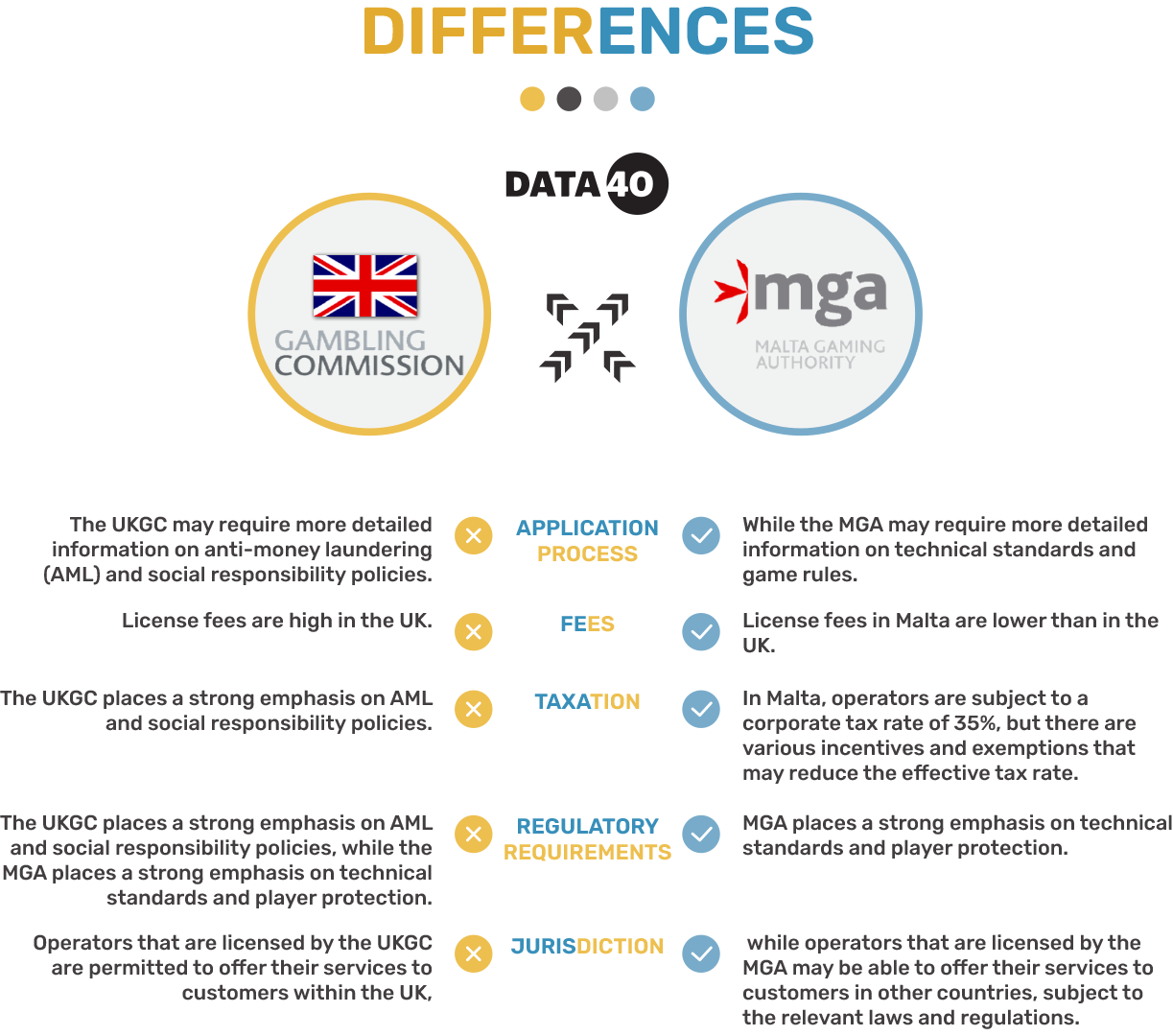 It's important to note that the requirements for obtaining an iGaming license in both the UK and Malta are subject to change, and may vary depending on the specific circumstances of the applicant.
New operators must conduct thorough research to ensure that the regulatory authorities comply with all the requirements and regulations. Ultimately, obtaining a license is a critical step for any iGaming operator. A license can significantly enhance their credibility in the industry. By understanding the particular requirements and nuances of each jurisdiction, operators can make informed decisions and establish a thriving and sustainable business.