Top mobile game genres in 2023. Part 1
30 Jan, 2023
Mobile devices are being used by more and more gamers to play games. It's practical, easy, and enjoyable. Additionally, unlike PC or console gaming, it enables gamers to play games wherever they are. For these reasons, we have witnessed mobile games set records and generate billions of dollars in revenue over the previous few years.
The following are the primary motives for playing mobile games:
To unwind and relax;
To pass the time;
To become engrossed in a different character or setting;
To feel successful for finishing a difficult task;
To express something special about themselves;
To establish contact with new people;
To relate to a topic they are passionate about outside of games.
The demographics of mobile gamers have also been evolving and changing. Just a few years ago, a lot of what was true about gaming was very different. The market for mobile games is always evolving. As a result, if you're a game creator or advertiser, you need to be well familiar with the mobile gaming market. That entails staying current with fashion and being well-versed in the mobile gaming industry. The only way to make wise decisions is through it.
To understand the massive impact of mobile gaming on the industry, here are some mind-blowing statistics:
By 2025, it's anticipated that player expenditure would total $138 billion;
Global mobile players will total 3.7 billion in 2023;
85% of players on mobile do not consider themselves gamers;
90% of users' smartphone time is spent playing games and using apps;
Mobile gaming is used by 77% of Gen Z players, 73% of Millennials, 54% of Gen X players, and 34% of Baby Boomers;
According to 82% of mobile players, free games with advertisements are more appealing to them than premium games without adverts;
95% of all user spending is on in-app purchases;
Compared to men, women are far more likely to make an in-app purchase.

There are countless game archetypes, and new ones are always developing. There is no generally accepted grouping but we tried to classify them in categories that are usually repeated in different lists. Usually, each game is given a Subgenre based on its characteristics and defining game mechanics which is automatically assigned to a Genre, which collects games of the same archetype but different. Source: data.ai.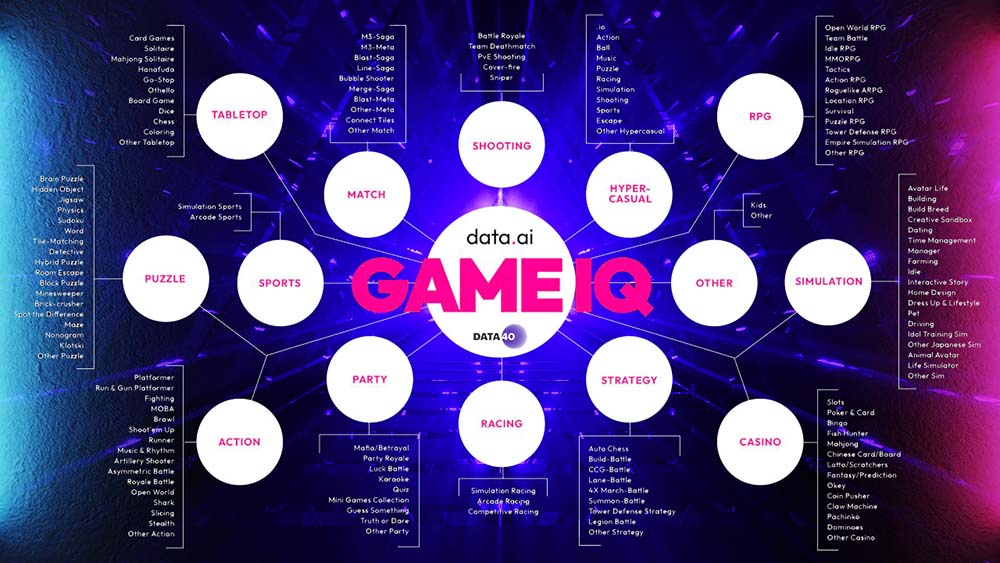 Our team analyzed the market of mobile gaming and here are the top of the most popular genres of the games and their subgenres:
Action
Action games, which are common on consoles and among PC players, account for a relatively modest portion of mobile gaming. Action games aren't always appropriate for small screens because of their dynamic components. Action games have different sub-genres as well, including platform games, MOBA games, runner games, and fighting games.
MOBA
The user controls one character in multiplayer battle arenas, choosing a "hero" or "champion" from the roster and equipping them with a special set of skills and powers. This can be a representative of a magician, a warrior, a knight, or another "profession". Due to the lack of a deep level of mechanics and strategy, the mobile version of the genre differs from the computer (DOTA 2 or League of Legends). The processing speed, display size, and input parameters of mobile devices are constrained.
Android's MOBA gaming ecosystem is rapidly expanding. On smartphones and tablets, as well as projects themed as the Marvel and DC universes, the tiny version of League of Legends and the intense Vainglory have already been released.
By 2016, the subgenre was setting records for popularity, but Battle Royale arrived and claimed part of the spotlight. MOBAs are no longer as well-liked as they once were, especially among casual gamers and mainstream audiences. However, they continue to firmly keep their position among the most well-liked mobile game genres and won't disappear in 2023.
Platformer
The sub-genre of platform games is among the oldest and most well-liked in the history of video games. The majority of gamers have at least one platformer under their belt, usually something really well-known like the Mario series. Only in the past few years has mobile platforming reached its current level of development. The platforming experience on smartphones may now be successfully translated by developers without being horrible. Platformers are found in some of the earliest games. Heck, the vast majority of games released in the 1990s—particularly those for the NES, SNES, and Sega MegaDrive—could be classified as belonging to this genre.
Runner
Instant fun, short game titles that could be played anywhere, and incredibly basic gameplay all sprang to mind. This concept could be used to describe endless runners, a subgenre of video games that has long been associated with mobile devices. Although this kind of game has developed with the medium, its defining characteristics have mostly not changed.
Fighting
Since their early days on arcade machines, fighting games have advanced significantly. They not only have a lengthy history on personal computers and gaming consoles, but they can also now be found on stylish tablets and smartphones. You may now download a number of well-known combat series, like as Mortal Kombat and Street Fighter, on your preferred mobile device. Even SNK, which is renowned for producing some of the best fighting game classics, has a sizable variety of its games available on the market.
Adventure
The term "adventure games" may be a little misleading. They frequently urge users to solve a puzzle within a narrative — frequently with little to no action — as opposed to concentrating on swashbuckling adventure stories. Instead, the game's narrative structure is essential to it.
Games like Seeker's Note: Hidden Mystery and The Secret Society, created by the company MyTona, have both ranked in the top 10 iPad games in the United States, Canada, the United Kingdom, and several other European nations.
Tabletop
In this genre, players gather digital playing cards and use them to destroy rivals. Typically, the player uses actual money to purchase card packs. After that, in order to compete against other players online, they must assemble a powerful deck from those packs. The physical trading card games Magic the Gathering and Pokémon have a lot in common with digital card games.
You presumably understand what we're talking about if you watched Yu-Gi-Oh! as a child. You play against opponents in digital card games, and it's your deck against. theirs. There are many tiers of cards, and you can either gain more expensive cards through gameplay or buy new decks with real money.
The most well-known mobile game in this genre, also referred to as TCGs or trading card games, is Hearthstone, which has approximately 100 million players worldwide across many platforms (PC, Android, and iOS).
Casino
As the name implies, mobile casino games are smaller-screen versions of the traditional casino games. These games, which range from poker to roulette to slots, bring basic gambling action to mobile devices and frequently enable users wager and win real money—a subject that has generated a lot of discussion and criticism. Look at the well-known Jackpot Party Casino, which combines a number of slot games and titles that are well-known in traditional casinos.
Going to a real casino may be more of a social event, something you'd do with your friends on the weekend, but if the casino is well-known internationally, it might also be tied to tourism. It can be challenging to understand what real money online casinos could provide you from these angles, but it's possible that your perception of them as video games rather than social gatherings will encourage you to place the games themselves above all else.
Kids
This genre of mobile games is dedicated for younger audience. They are relatively easy and often have an educational part. These games are primarily about having fun on an adventure, with the potential for learning something along the way. The most well-liked educational games aid with school preparation and impart fundamental knowledge about the world around us, including houses, shops, hospitals, and animals. There are numerous apps that can be used to make everyday jobs into games, as well as instructional games that present facts about the human body in the most engaging and dynamic way.
Puzzle
As the most popular gaming category among the general public, the puzzle genre appears to have almost universal appeal. Puzzle games, on the other hand, tilt toward Millennial users, with the majority of those who play that category falling into the 25 to 34 age range, according to the survey's findings. Above half of smartphone players favor puzzle games over other mobile gaming genres, making the puzzle genre, a relative of hyper casual, extremely well-liked. This category includes puzzle games like Sudoku, crosswords, Sudoku, Dominoes, and more.
Long before mobile app gaming became feasible, Tetris was a well-liked puzzle game. When N3twork published its mobile version in 2020, the game swiftly attracted more than 12 million downloads. On their smartphones, more than half of users have at least one puzzle game. Even those who do not consider themselves gamers have Tetris, Angry Birds, and several Match-3 variations installed on their cellphones. The objective of puzzles is obvious, but it is also difficult to achieve; you must use wit and logic to succeed.
Puzzle games are regarded as a sub-genre of casual games since they appeal to a wide audience, retain a dominant position, and bring in the most money from the mobile gaming market. As of July 2022, Candy Crush Saga, Fill the Fridge, and Fill Up the Fridge are the most played puzzle games worldwide.
Match-3
Recently, the puzzle mechanisms of Match-3 have seen a lot of success. As a casual genre, the category encourages users to look for relaxation and pleasure while incorporating some forward-thinking and strategy.
Hidden objects
Although they are fantastic for fun, hidden object games also train your brain to search for minute details in unexpected locations. If you don't believe me, check it out for yourself! You can find a list of the top Android hidden object games below, all of them are highly recommended. Your cognitive skill is certain to level up in some of these games after completing numerous stages (particularly in June's Journey). Timers, looking for a needle in a haystack, and intricate plots.
Racing
The premise of racing games is straightforward and well-known. Players race through a track while competing for the fastest time with each other and other players. These games frequently come within the category of arcade games. For instance, SBK16 offers players the option to take on the role of a racer from the Superbike World Champion squad. The majority of the racing games that are played on mobile devices are not at all realistic. Instead, they usually feature cartoon cars in a vibrant environment. Along the route, the player must avoid other drivers while also collecting coins. Additionally, they can use power-ups to increase their speed or slow down nearby adversaries.
The main goal of racing games is to put players through a course so they can compete (between themselves or against artificially intelligent opponents) and strive to get the best time. Most racing games (like Mario Karts, for instance) feature automobiles or motorcycles, but some also have more unique racing competitions. A hyper-casual game where you must complete coffee orders quickly is one of the most popular free games on the Play Store right now in the racing category.
Conclusion
There are still lots of interesting mobile gaming genres and sub-genres that we want to discuss with you. So, stay tuned till the release of the next article, if you want to find out continuation of this topic.