TOP-20 Online Casinos of 2022, Stats & Traffic History
Dec 30, 2022
We continue to analyze iGaming projects from the "TOP-400 Projects of 2022" dataset, and today I want to talk about traffic and why it is important. Using the TOP-20 projects as an example, let us check the history of each project's rankings during 2022 and compare their visit numbers for 3 consecutive years (2020–2022).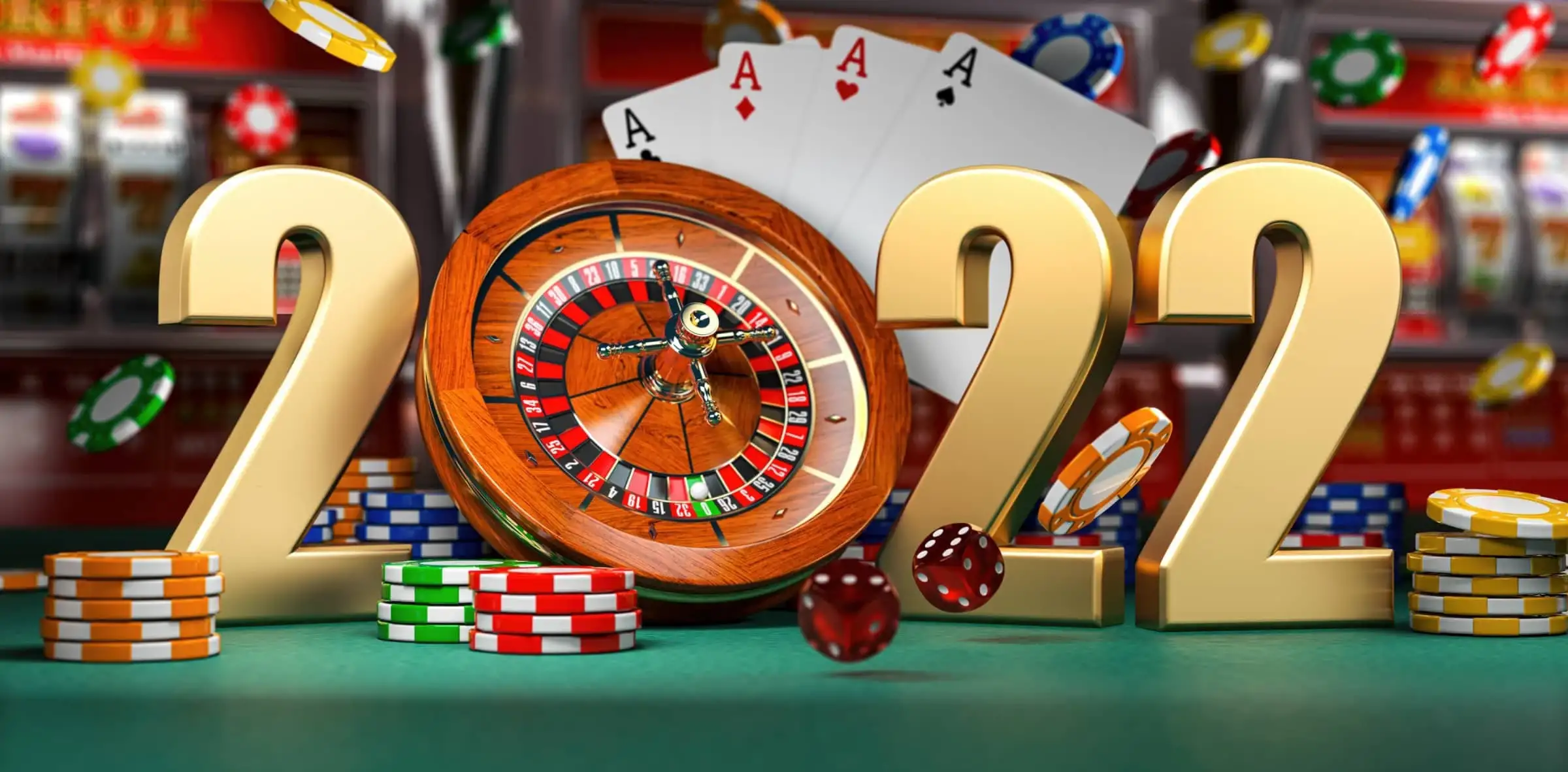 Online casinos with the highest traffic generate more revenue, which makes such platforms viable and denote them as services that offer an outstanding gaming experience.
But what distinguishes an online casino with a high attendance rate?
The iGaming niche is extremely competitive. Therefore, in order to stay in business, casino operators need to develop best-in-class marketing strategies that will help attract more customers to their establishment. In most cases, this is a difficult task due to the dynamic nature of player tastes and preferences.
However, operators must take numerous variables and casino statistics into account in order to attract more players. So, in short, casinos with high attendance are iGaming establishments with a large flow of customers and regular visits. These platforms are often referred to as casinos with a good reputation or large, established brands.
What makes them so popular is their recognizability, unusual features, and high level of service that affects the overall experience. These features can range from simple things like the option to access customer support right on the casino's website.
Now, let us take a look at our list of top 20 projects, which we will be talking about in this article:
| | | | | |
| --- | --- | --- | --- | --- |
| Rank | Name | Main Languages | Number of Languages | Licenсes |
| 1 | Bet365 | X | 20 | Malta Gaming Authority |
| 2 | Caliente | ES | 1 | Mexican Ministry of the Interior |
| 3 | Bet9ja | EN | 1 | Lagos State Lotteries Board, State of Osun (no details) |
| 4 | netkeiba | JA | 1 | Japan (no details) |
| 5 | PCH | EN | 1 | US (no details) |
| 6 | Wplay | ES | 1 | Colombia Gambling Authority |
| 7 | Freebitcoin | EN | 1 | ? |
| 8 | Betplay | ES | 1 | Colombia Gambling Authority |
| 9 | BetKing | EN | 1 | Lagos State Lotteries Board, Anambra State Gaming Company, Nigerian National Lottery Regulatory Commission, State of Osun (no details) |
| 10 | Bovada | EN, ES | 2 | Curaçao eGaming |
| 11 | Nesine | TR | 1 | Turkey (no details) |
| 12 | Betway | X | 10 | Malta Gaming Authority, UK Gambling Commission |
| 13 | TJK | EN, TR | 2 | Ministry of Agriculture and Forestry (Turkey) |
| 14 | Hollywoodbets | EN | 1 | Gauteng Gambling Board, Limpopo Gambling Board, Mpumalanga Economic Regulator, KwaZulu-Natal Gaming and Betting Board, Western Cape Gambling Board |
| 15 | FDJ | FR | 1 | The National Gambling Authority (ANJ) |
| 16 | Betano | X | 9 | Ministry of Finance of the Czech Republic, Austrian Ministry of Finance, Romanian National Gambling Office, SRIJ |
| 17 | Betika | EN | 1 | Betting Control and Licensing Board of Kenya |
| 18 | HKJC | EN, ZH | 2 | Hong Kong (no details) |
| 19 | William Hill | X | 17 | Gibraltar Gambling Commissioner, Malta Gaming Authority |
| 20 | Betfair | X | 8 | Malta Gaming Authority, UK Gambling Commission |
We have already reviewed some of the listed projects, and you can find the corresponding articles on our website — Data40.com
Now we will consider each of these projects based on a couple of points:
Website traffic;
Geographic data;
Mobile/Desktop version ratio.
All the data was collected via the Semrush service. Now, returning to the topic at hand, let us start with the first project on our list.
Bet365.com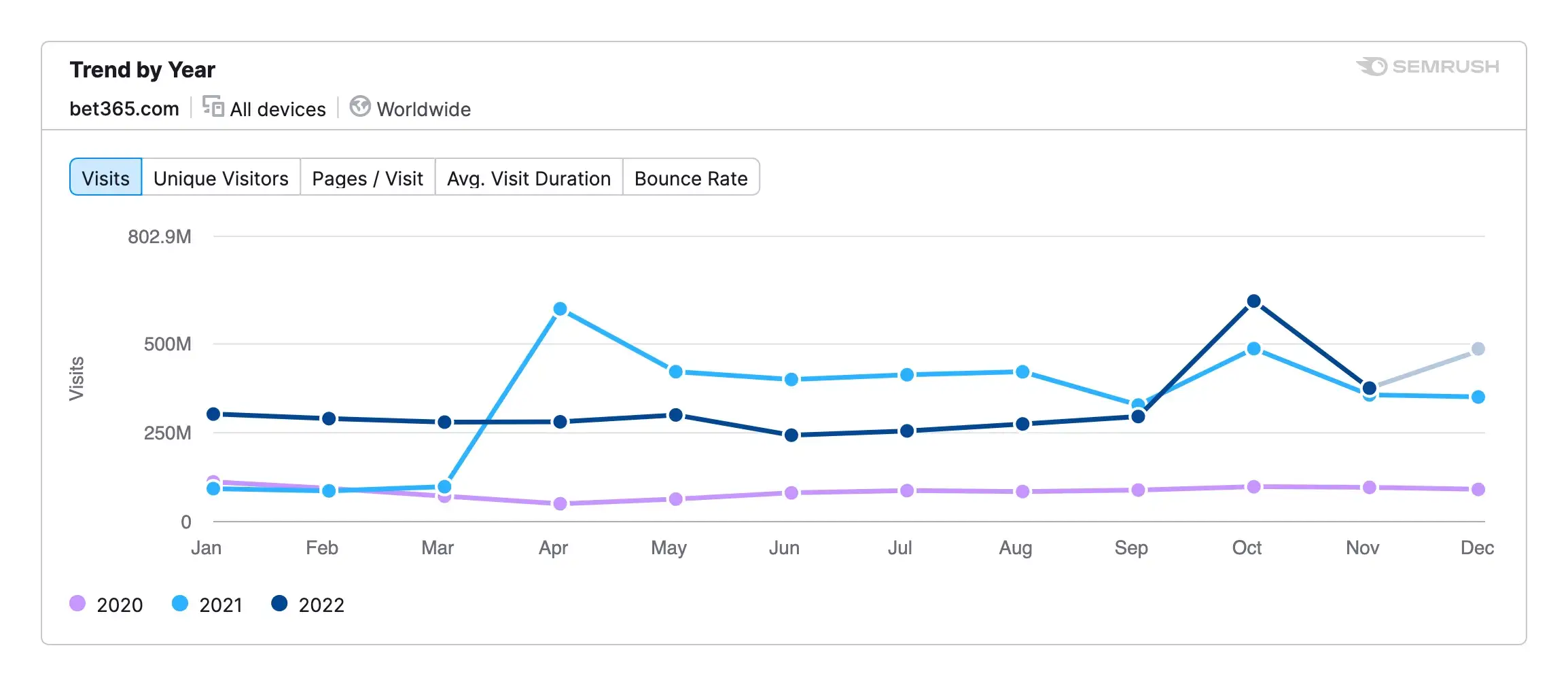 First, let us check the general traffic information from January to November 2022. As the service shows, there was a general decline in traffic during 2022. Just the same, we can see this in the main picture, which shows the website traffic trend over the past 3 years.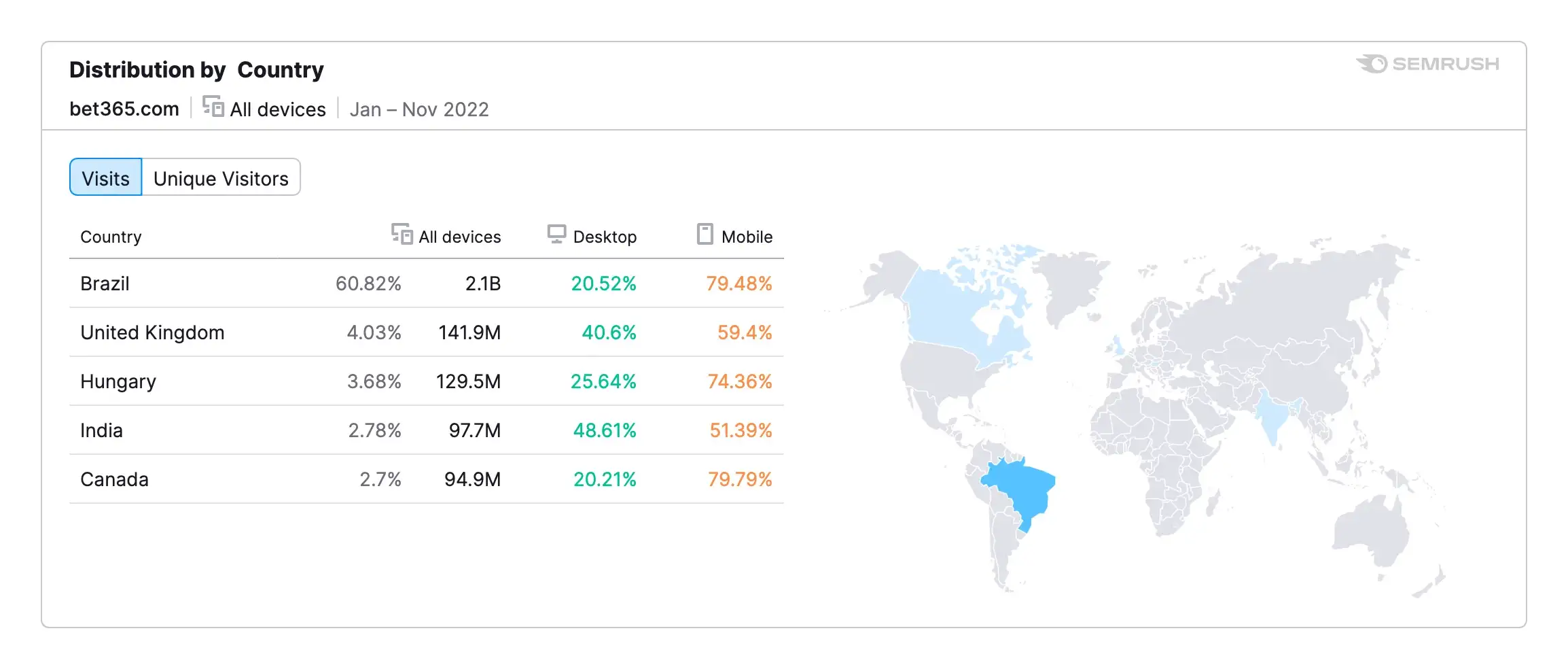 In addition, I would like to consider which countries users visit this website from and this is visible on the graph below. We see that the main flow of users here comes from Brazil, but if you look below, you will see that European users occupy the second and third places in the traffic chart.
Caliente.mx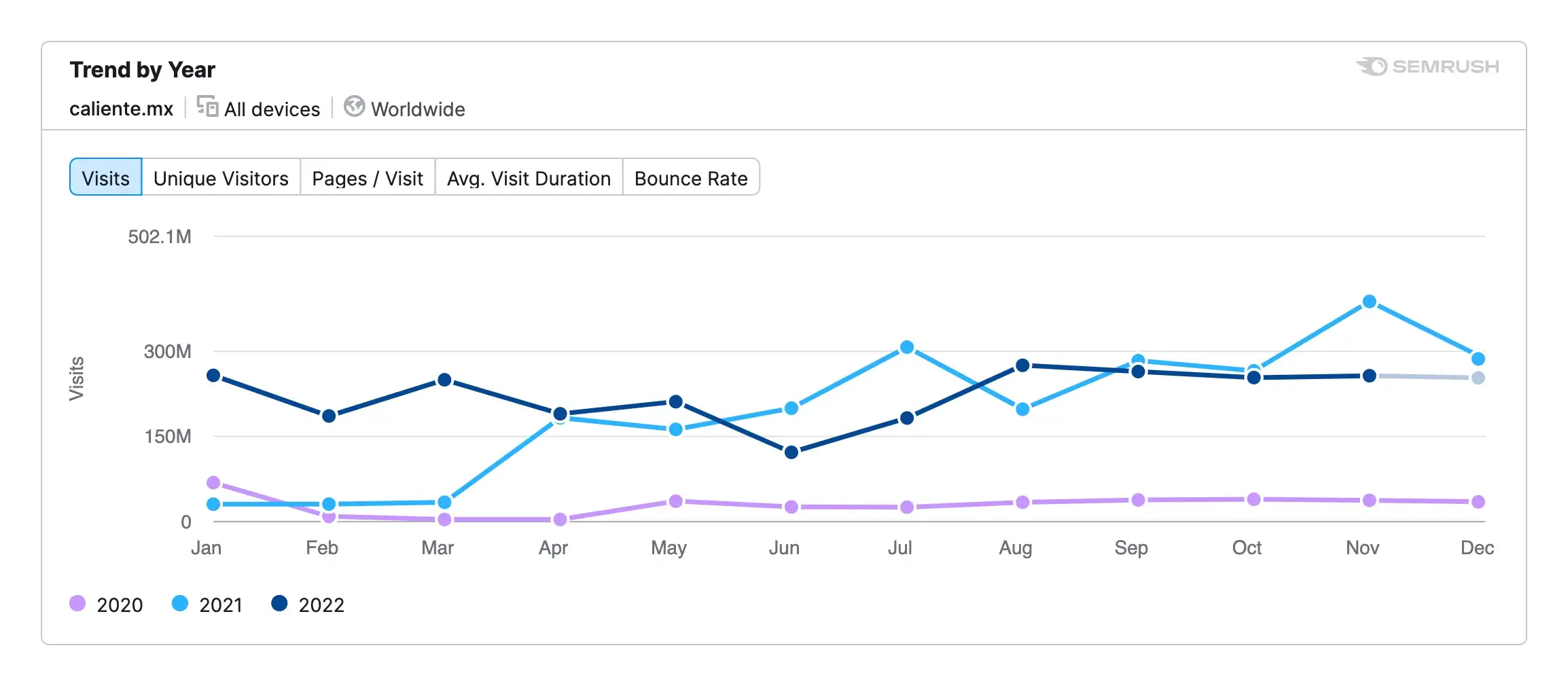 We have already considered this project, so we know that the projected is licensed in Mexico and the website only supports Spanish, which naturally leads to its traffic coming predominantly from Mexico. The graph clearly shows that there was a decline in traffic in 2020, but the number began to grow back from March 2021 and the number of visitors was kept at the same level until now. This project has also been occupying peak positions among top casinos for several years.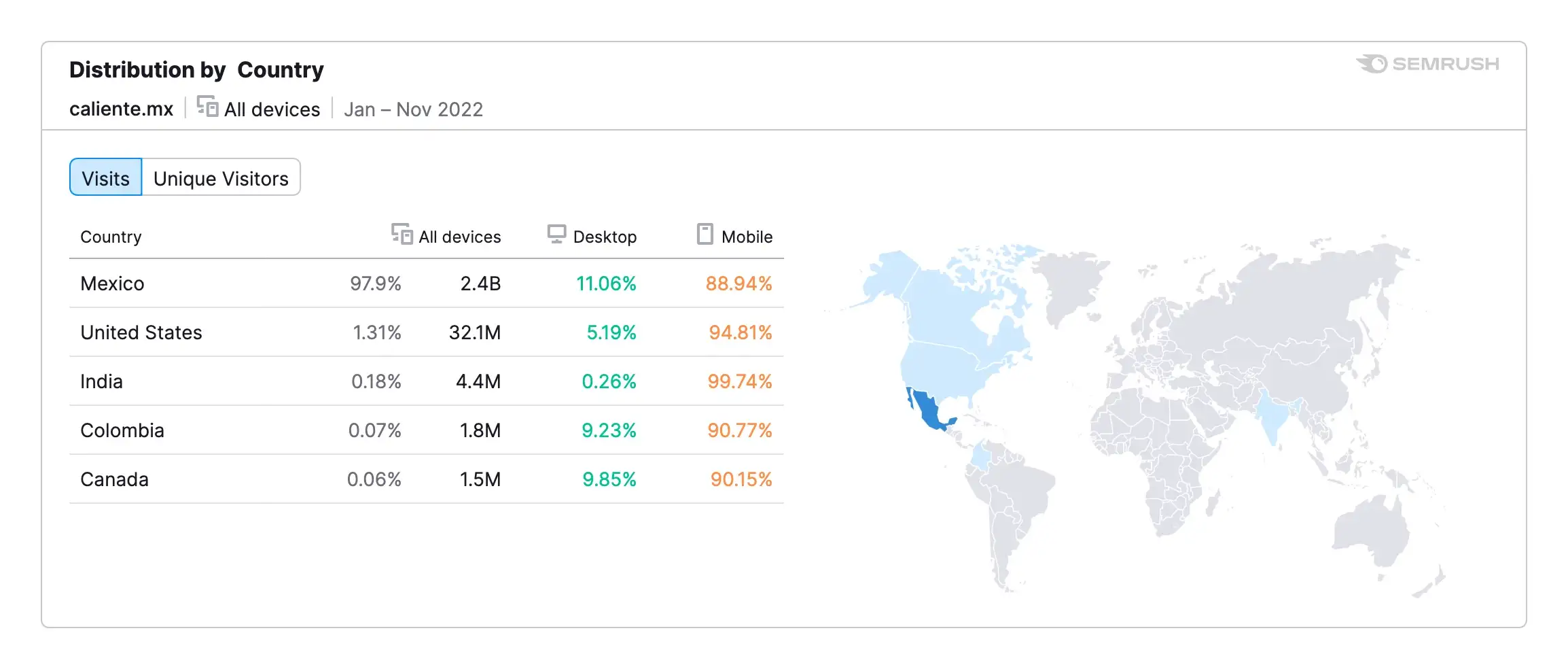 Bet9ja.com
This is a Nigerian project that only supports English and, as you can see on the graph, its traffic remained at roughly the same level throughout the years, seeing an increase in the middle of 2022. It is not surprising that the main stream of users comes from Nigeria, since this casino is primarily aimed at the residents of that country.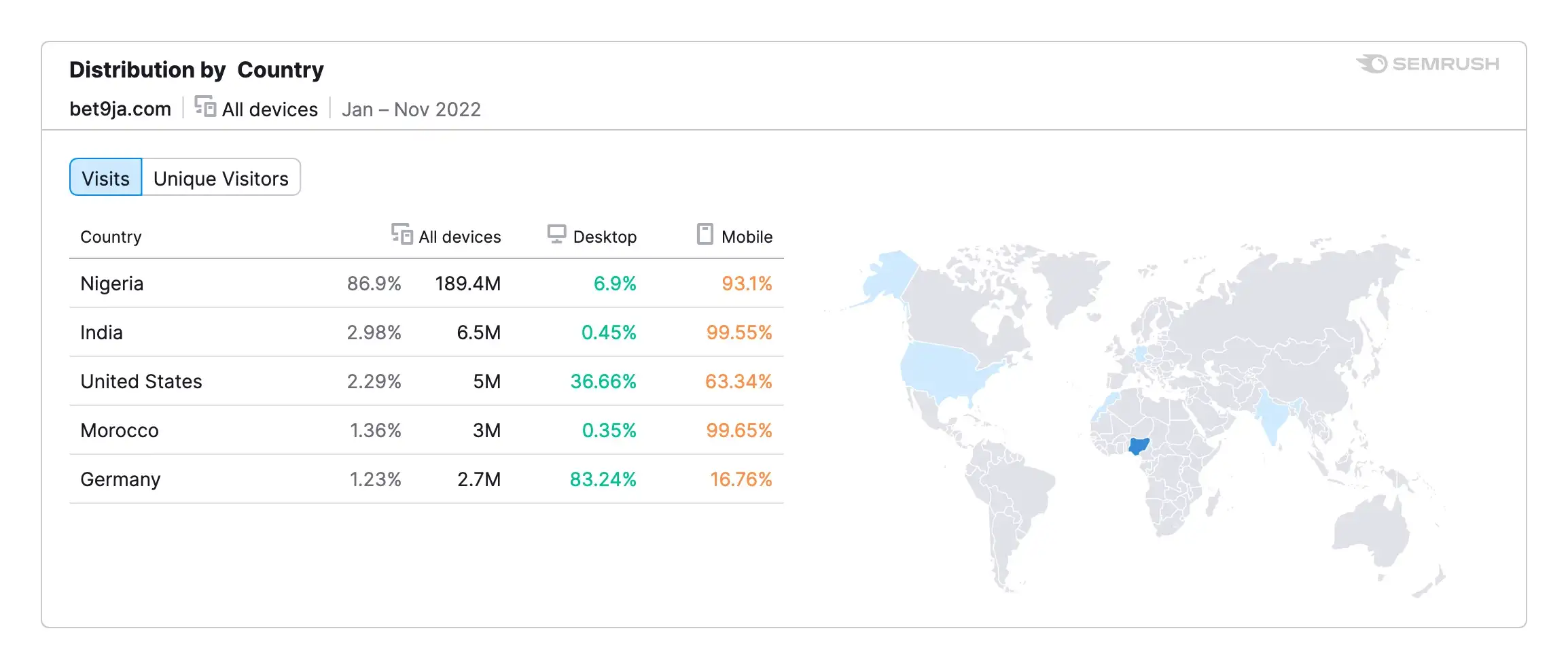 netkeiba.com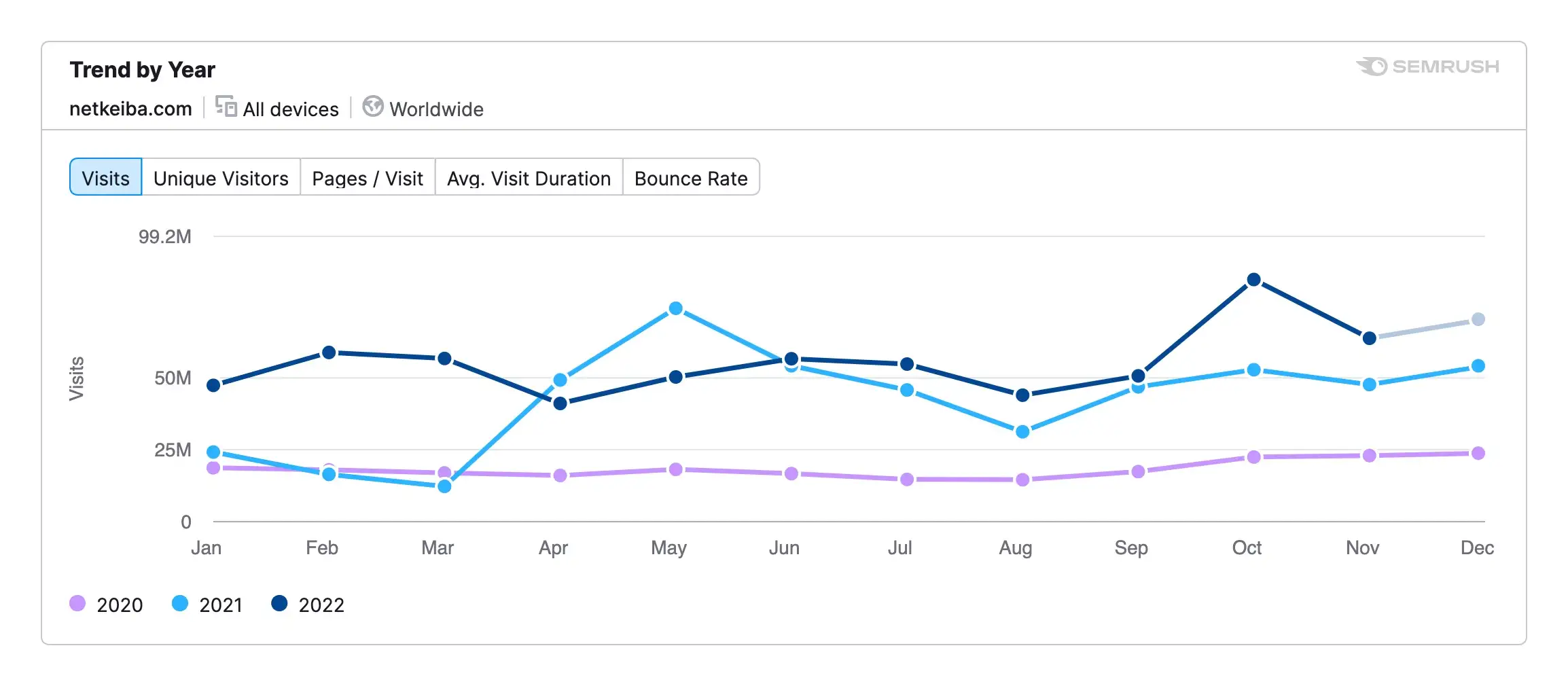 A very interesting project revolving around Japanese horse racing betting that broke into this year's TOP-5 projects. The website only supports Japanese. It saw a good increase this year. The traffic also began to grow from the start of 2021 and remains approximately at the same level with minor jumps, corresponding to periods of increased activity for this sport.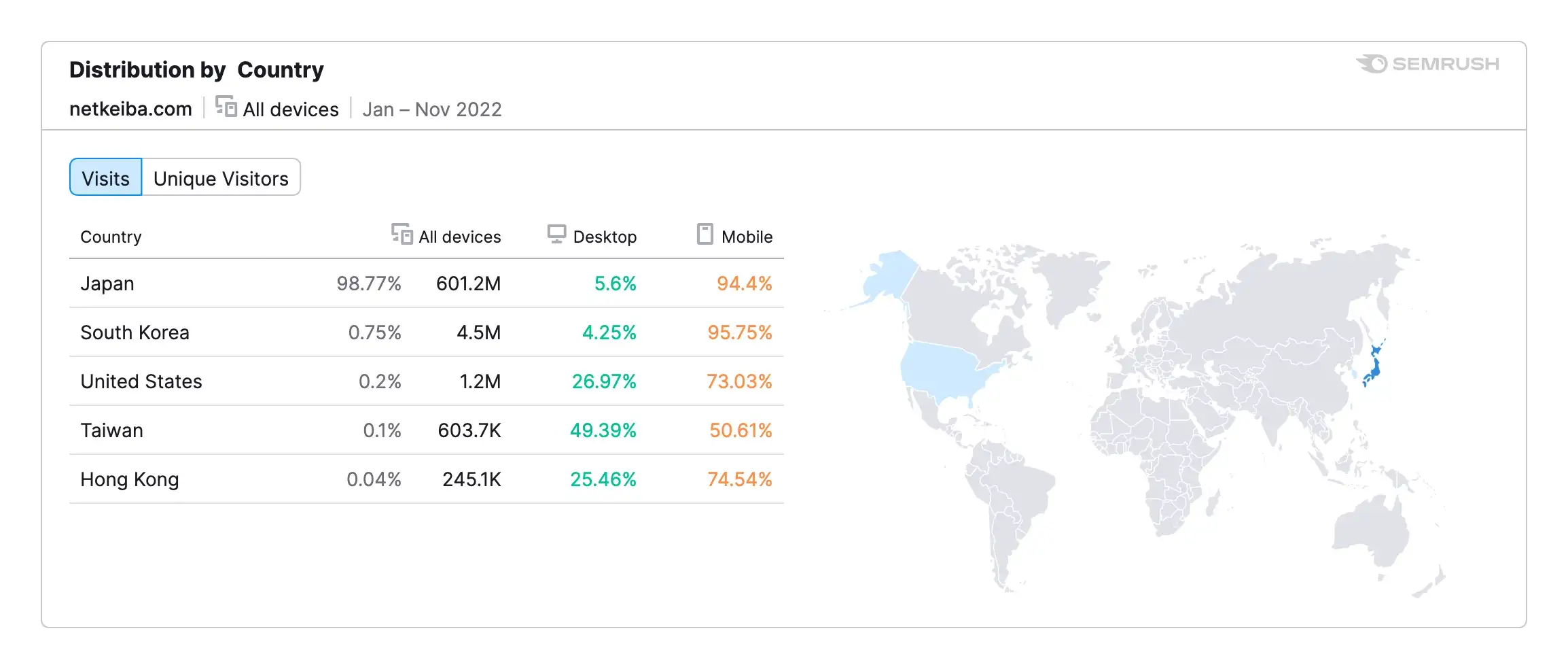 PCH.com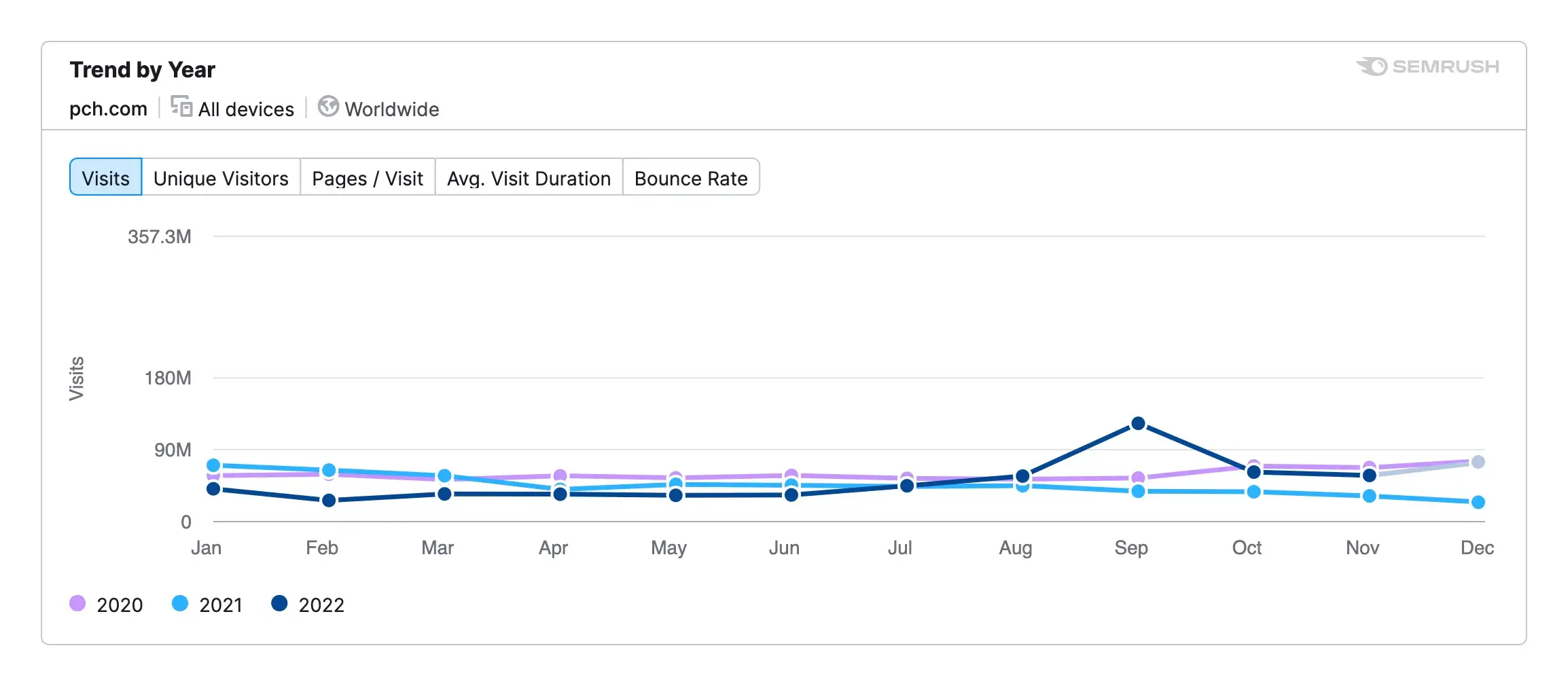 Another project that is mainly aimed at users from the USA, which is represented in its user graph. The traffic shows that, during all 3 years, the user flow has barely changed, since we are talking lottery tickets and all the COVID restrictions did not have much of an effect on this sort of game. Although, there was a slight jump in September of the current year.
Wplay.co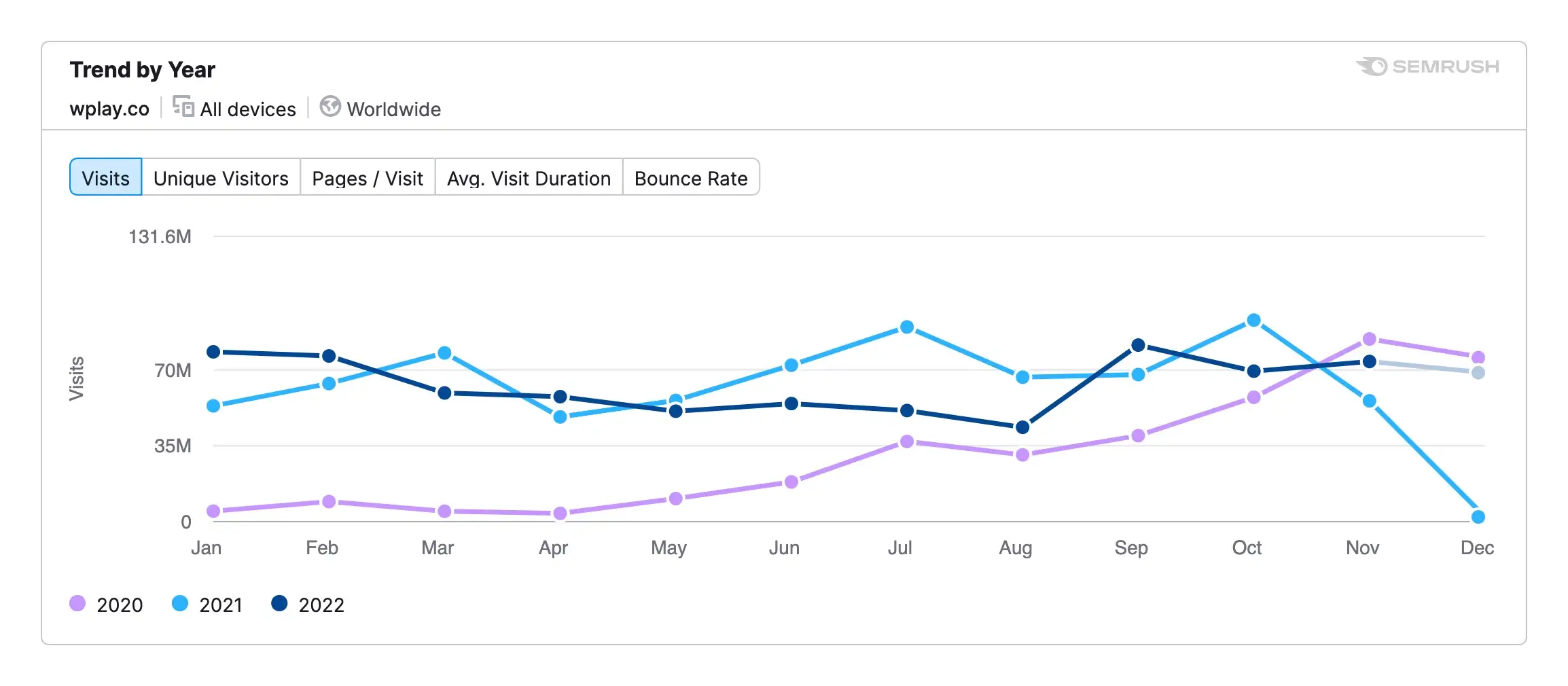 A project from Colombia that mainly supports users from this country. It is the first of the projects so far with a very interesting traffic schedule. It is clearly visible here when the sports activities began to bounce back after the slight relaxation of COVID restrictions in 2020, then began to grow even quickly in May. We can note the sharp decline in December 2021, then everything returned to normal in January 2022.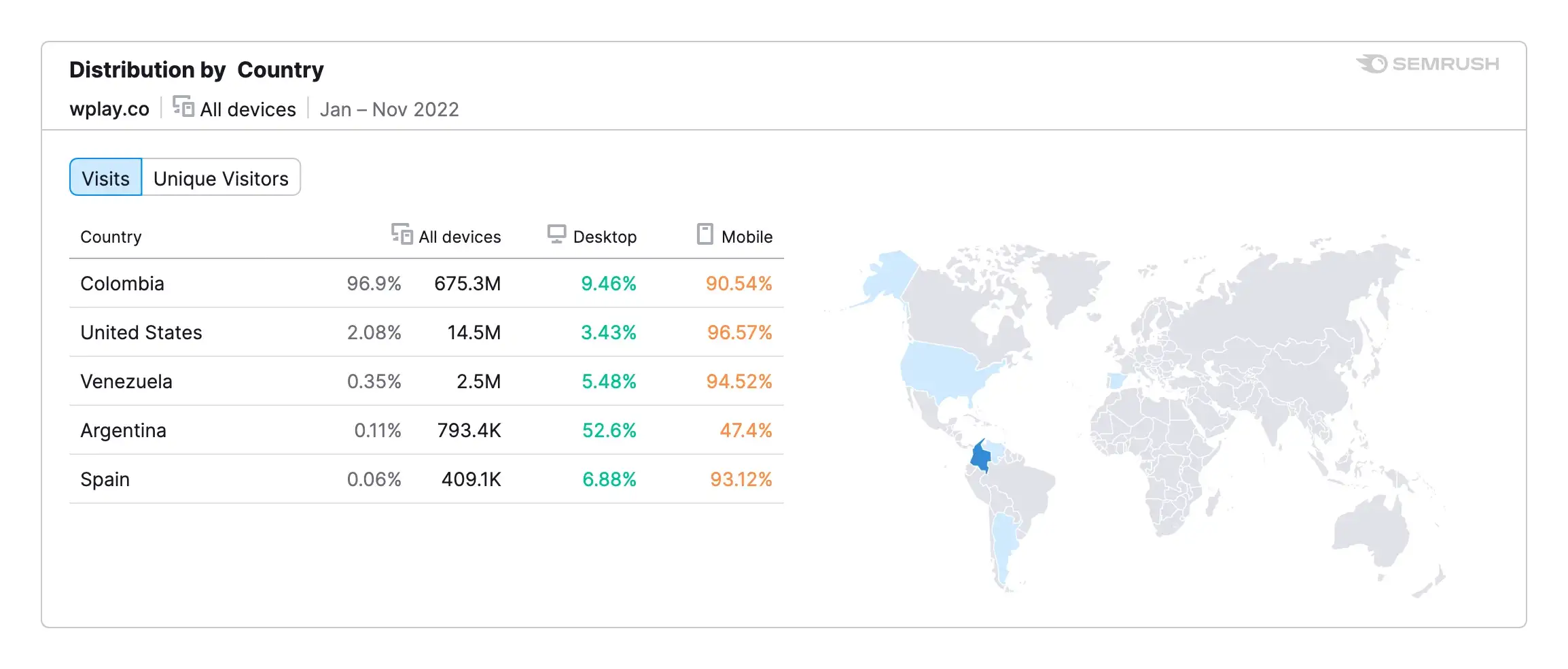 Freebitco.in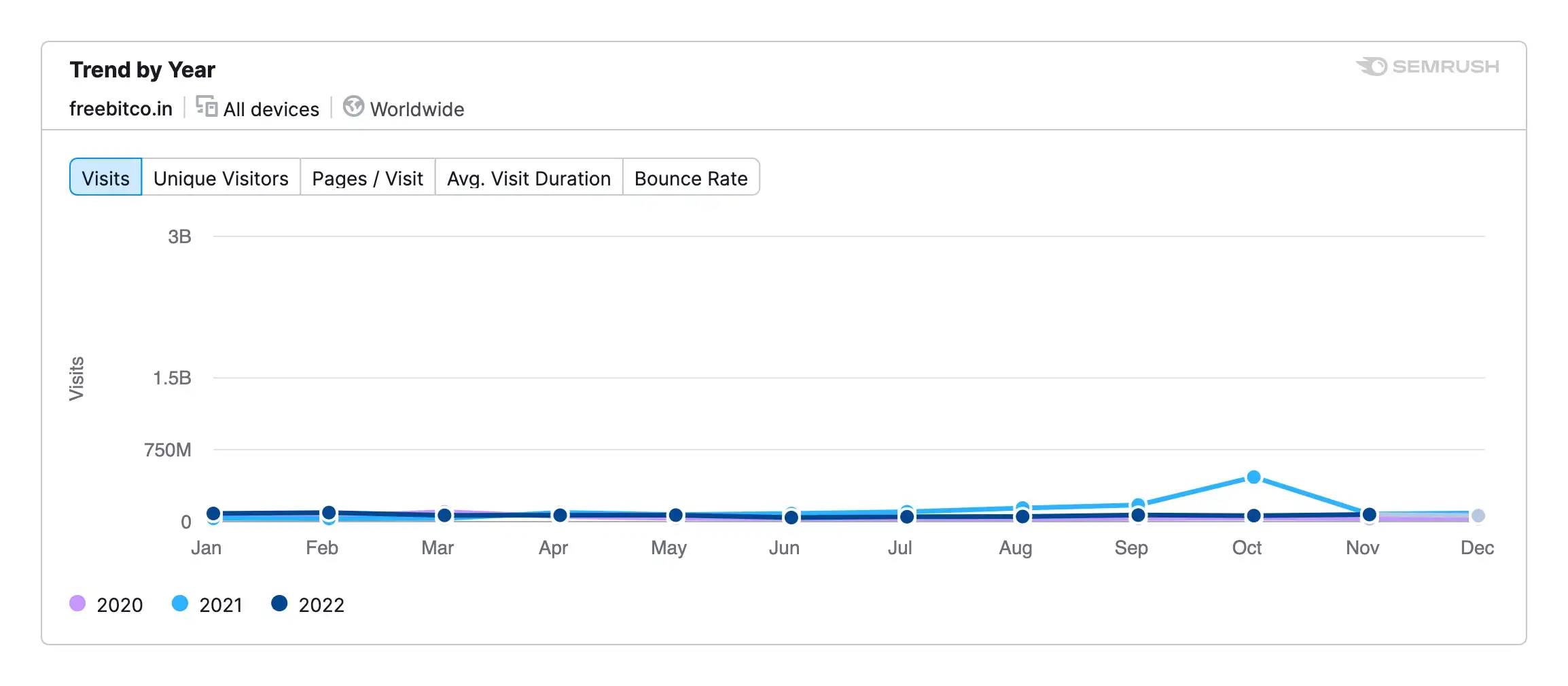 In my opinion, this is a very interesting project with its own mono-game and exclusive support for cryptocurrency payments, although the website already has a wider selection of games than it had at the start of the project. Due to the fact that the project does not present information about certain licenses and there is no data on where it originated, it is not bound to a particular country like the projects we looked at earlier. The traffic graph does not look impressive compared to others, which can be attributed to the fact that the website address has recently changed.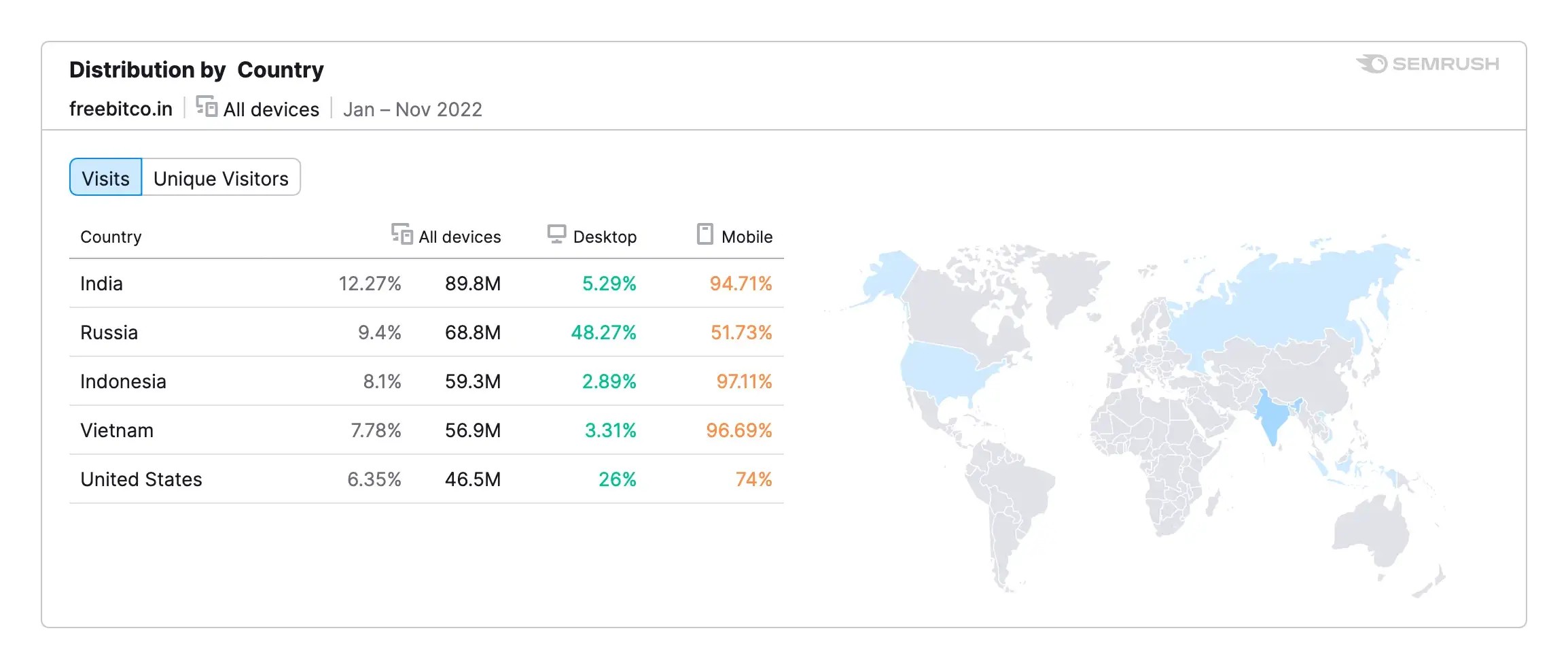 We see that there is no one dominant country the majority of website users comes from, but, in terms of raw percentages, most of the players here hail from Russia and India.
Betplay.com.co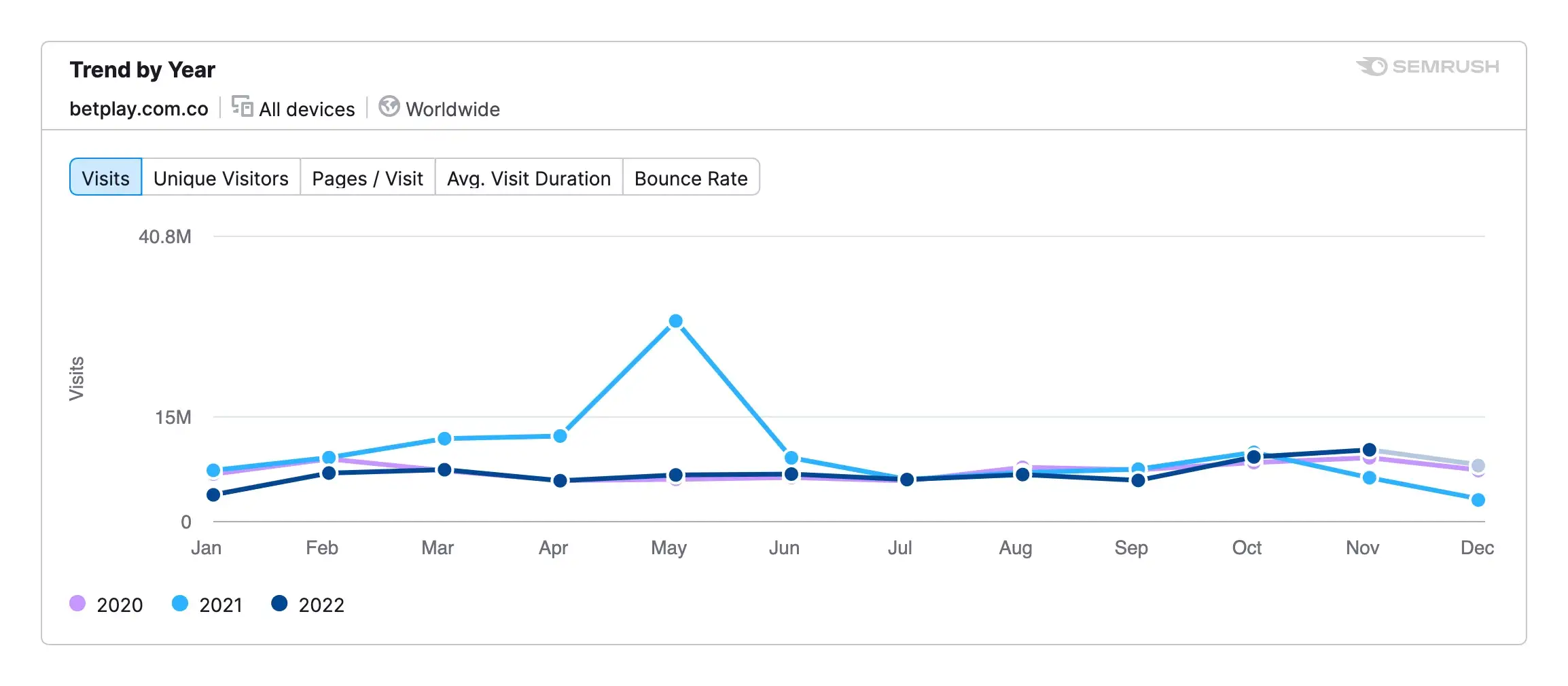 A large casino focused on Colombian users, with customer support only available in Spanish. The website puts a lot of emphasis on sports betting. Its traffic history remains approximately at the same level and lags slightly behind its main competitors. As usual with regional services, the main stream of users comes from its country of origin, i.e. Colombia.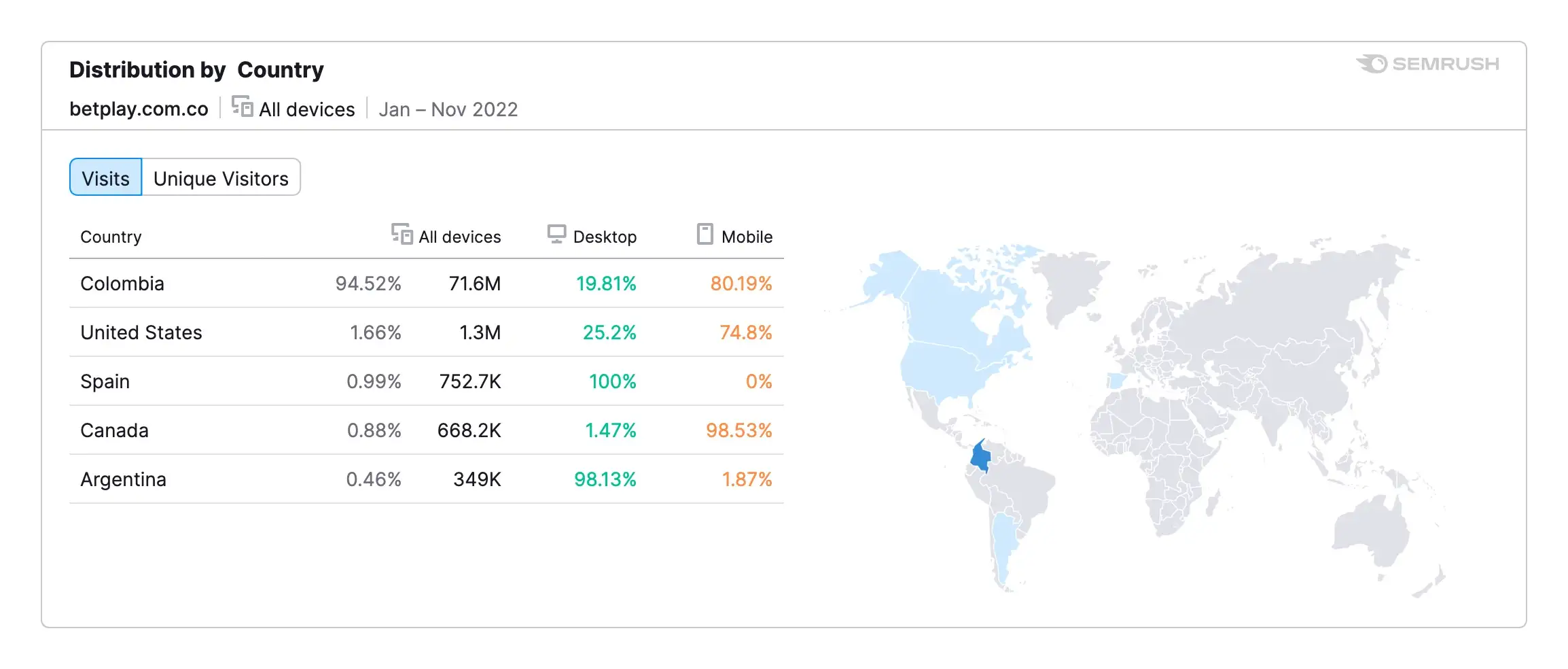 BetKing.com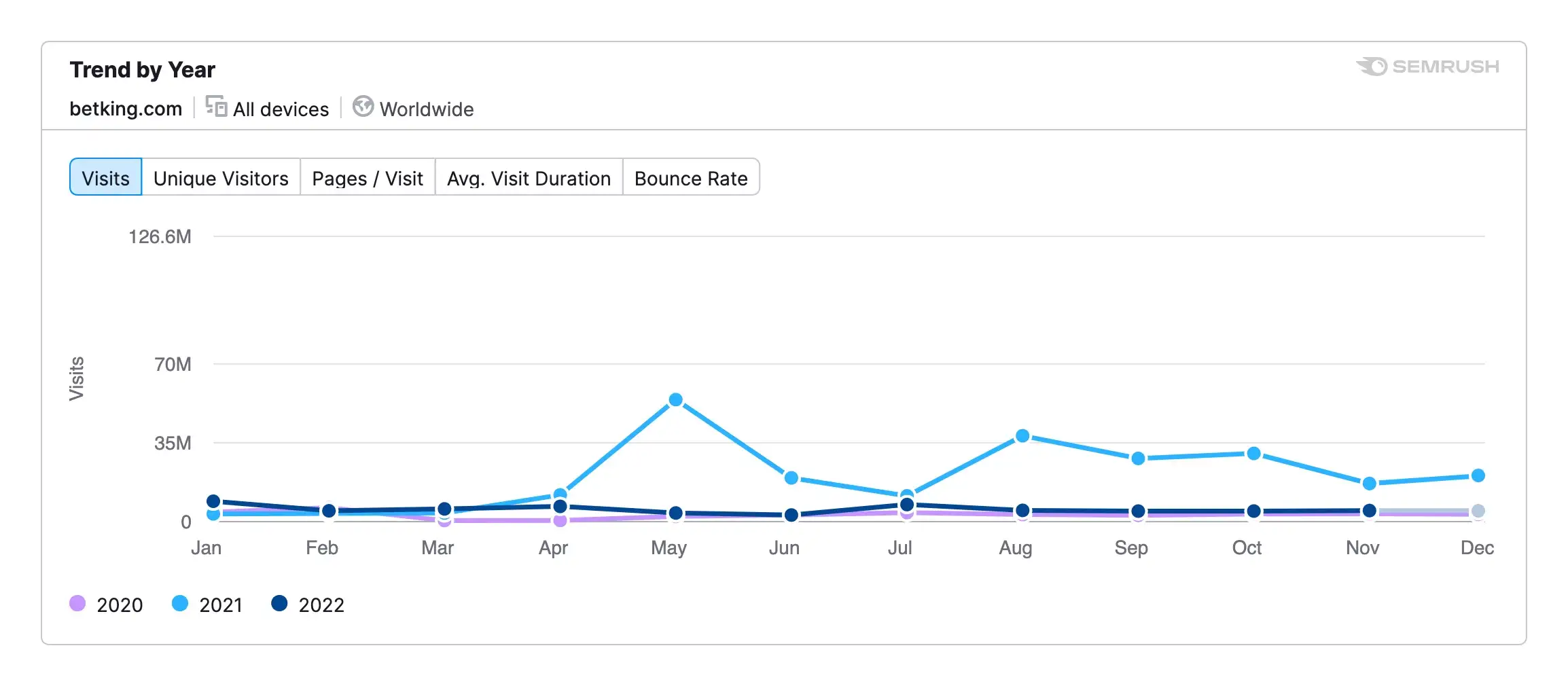 Another Nigerian project. The graph clearly shows that the flow in April 2022 has increased significantly compared to the two previous years and is trying to stabilize at a higher level, although this year the indicator had fallen slightly.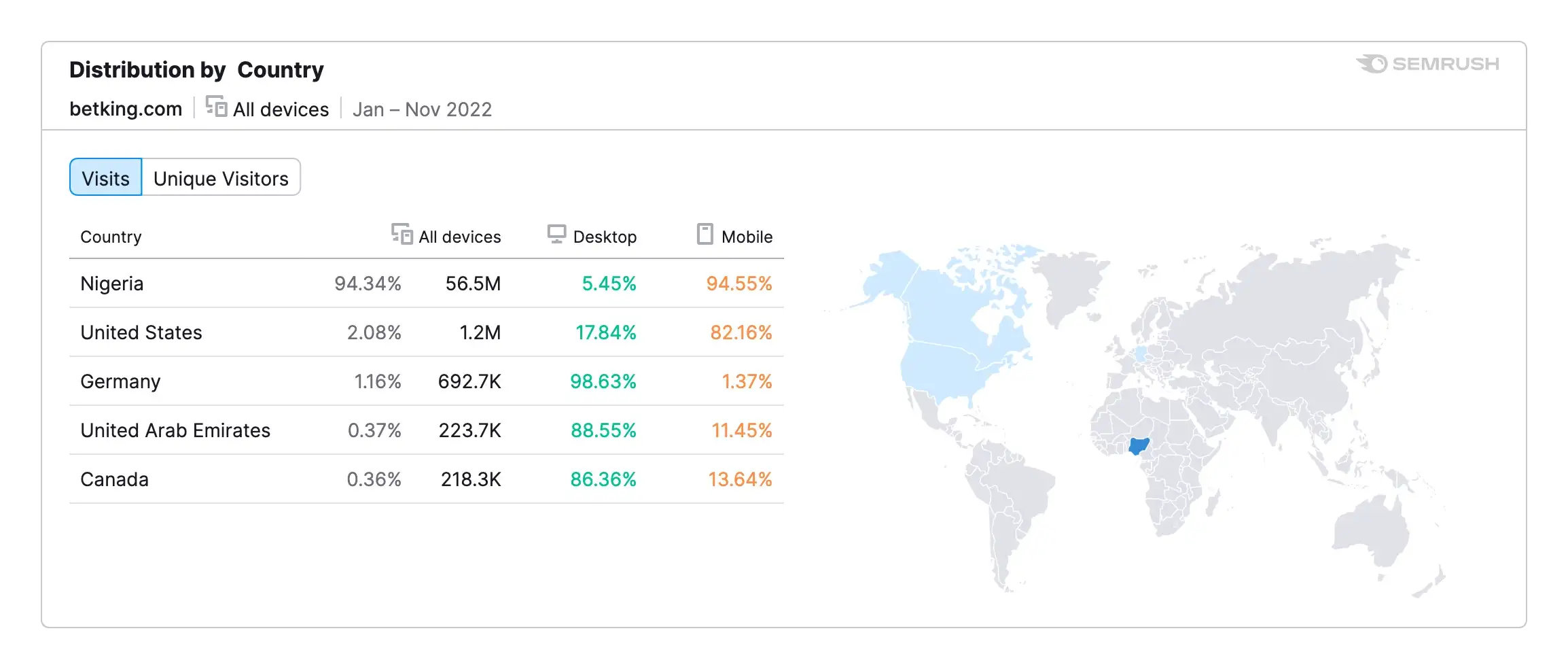 Bovada.lv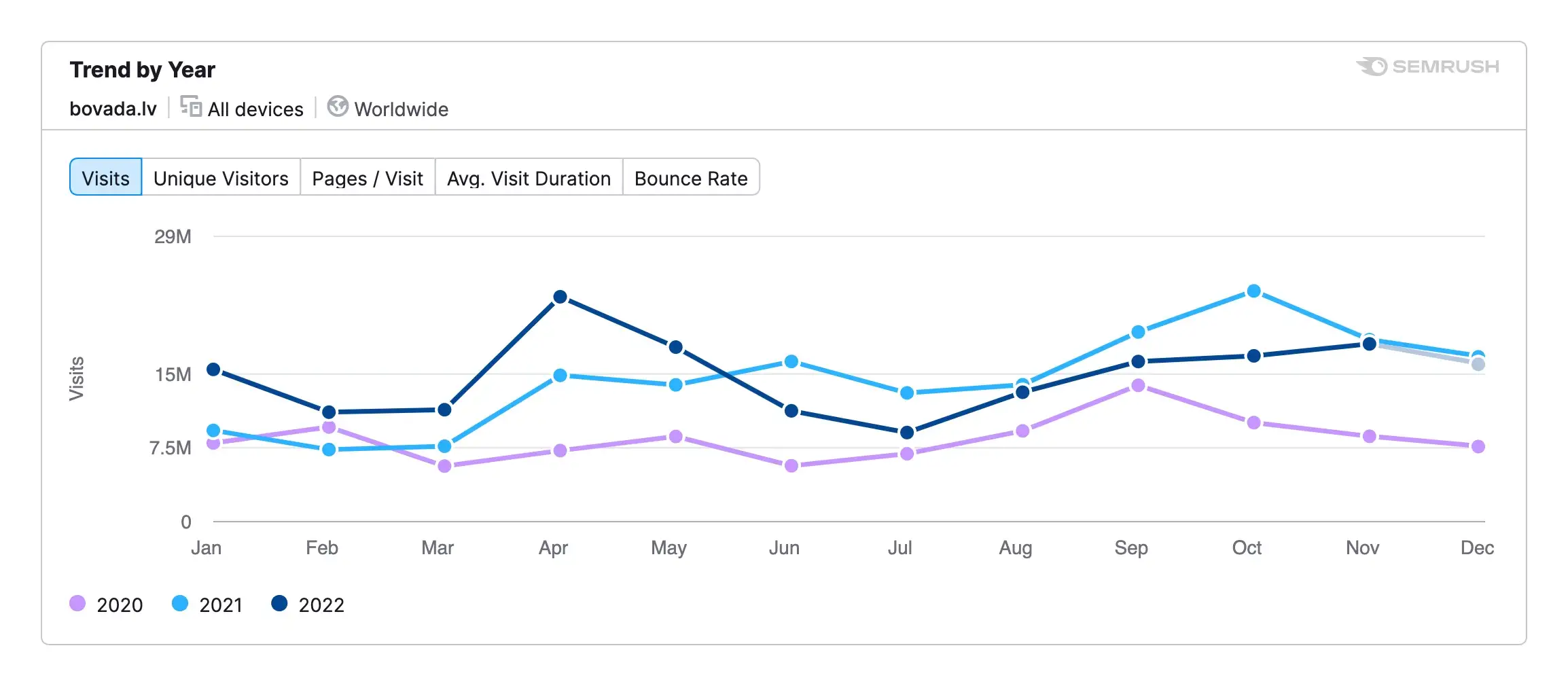 One of the major casinos focused on the USA. An interesting fact about it is that many users, about 83% of the total player base, access this service via the desktop version. The traffic graph shows that the user figures for all three years vary between 7.5 and 15 million. In some places, this mark is exceeded, for example, in April 2022 and October 2021.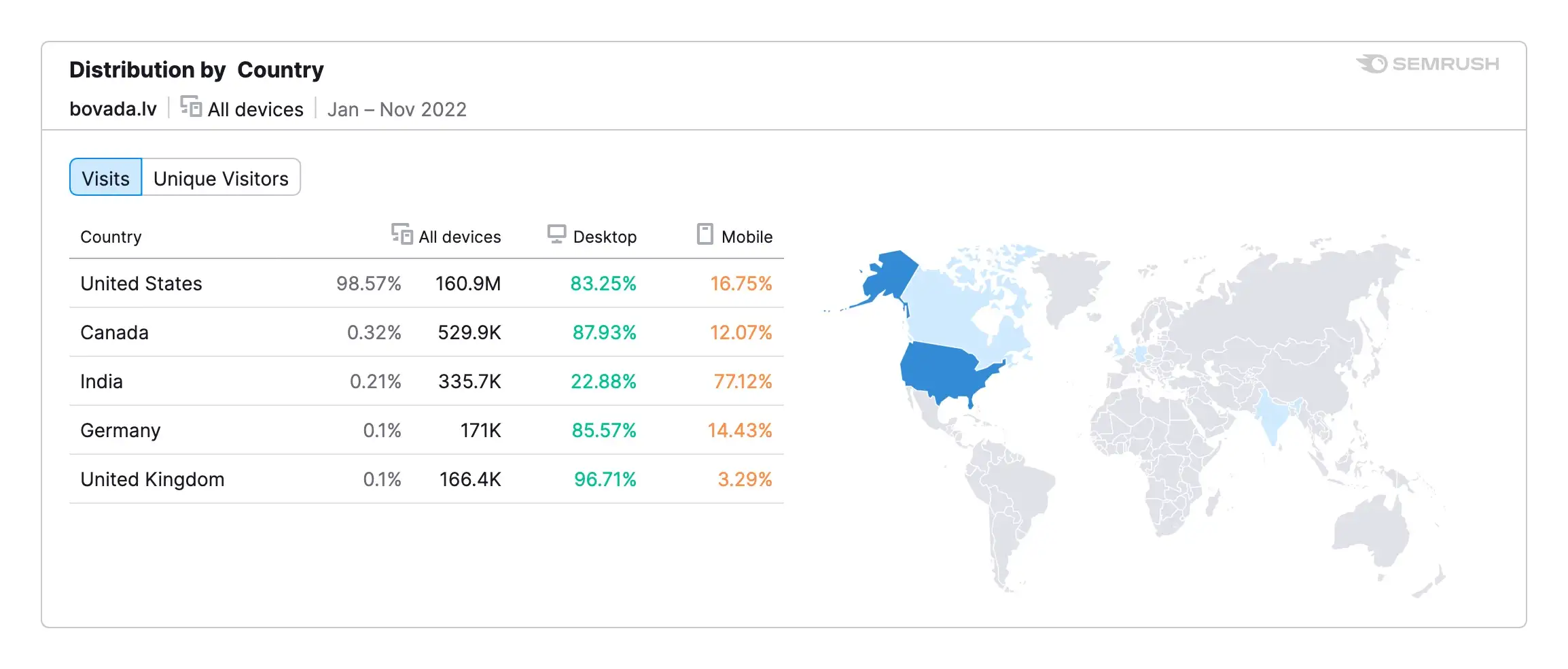 Nesine.com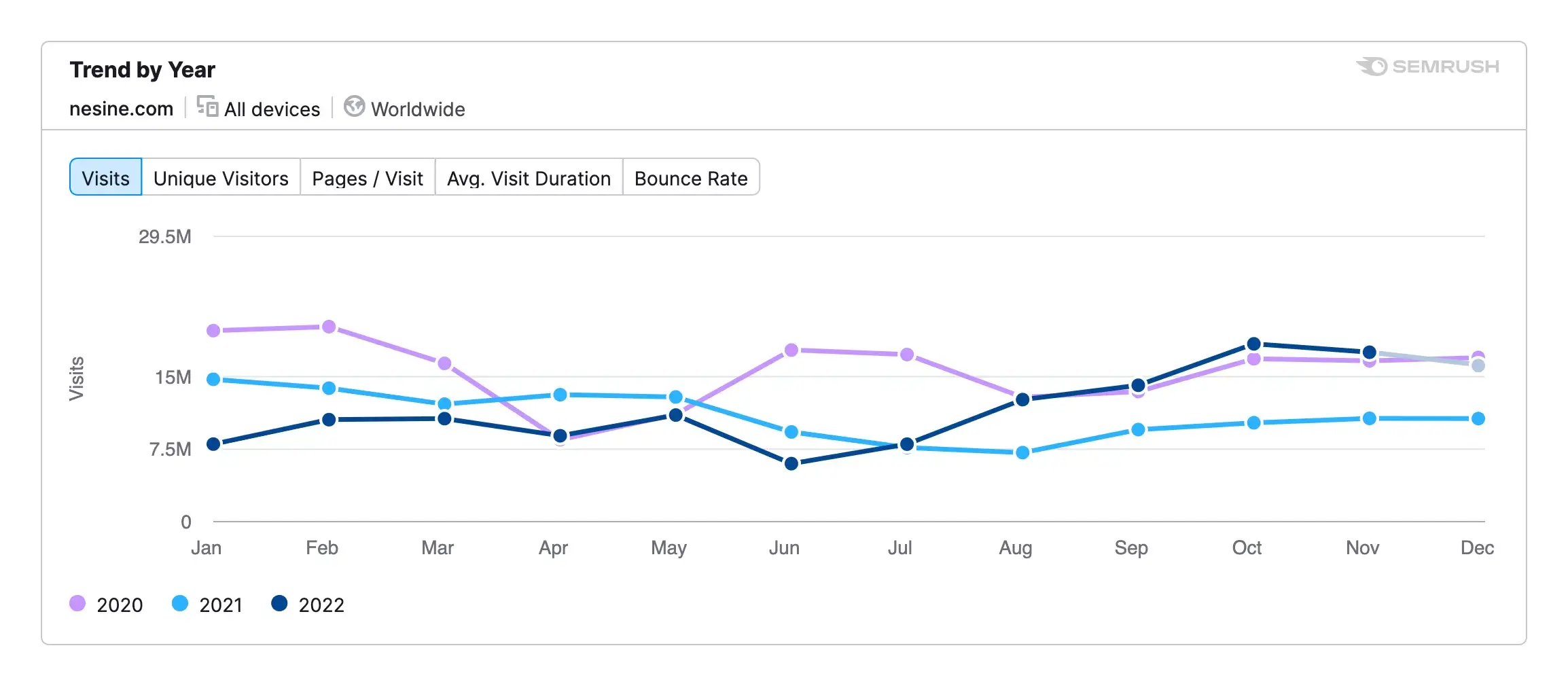 One of the oldest and largest betting companies in Turkey, accredited by the Turkish state. As we can see from the graphs, there were no major leaps or dives during the past 3 years, and the visitor numbers remained at roughly the same level. As one would expect, the main flow of users is coming from Turkey.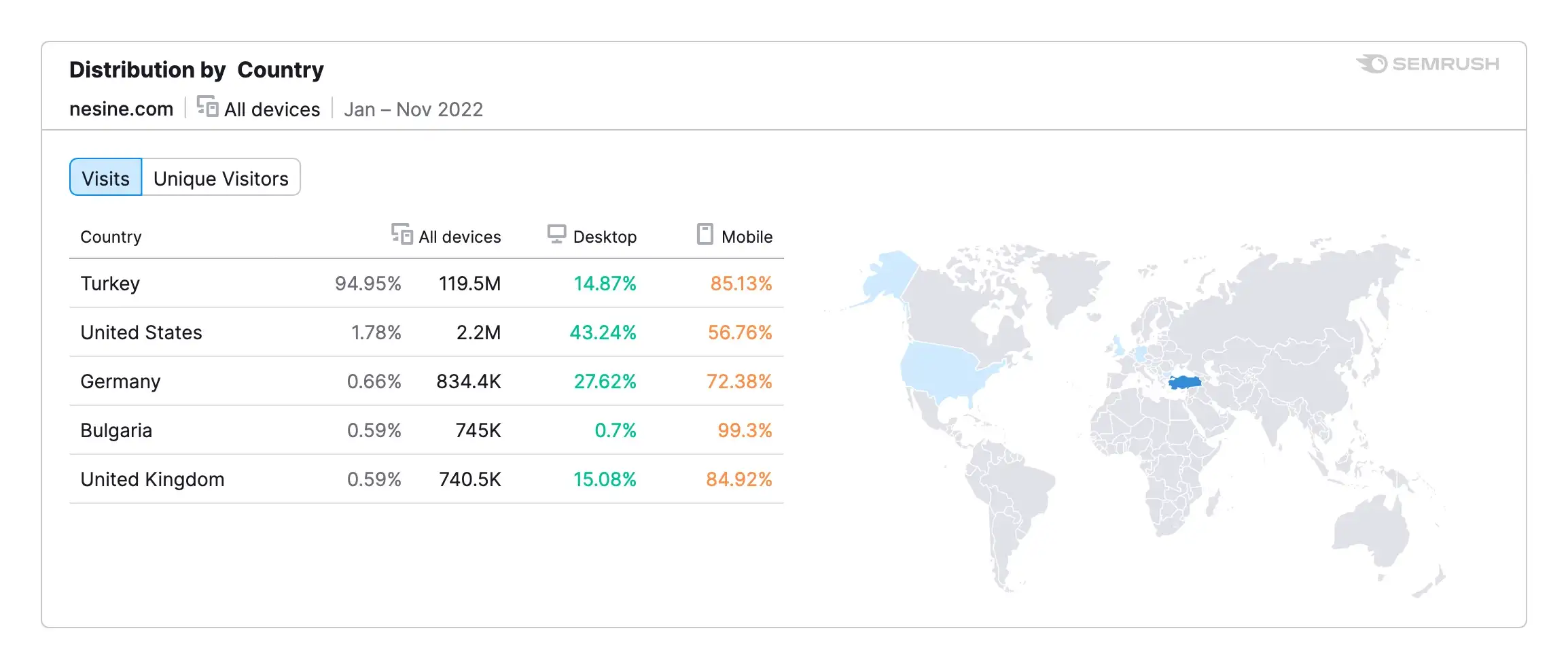 Betway.com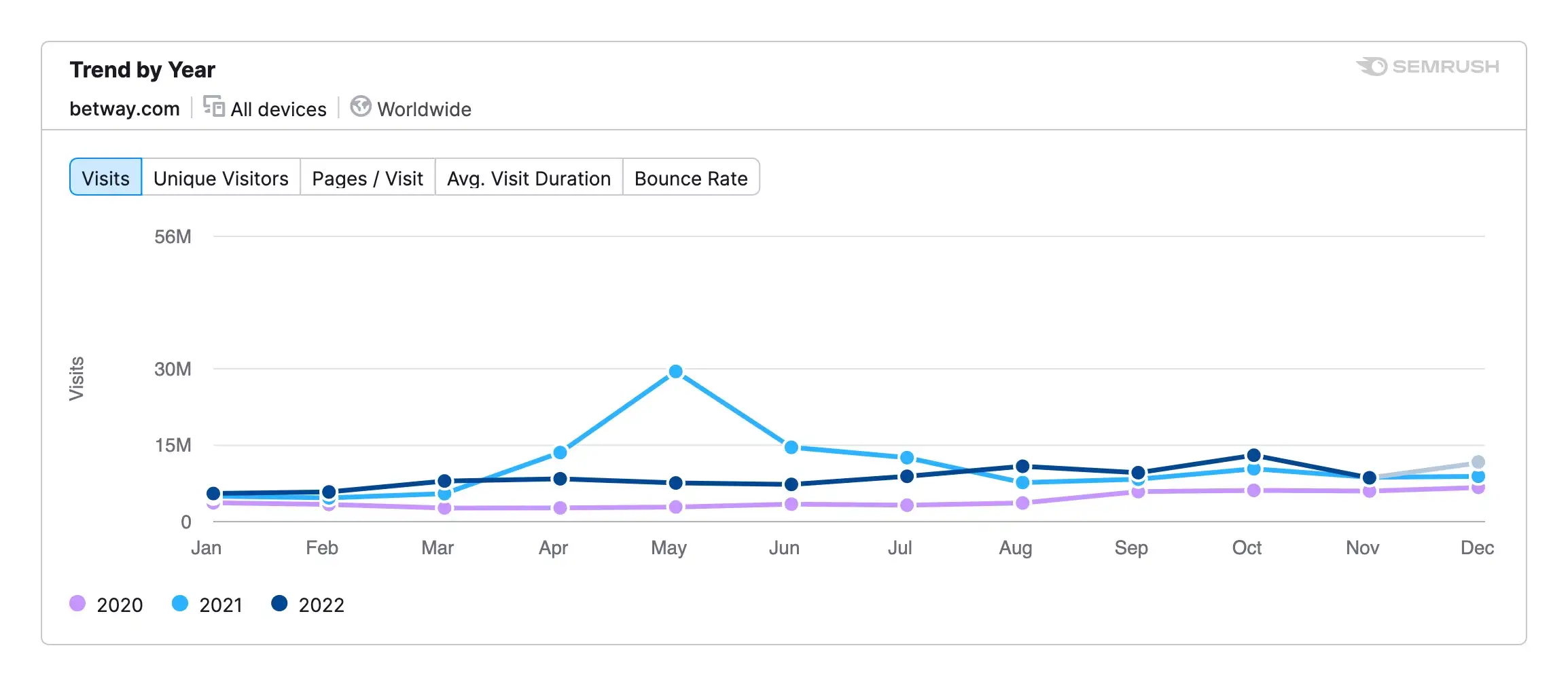 A large casino, popular all over the world, which can be seen from the user graph that shows that the main stream of users is coming from India, Canada, and Brazil. The traffic history does not vary much, but there was a jump in May 2021 akin to many other projects.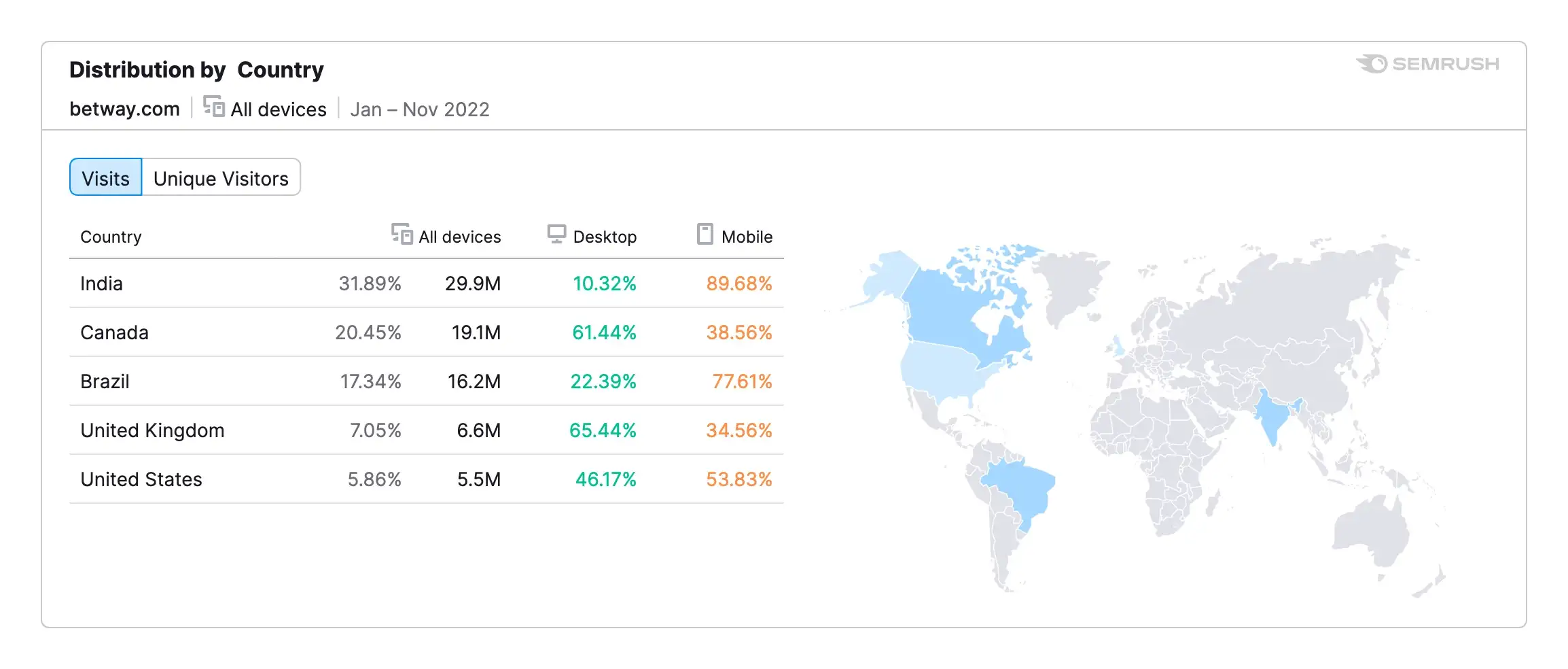 TJK.org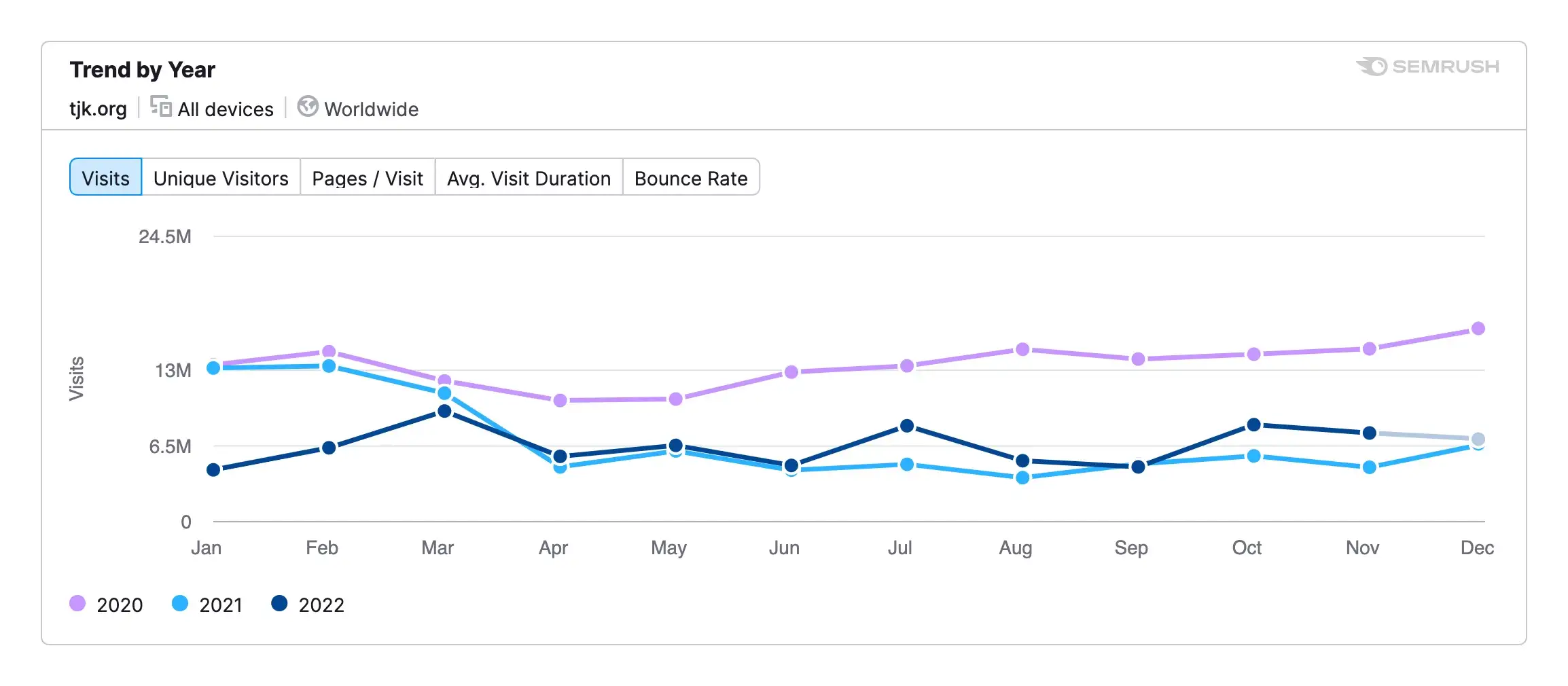 A Turkish project that's, along with netkeiba, provides horse racing betting, the only one of its kind accredited in Turkey. As a result, its main stream of users comes from Turkey. According to the traffic graph, we see that there were more users on the website in 2020 than in 2021 or 2022. Then, during these 2 years, the user flow did not change much.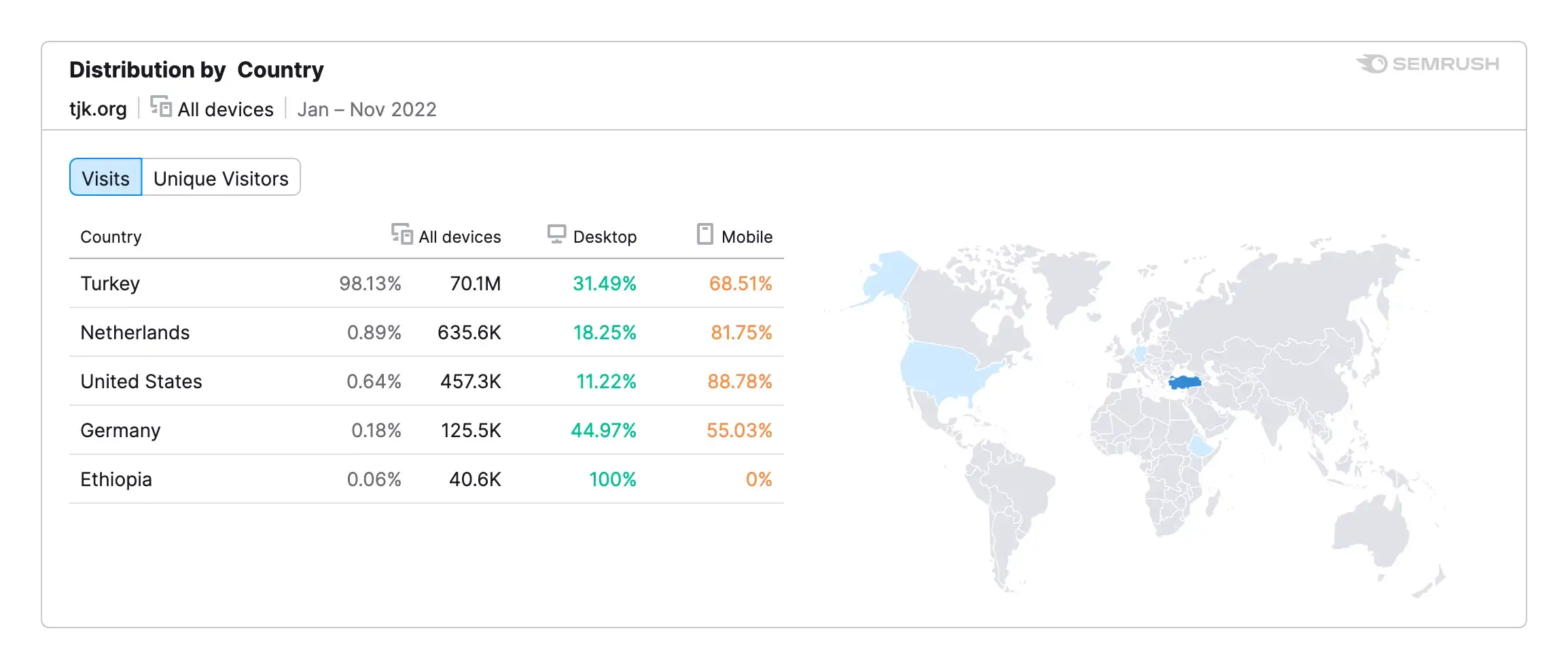 Hollywoodbets.net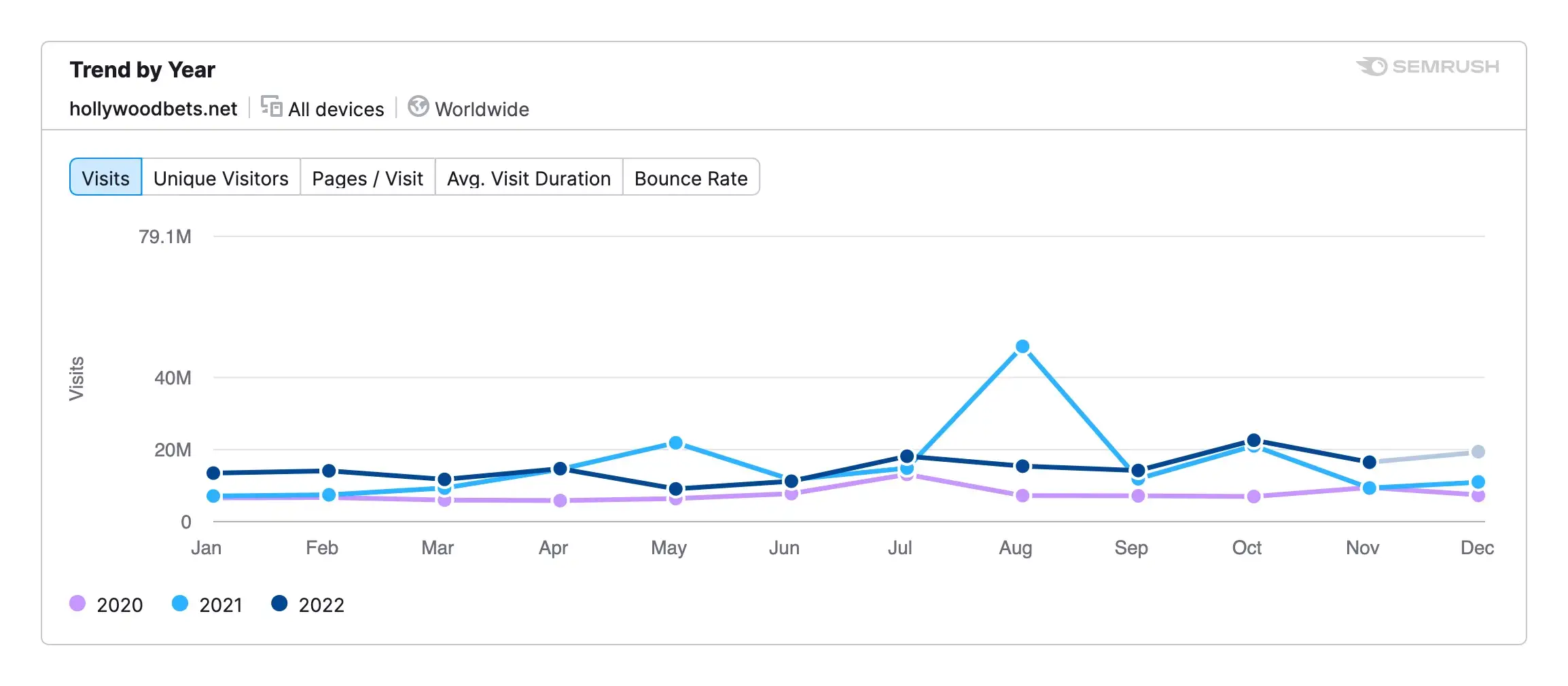 A betting company based in South Africa. Currently operates in South Africa, Mozambique, Ireland, and the United Kingdom. The traffic history looks calm and stable during the past 3 years, although there was a small leap in traffic around August 2021. Naturally, the main user stream originates in South Africa, making up 87% of the total flow.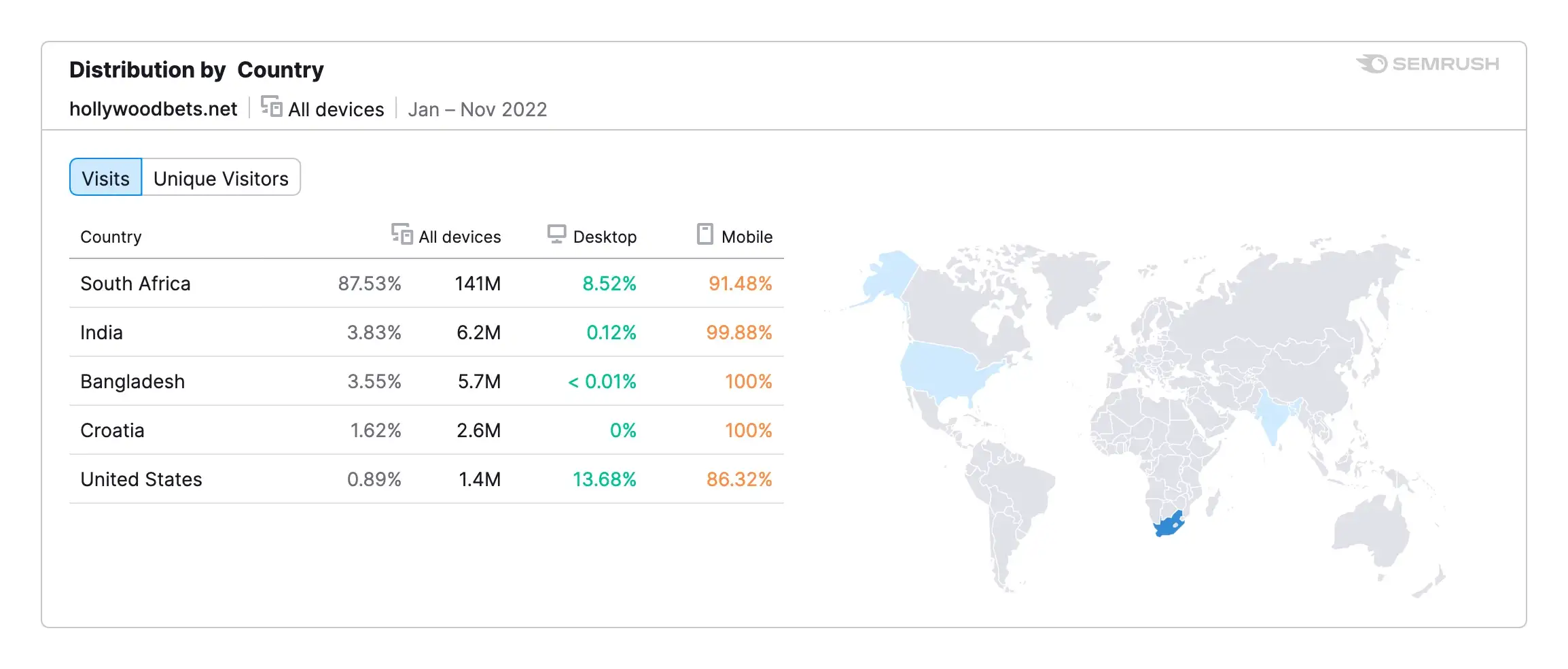 FDJ.fr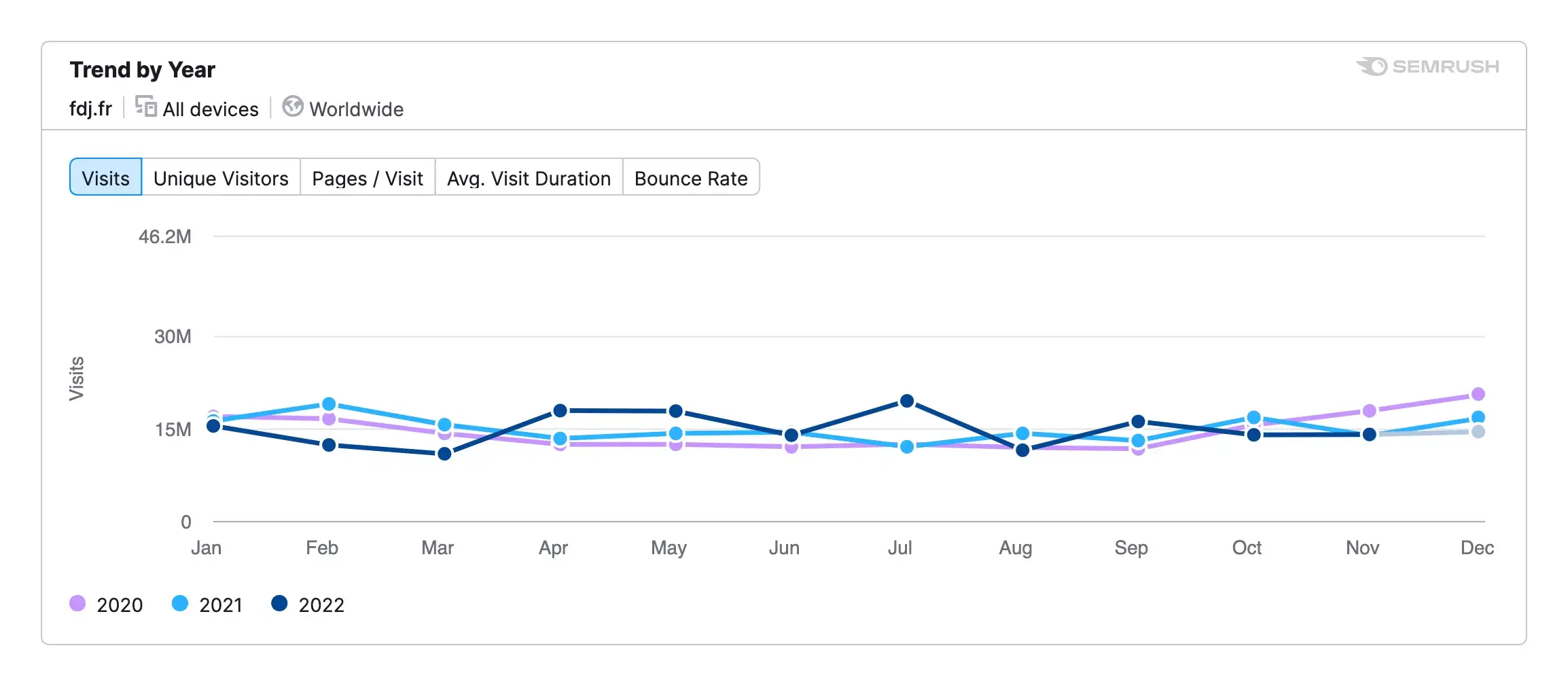 One of the most popular platforms in France, even though the company focuses on sports betting and lotteries, not necessarily casino games. The traffic graph for all three years stays around the 15 million mark, and, as was mentioned earlier, the main influx of users comes from France.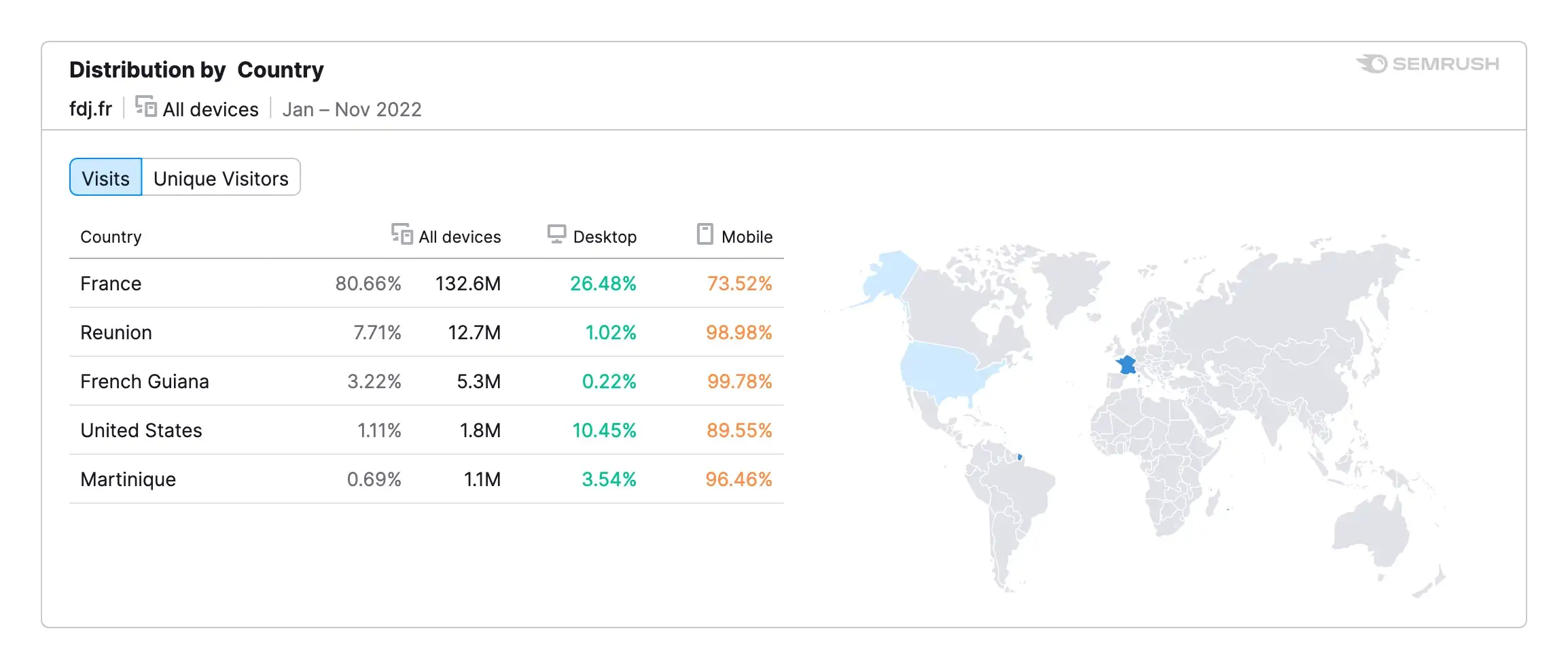 Betano.com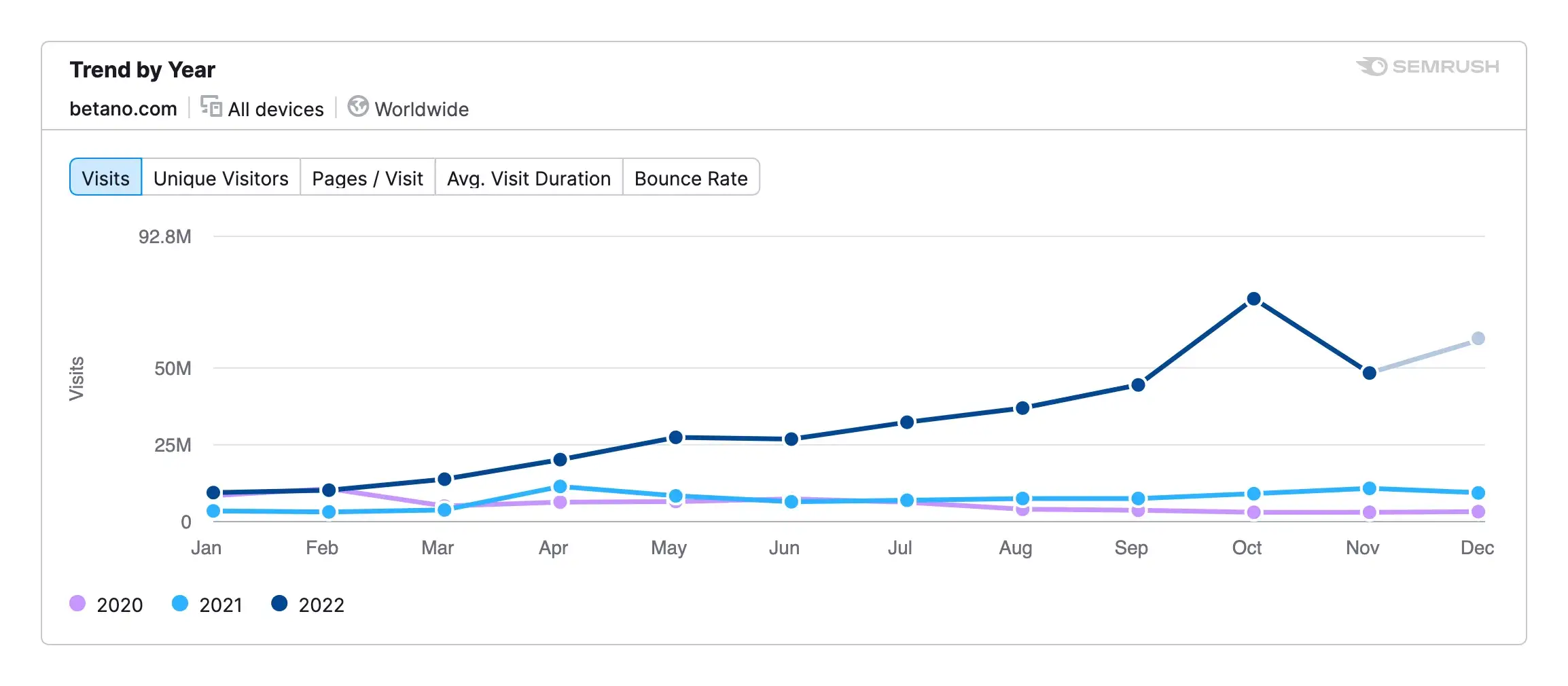 An international casino, licensed in several countries. As we can see, the main traffic flow increased in 2022, starting in May and peaking in October, then subsiding slightly around November. The main flow of users falls on countries such as Brazil and Chile.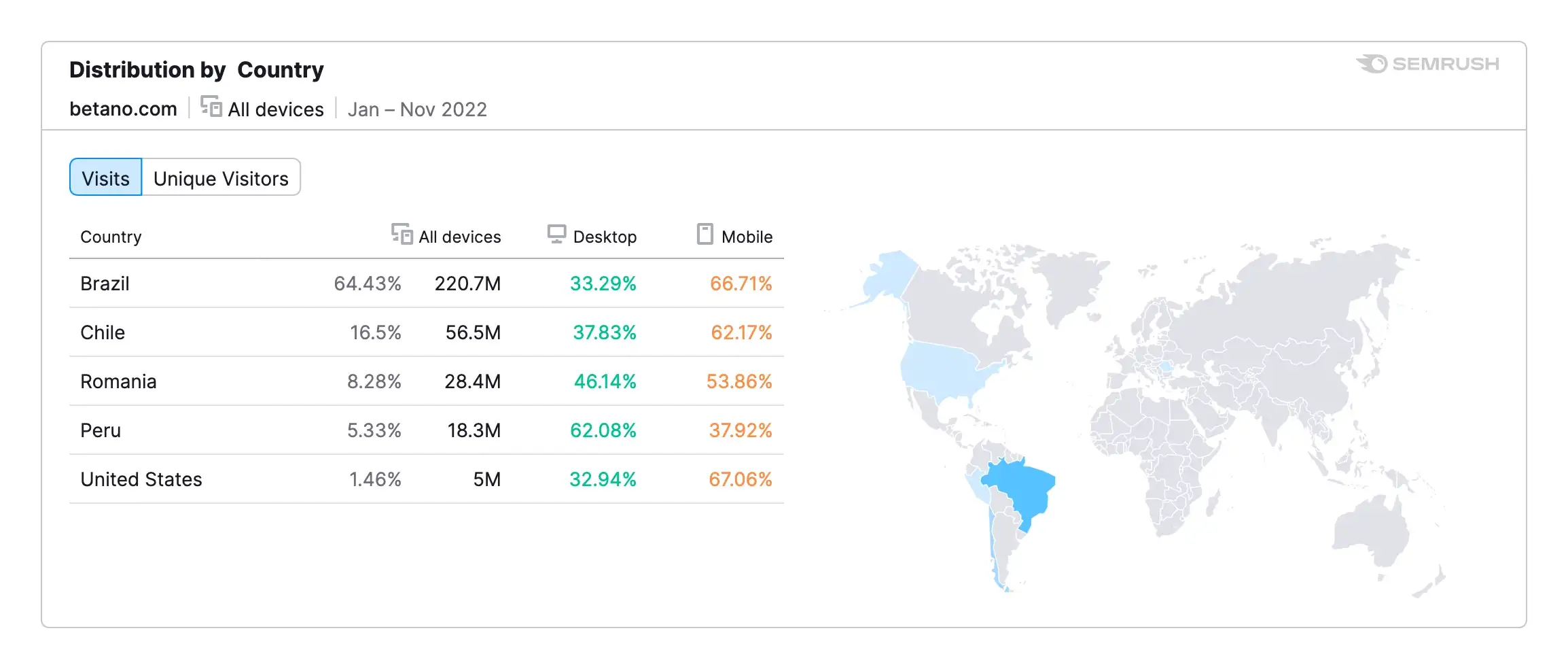 Betika.com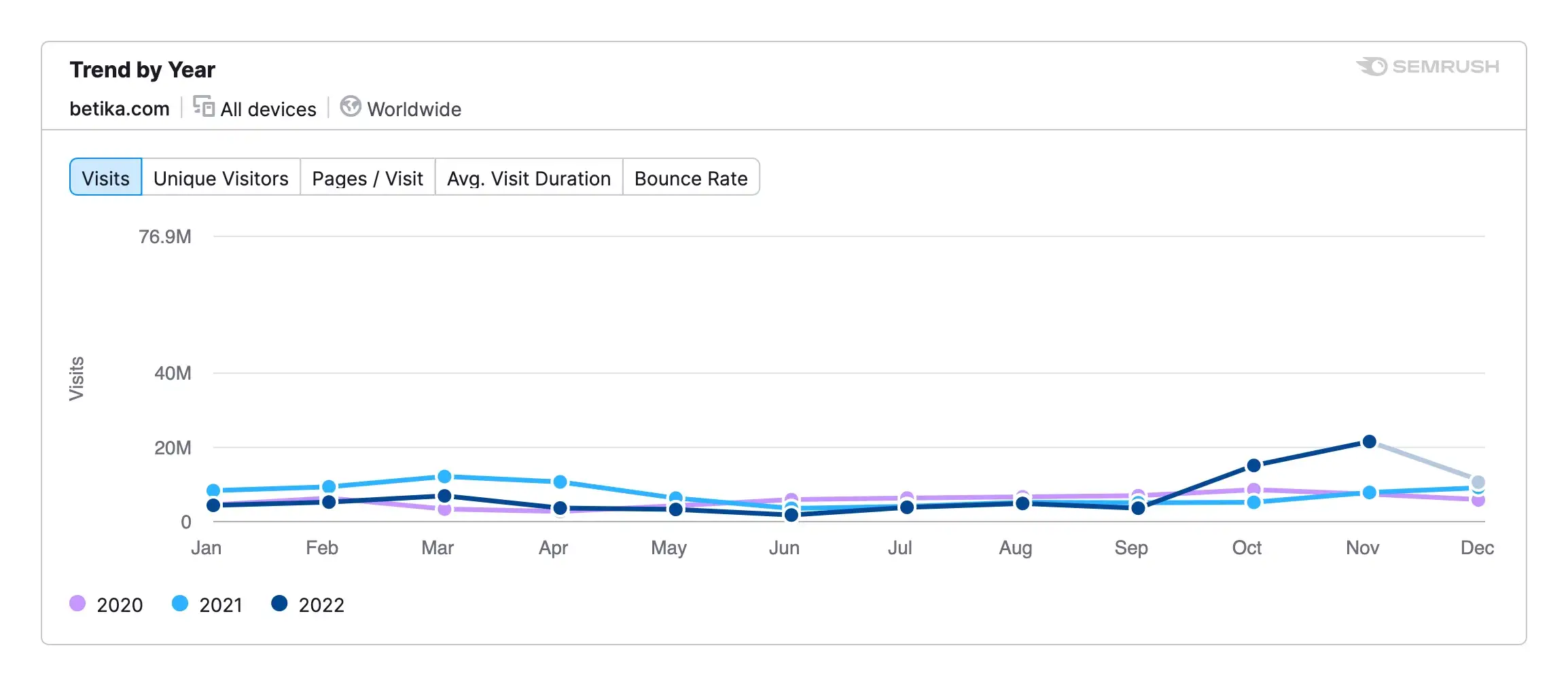 Another African project, this time focused on Kenya, as it holds a local license. The traffic graph remains almost at the same level, although there was a slight jump from around October 2022. Naturally, the main sources of website visitors here are Kenya and Ethiopia.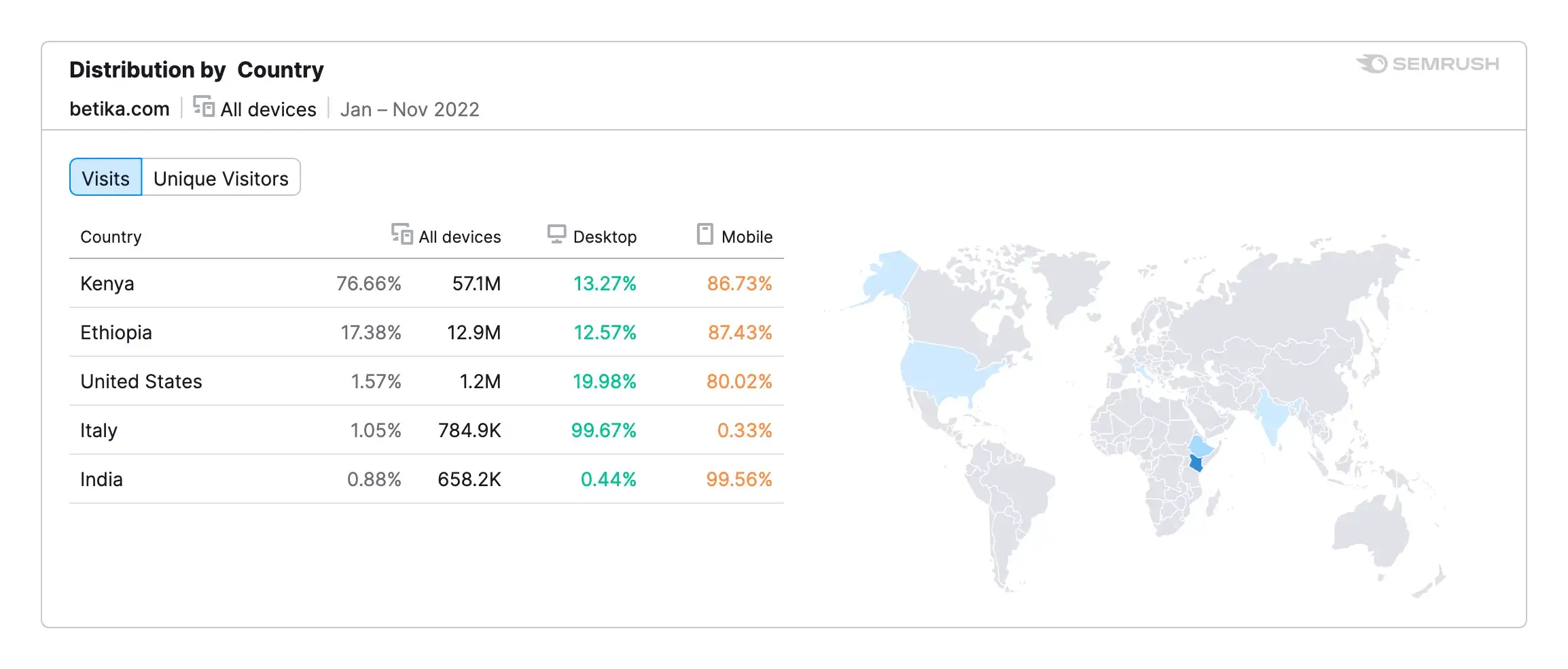 HKJC.com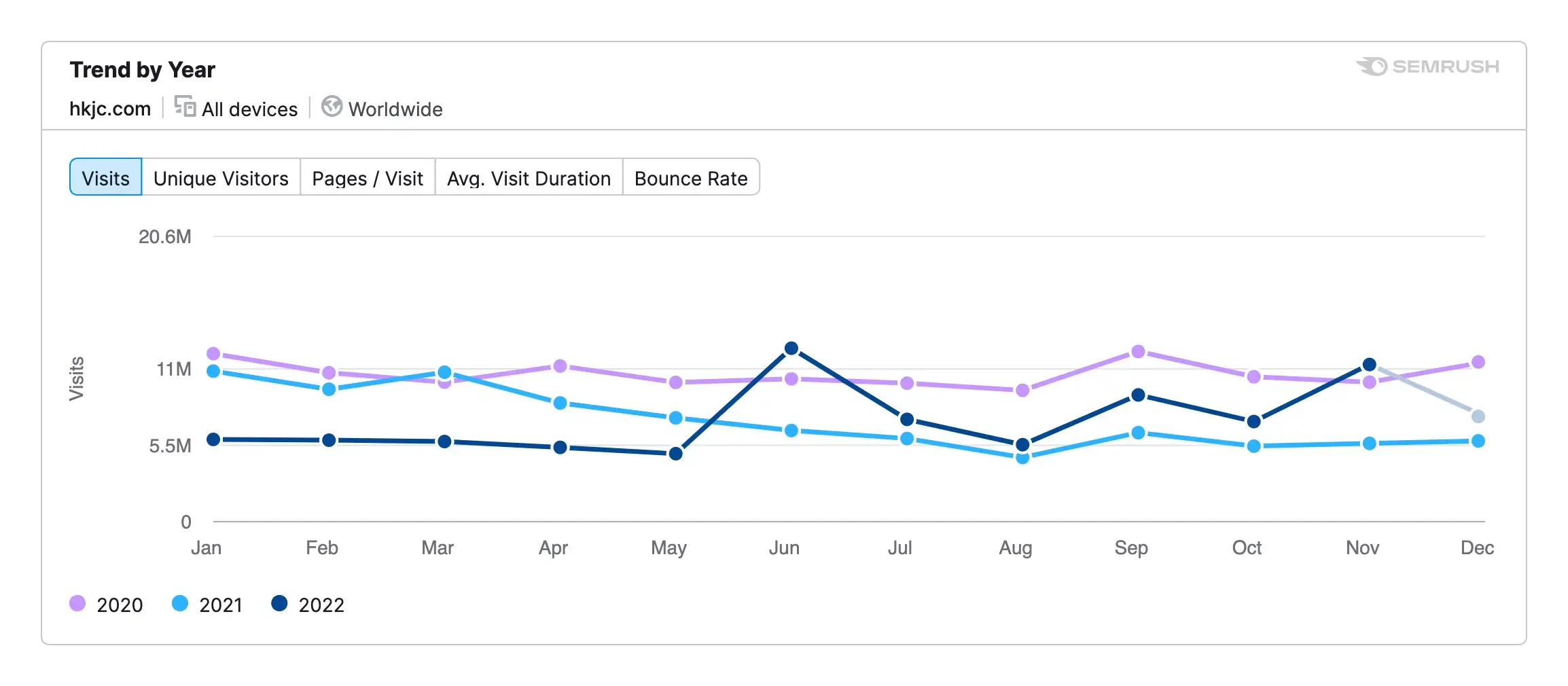 The Hong Kong Jockey Club is a large and one if not the biggest gambling projects in Hong Kong. Traffic-wise, it dropped slightly t the start of 2022, then there was a new peak of activity in June and November, but those indicators could not reach the same heights they achieved in 2020. The main stream of users originates in Hong Kong, while around 12% of players come from Malaysia.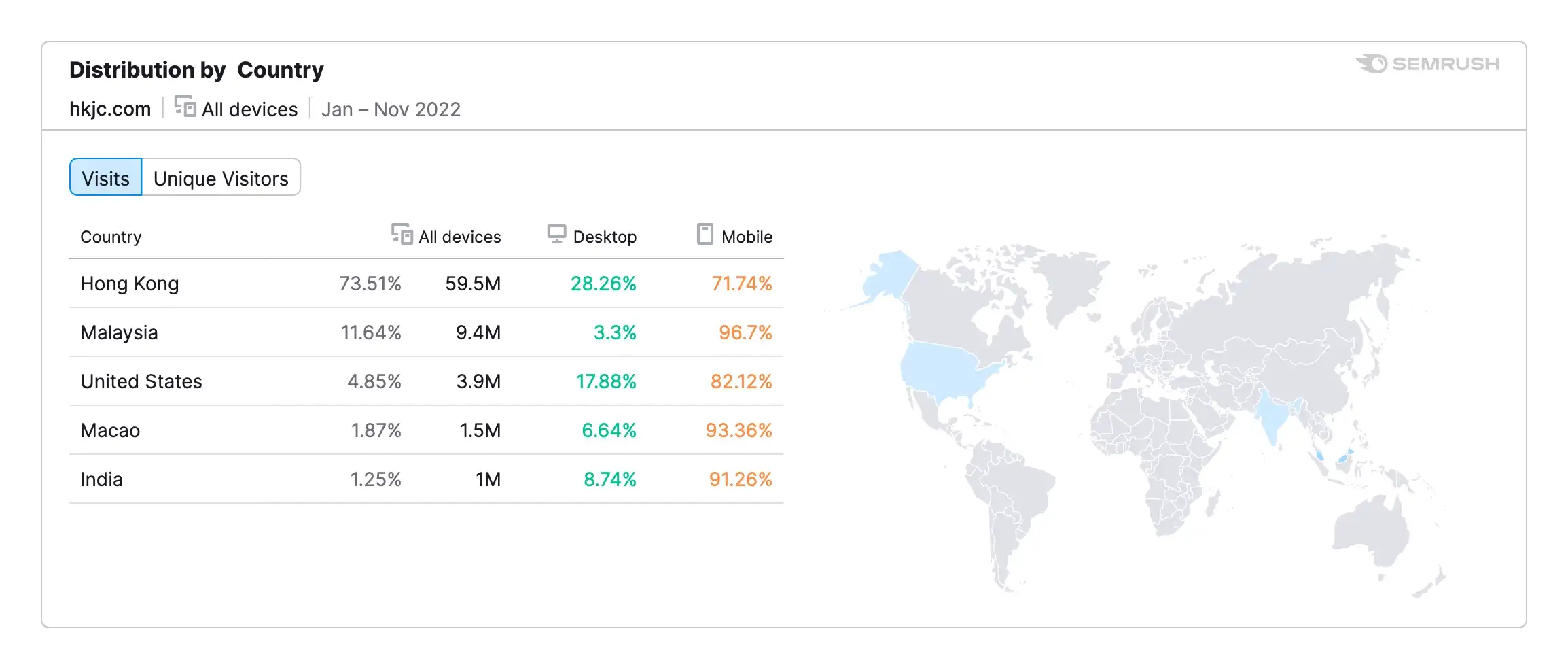 WilliamHill.com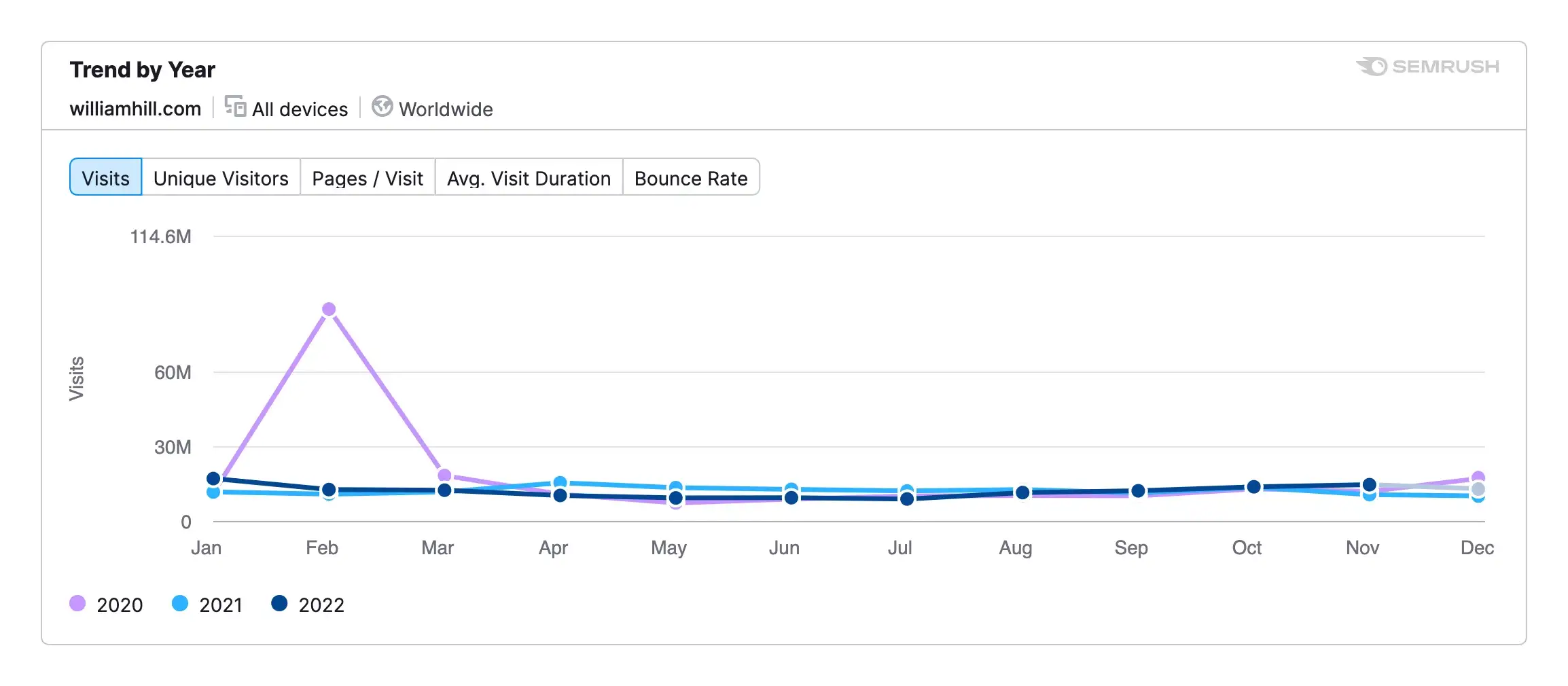 An international casino with very popular licenses from Gibraltar and Malta. The graph shows that the traffic remained stable, but there was a significant jump at the beginning of 2020, after which everything returned to normal. There was also an increase in unique users in 2022. The main stream of users here comes from the UK and the USA.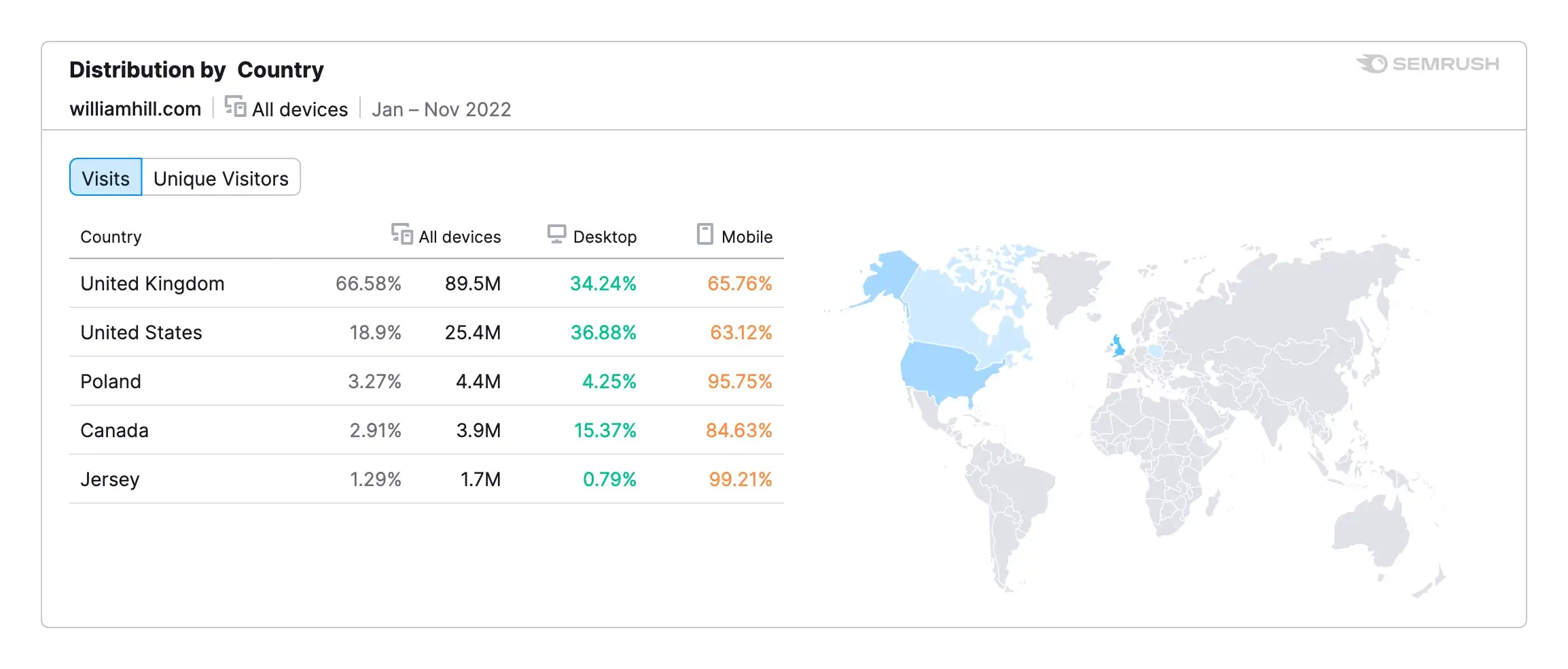 Betfair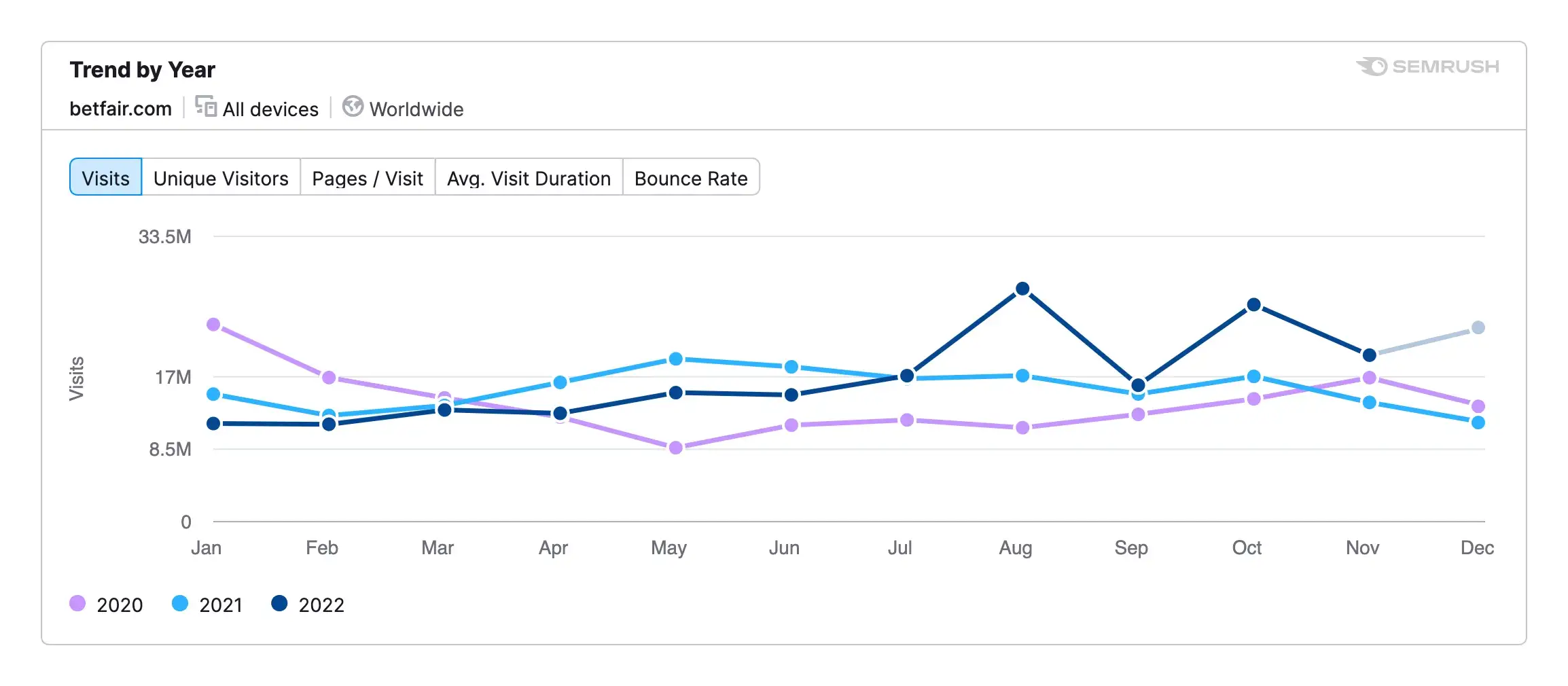 The final platform we shall look at is a popular international project with a huge fanbase in Europe, its main region of focus. The traffic graph looks rather interesting, as it can be seen that the traffic grew significantly since the middle of 2022, then peaked in August 2022.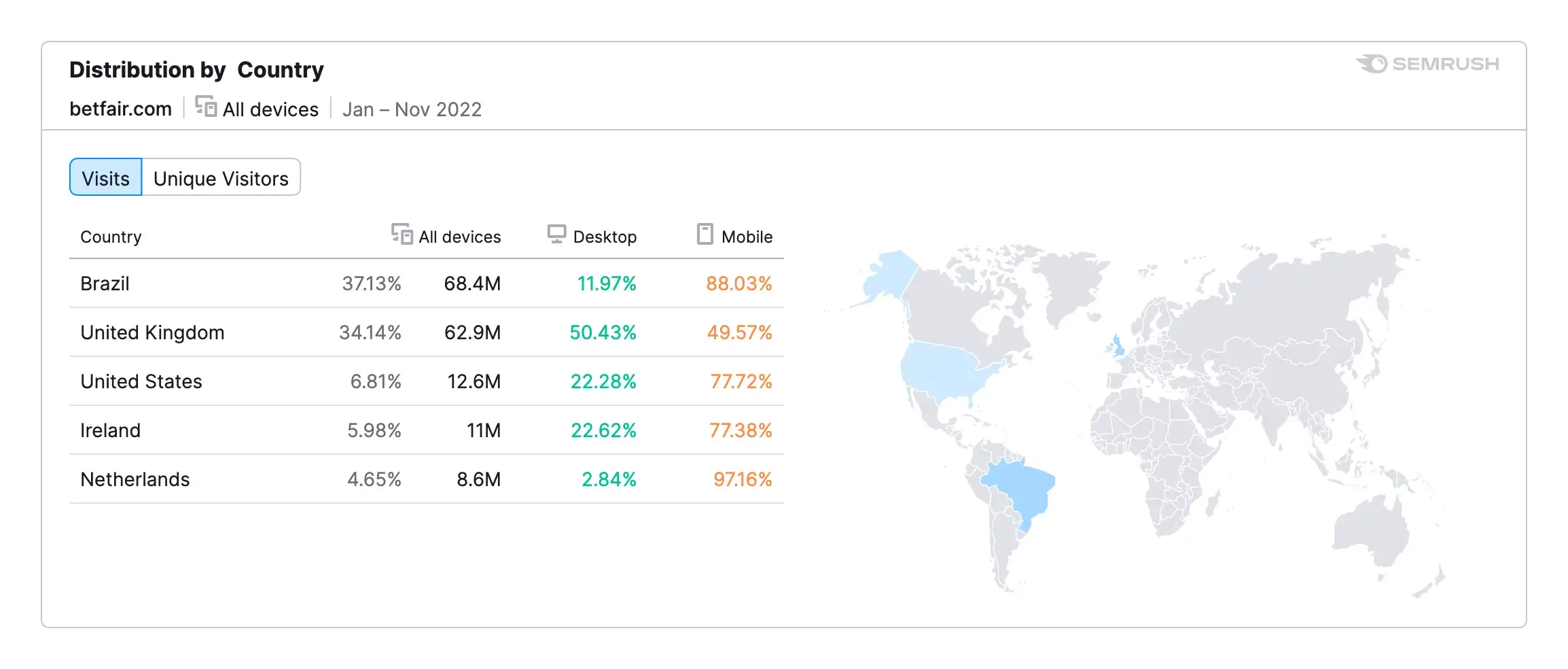 Although popular in Europe, as we can see from the graph, the main flow of users was divided between the UK and Brazil.
Mobile versions
Since people can now enjoy their favorite casino websites via portable gadgets, at least when they get a fast and stable enough connection, they are no longer tied to desktop computers, resulting in a tremendous leap in mobile traffic. We can easily trace this trend in the graphs belonging to those projects whose mobile traffic exceeds that of their corresponding desktop version by an average of 76.85%. It is noteworthy that only one of the 20 casinos we listed above enjoy more desktop version traffic than mobile.
Since casino websites perform seamlessly in modern mobile browsers, this also means they can work stably regardless of the software ecosystem to which specific users are tied.
In The End
The overall objective of iGaming platforms that seek to attract a huge number of users is to provide a high-quality gaming experience. However, in order to deliver this service in a highly satisfactory manner, a lot of additional points need to be considered first. The reasons why the majority of people choose popular, reputable, and recognizable casinos such as these — pick whichever variant you like — are as follows:
User-friendly and intuitive interface/UX;
Frequent and lucrative bonuses and promotions;
Excellent loyalty programs and tournaments;
Abundance of games;
Security and licensing;
Variety of supported payment methods;
Reliable customer support.
Undoubtedly, casinos with high attendance rates succeed at attracting a large number of players thanks to their fantastic marketing strategies. However, it is their customer retention methods that make them the best option for iGaming enthusiasts. Think of it as a criterion when choosing a casino to visit — the casino with the highest traffic usually offers the best services.