The Most Popular iGaming Websites You Need to Hear About — Part 2
15 Nov, 2022
Earlier, we discussed iGambling platforms mainly specializing in horse racing, but today we want to take a look at another popular industry branch — lotteries.
Why is it so important? The lotteries are viral and account for almost half of all the income generated in the gambling world. In many regions, the state seeks to monopolize most lotteries, ousting private investors.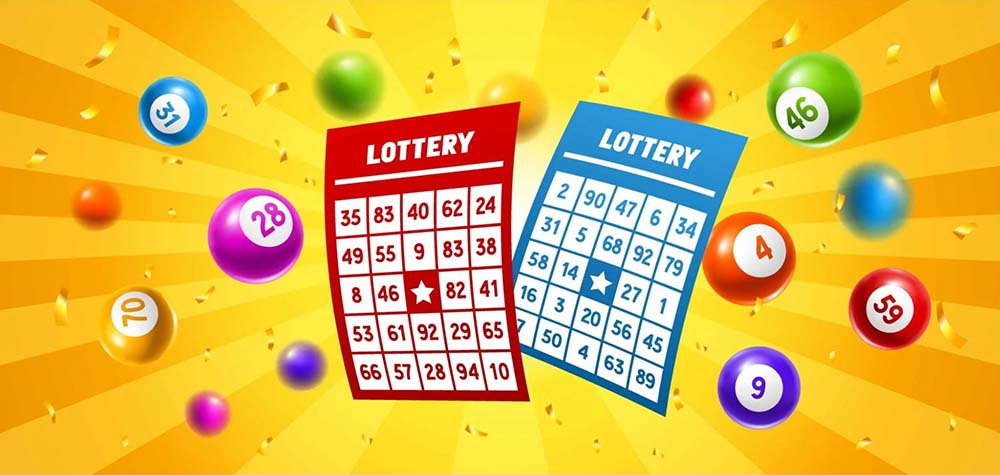 Lotteries are the holy grail of the iGaming industry, and most have been operated by state monopolies for decades, if not centuries.
Today we will discuss the top 6 most popular platforms where one can play the lottery on the most favorable terms.
| | | | | |
| --- | --- | --- | --- | --- |
| Rank | Name | Language(s) | Licences | Traffic 04.2022 |
| 5 | PCH | EN | US (no details) | 76 630 000 |
| 14 | Hollywoodbets | EN | Gauteng Gambling Board, Limpopo Gambling Board, Mpumalanga Economic Regulator, KwaZulu-Natal Gaming and Betting Board, Western Cape Gambling Board | 24 060 000 |
| 15 | FDJ | FR | The National Gambling Authority (ANJ) | 22 600 000 |
| 26 | Loterias y Apuestas | ES, EN, CA, EU, GL | Directorate General for the Regulation of Gambling | 14 240 000 |
| 29 | Stoloto | RU | Federal Tax Service of Russia | 13 990 000 |
| 32 | Loterias CAIXA | EN, PT | Brazil's SECAP | 12 390 000 |
Each of these companies holds great significance, so it is worth discussing them in more detail.
PCH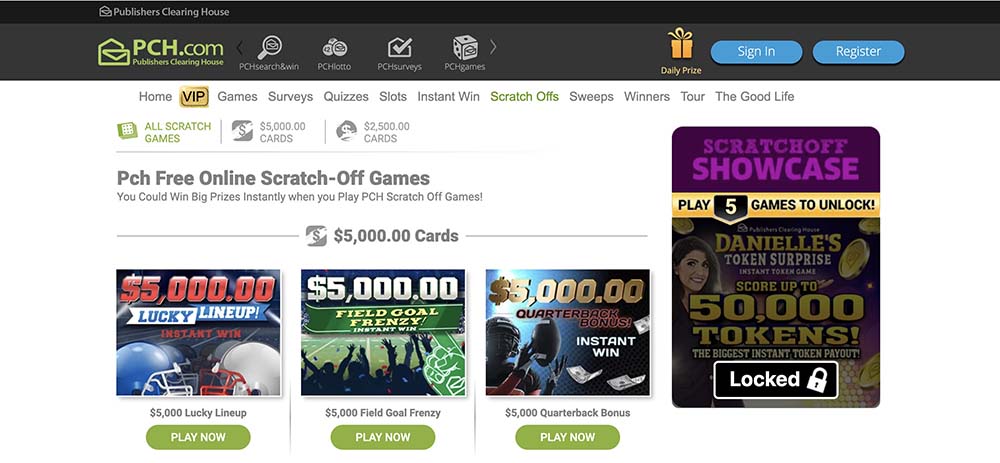 Publishers Clearing House (PCH) is a direct marketing company that sells magazine subscriptions and certain products, including kitchen appliances, via sweepstakes and raffles. Its casino-style games include slots, keno, trivia, scratch-offs, solitaire, and more.
It operates eight websites, including PCH Search and Win, PCH Lotto, PCH Games, PCH Save and Win, as well as Candystand.
The company offers daily low-stakes lotteries. You do not need to make any purchases to win, but the chances of winning are low, and participation results in frequent emails with new offers. Being able to enter a cash prize draw without investing money is rare, but the Publishers Clearing House offers just such an opportunity.
PCH offers some merchandise and magazine subscription offers with customer benefits, but buying products does not increase your chances of winning. The company is all about legality. As of June 2020, according to the stated rules, the odds of winning "$5,000 a week for life" in their Giveaway 16,000 are 1 in 6.2 billion.
PCH Lotto is one of Publisher Clearing House online gaming outlets. It is a free lottery website where players can participate in games and win cash prizes of up to $4 million.
It is not like other lottery websites as you will not find popular lotteries like Powerball or Mega Millions here and will be limited to the game offered by the company instead.
This online platform offers many free daily lotteries. They advertise a range of games called PCHlotto Twilight, Frostbite Funds, Reindeer Riches, and Seasons Winning. The screen at the top shows the current, constantly growing jackpot, like a clock counting down the seconds until the next big winner is determined.
Players must have enough PCH tokens to join. The good news is that these can be claimed for free, requiring only specific actions on the website, such as playing other games, participating in sweepstakes, watching winner videos, etc.
Only United States and Canada residents who are "physically located and residing in either country" can play here. However, players from Canada can participate in some games, especially lotteries, by mailing their entries. Players from other regions do not have access to this game.
Their lotto requires players to pick 8 numbers between 1 abd 54, plus a PowerPlay number. To win the major $4 million PowerPrize, you must match all 9 numbers, meaning that every individual player's chances of winning are rather meager, about 1 in 25 billion.
Luckily, other prize tiers offer more reasonable odds. In addition, free PCH tokens are awarded for participation in the PCH Lotto.
PCH has a unique way of rewarding players with bonus tokens in PCH Search & Win — a search engine that yields rewards for using it.
You will also find a PCH version of other popular games, such as keno and slots, scratch-offs, card games, word games, and more, with every game type offering rewards in the form of cash or free tokens.
PCH Lotto also has an official mobile app that allows you to play anytime, anywhere.
Hollywoodbets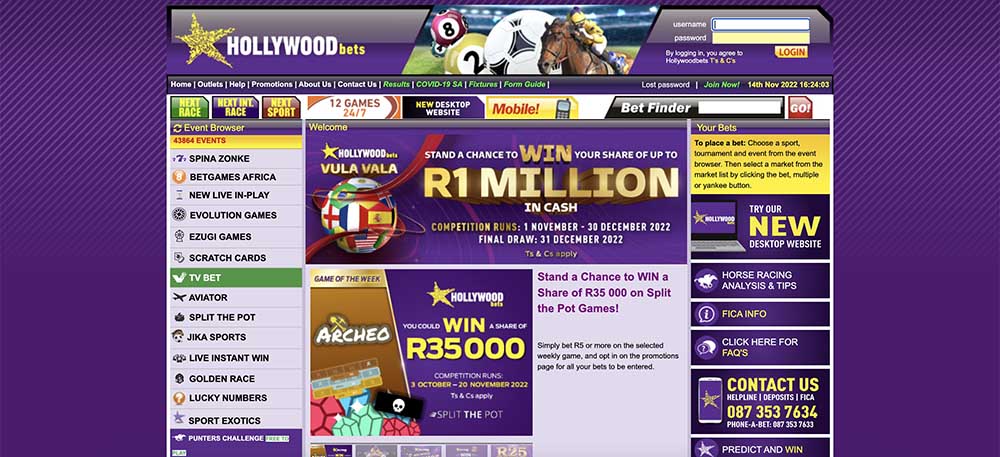 Hollywoodbets is the leading operator in South Africa, where the lotto is hugely popular. It offers betting on local and international horse racing, a wide range of sports betting from football, rugby, cricket, and golf to American sports, as well as countless international Lucky Numbers lotteries.
The company's website admittedly could have a more attractive interface. Many users will find it too old-fashioned, but it is generally convenient and boasts great functionality.
The service offers over 2,000 draws every week. Here you will find one of the most comprehensive sets of Lucky Numbers draws in South Africa.
Aside from local lotteries, Hollywoodbets Lucky Numbers allows you to bet on the outcome of draws from around the world. With 1775 draws a week and many different betting options, it is easy to see why this website has become the most popular lucky number betting site in all of South Africa.
The difference between betting on Hollywood's best lucky numbers and buying a South African lottery ticket is that the odds for lucky numbers are fixed, meaning means that the payout is guaranteed no matter how many people get lucky at the same time.
The minimum bet for lucky numbers is $1, regardless of which lottery or betting market you choose. The maximum payout for a Lucky Numbers bet is $15 million.
There are hundreds of international lotteries available on Hollywoodbets, but the South African lottery remains one of the most popular, with several local draws taking place on different days of the week.
Hollywoodbets is the only bookmaker in South Africa to offer a no-deposit bonus. To claim a free bonus of R25 bet, one must sign up and await their account verification. Once the R25 have been credited, this sum can be used within the next 24 hours. Before withdrawing winnings, you must wager the bonus at least once with the odds of 1.50 (1/2) or higher.
The service currently offers the following deposit methods to recharge your account. Players who do not have access to a bank account can still play on Hollywoodbets, as there are several options for depositing with vouchers:
Vouchers (1 voucher and others);
Electronic payment;
Credit card payments;
Instant EFT (Ozow, Peach payments).
The platform is clearly interested in helping users of any wealth level place a bet and enjoy their time.
FDJ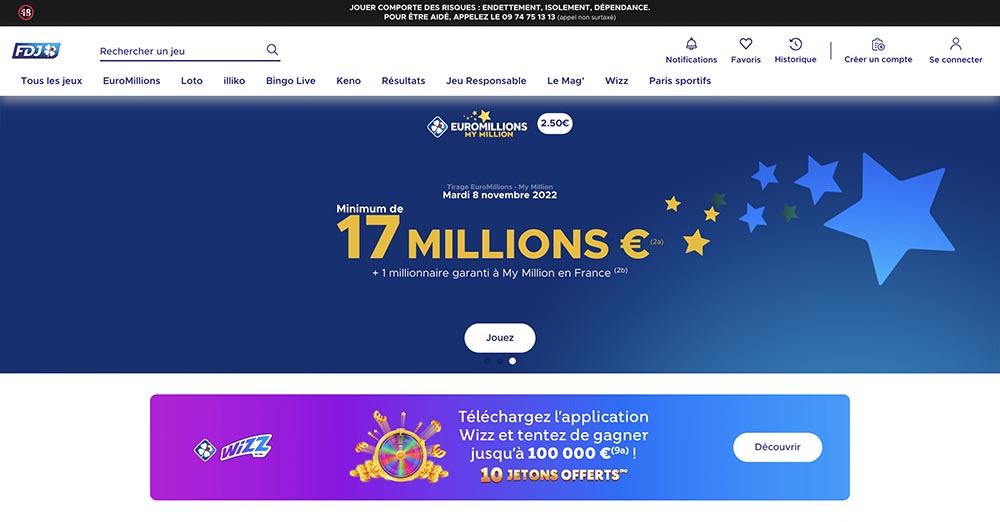 La Francaise Des Jeux SA (FDJ), owned and operated by the French government, is a lottery and betting operator. The company offers flash games, drawing games, eSports and sports betting. Its draws include Euro Millions-My Million, Joker+, Loto, Keno Gagnant a vie, and Amigo. The FDJ operates two sports betting services, one of which is distributed exclusively through its retail network (ParionsSport Point de Vente), while the other is a competitive offer distributed via the Internet under a license issued by the Autorité de Régulation des Jeux En Ligne. – ARJEL (expected to be replaced by Autorite Nationale des Jeux, i.e. ANJ). It offers online games and a network of sale points. The company maintains partnerships with four major football clubs: AS Monaco, Olympique Lyonnais, Olympique de Marseille, and FC Nantes. The Francaise Des Jeux is headquartered in Boulogne-Billancourt.
La Française des Jeux is a semi-public company in which the French state owns 72% of all shares. The rest of the capital belongs to lottery issuers (20%), agents (3%), and company employees (5%).
The website offers games such as:
EuroMillions;
Live Bingo;
Lotto;
Instant scratch games;
Keno;
Sports betting.
EuroMillions deserves the most attention. To play EuroMillions — My Million, you must pick seven numbers: 5 numbers in a 50-number bracket, as well as two stars from a 12-number bracket. You will win the jackpot by correctly guessing all five winning numbers and both stars.
The price of the grid is €2.50 for 1 EuroMillions Plain Grid and 1 My Million Code per grid. The minimum jackpot is 17 million euros. If the jackpot has not been won, it rolls over from draw to draw up to the EuroMillions jackpot ceiling.
The game is available on three platforms: the official website and app, plus at retail stores.
There are several packages and subscriptions on offer, such as:
1. EuroMillions MultiChance Package — My Million.
Choose between two packages available exclusively on the website and in the app. The first package includes 660 simple grids and 660 My Million codes. You can buy 1, 2, 5, or 10 packs, with one pack costing €5. The second pack consists of 1260 simple grids and 1260 MyMillion codes. You can also purchase 1, 2, 5, or 10 units for €7.50 per unit. If you win, you will receive a portion of the EuroMillions — My Million MultiChance Package winnings in proportion to the number of units you hold.
2. EuroMillions Subscriptions — My Million Online
With an ABO+ subscription, play EuroMillions — My Million multiple times with your favorite numbers without having to fill in new grids or missing a single draw! A classic subscription lasts from 2 to 5 consecutive weeks. Your bets (brackets, options, and draw days) will repeat for each selected type (1 to 2 draws per week) for the specified number of weeks (2 to 5 weeks).
An unlimited subscription allows you to participate in all EuroMillions — My Million lotteries with the same number combination indefinitely. In addition, new My Million codes are randomly assigned for each draw.
3. EuroMillions Star+ Option — My Million
1 chance out of 4 to win for only €1 more. With the Star+ option, you can win a prize in two cases:
If there are no EuroMillions winnings (0 numbers), but there are 1 or 2 lucky stars.
If you have already won EuroMillions (excluding the jackpot) and a combination of 1 or 2 lucky stars. This option is only available for players from France and Monaco.
The website accepts clients only from France and Monaco and is available exclusively in French. In addition, users need to go through the verification process during registration, which may take several days, and require them to send a copy of their ID card with the current photo, such as a passport or driver's license.
Loterias y Apuestas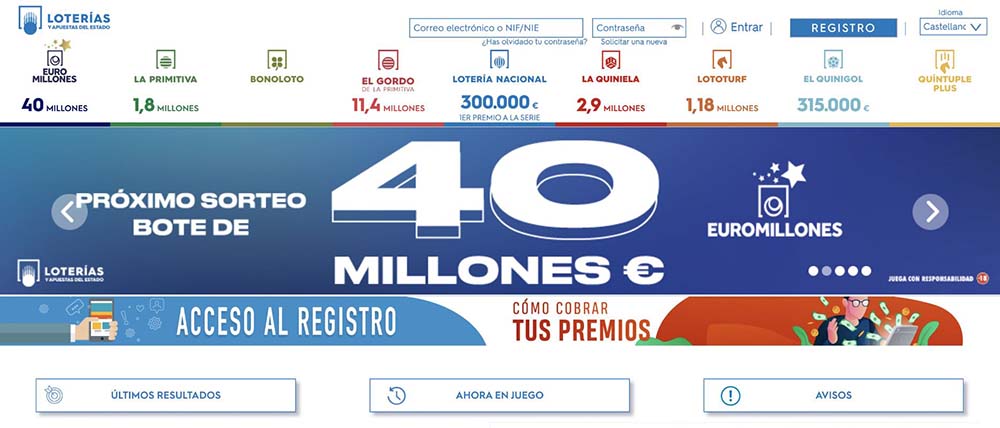 The service was founded on September 30, 1763, by King Carlos III with the aim of social benefit and cultural unity. Playing Loterías y Apuestas del Estado is straightforward when it comes to basics and resembles most other modern lottery. The first lottery draw was held in the Plaza de San Ildefonso, where the lottery headquarters were located.
Loterías y Apuestas del Estado (legally "Sociedad Estatal Loterías y Apuestas del Estado, S.A.") is a publicly owned Spanish lotteries and games of the chance operator that is the responsibility of the Government of Spain and is attached to the Ministry of Finance, which is in charge of strategic management, evaluation, and control of its effectiveness. This entity is in charge of managing, exploiting, and commercializing all types of lotteries and games at a national level or whenever they go beyond the scope of the local community. Loterías y Apuestas del Estado operates nine different games in Spain. Although they are mostly lotteries and random draws, some games are also based on sports betting.
Now let us look at what types of lotteries this website has to offer.
Current Spanish Lottery – La Primitiva
One of the major Spanish Lotteries that Loterias y Apuestas del Estado offer is the La Primitiva – otherwise known as the Loteria Primitiva. It is the most popular of the weekly Spanish Lotto games and has been played in Spain since 1763, making it one of the oldest lotteries in the world. The Loteria Primitiva is a 6/49 game and has produced a record jackpot of a massive €73 million payout in February 2014.
El Gordo de la Primitiva – Sunday 5/54+1/10 Draw
The El Gordo del la Primitiva is often confused with the Loteria de Navidad – Spanish Christmas Lottery or El Gordo. The El Gordo de la Primitiva is, in fact, a completely separate Spanish Lottery that is run by Loterias y Apuestas del Estado and is drawn every Sunday. It is one of the most popular Spanish Lotto games and produced a record jackpot of over €33.02 million payout in 2011.
BonoLoto
One of the most popular and affordable Spanish Lotto games offered by Loterias y Apuestas del Estado, the BonoLoto is drawn by the Spanish Lottery four times per week: on Mondays, Tuesdays, Wednesdays, and Fridays.
EuroMillones
The Spanish National Lottery is one of 9 national lottery companies that comprise the EuroMillones. As many of you will know, this lottery is the same as the well-known Euro Lottery – EuroMillions. In Spain, it is known as EuroMillones and is one of the most popular Spanish Lotteries.
El Gordo – Loteria de Navidad
The El Gordo – Loteria de Navidad is probably the most well-known of all Spanish lottery games. It is famous across the globe as being the lottery with the RICHEST prize pool in the world. No other lottery boasts a prize pool this big, and, in December 2014, the El Gordo had an incredible €2.24 BILLION jackpot payout.
El Nino – Sorteo Extraordinario de El Nino
The second-largest Spanish Lotto is El Nino. Drawn every January 6th, it has an incredible €560 MILLION prize pool, once again offering one of the biggest lottery prize pools in the world.
Monthly Superdraw
Up to 14 times yearly, the Spanish Lottery holds a Superdraw, which is called either a Sorteo Especial or a Sorteo Extraordinario. The prize pools of the Spanish Lotto Superdraws range from €84 MILLION to €2.24 BILLION.
Stoloto

Stoloto is a well-known Russian lottery brand owned by the joint-stock organization "Technology Company Center." It was founded in 2012 to distribute and sell tickets for state lotteries organized by the Russian Federation, represented by the Ministries of Finance and Sports.
Stoloto brand occupies over 90% of the Russian lottery market and is a monopolist in this area. The company's retail network includes more than 60,000 sale points. Tickets are distributed via the Internet through the official website, and mobile apps.
A jackpot of ₽1,000,000,000 was drawn in the Russian Lotto, and the total number of winning tickets exceeded 23,000,000.
The bonus policy is loyal to its clients. There are two types of bonuses: regular and special ones. With the former, the bonuses are a notional currency with a rate of the real ruble. They can be spent on buying "free" lottery tickets and participating in potentially lucrative bonus games. Special points make it possible to pay a single minimum lottery bet in a particular Stoloto game.
Regular bonuses can be received through actions performed on the Stoloto website: for buying tickets, participating in surveys, promotions, contests, and quizzes, including those held on the company's social media.
The Stoloto website additionally offers:
Various promotions: "Invite a Friend" (always available) and others dedicated to a particular holiday or event;
Loyalty program: "Closed Premium Club" for regular ticket buyers. The benefits include provision of a personal manager, additional account management options, increased automatic payment limit, and much more;
Personal rewards for achieving specific results: using a bonus coupon, a multi-issue coupon, etc. Rewards do not bring any benefit, but grant achievement stickers to be displayed on one's account or be shared with friends via social media.
The Stoloto company is engaged in holding All-Russian state lotteries, draws, and instant lotteries. There are currently 19 types of lotteries altogether. These include:
Instant lotteries, over three dozen of them, for example: "Speed," "777," "Lucky Ball," "Bowling," "Sprint," etc. Every type can be classified by ticket price, jackpot amount, and genre;
Draw lotteries, i.e. games with a prize pool consistent of money generated by sales. This prize pool is then raffled among all ticket holders;
TOP-3, where you must choose a specific game order, mark the numbers in your ticket, then wait for the draw;
12/24, where you need to correctly select 12 out of 24 possible numbers on single or multiple playing fields, all-or-nothing style;
Duel-type lotteries that offer the highest chances of winning among all other Stoloto draws;
Joker. The player must choose nine cards from a deck of four suits, and if their nine cards perfectly match the draw results, the player claims the jackpot;
Keno.
Big winnings can be earned by participating in the State Lottery 4 out of 20 (and in such variations as 7 out of 49, 6 out of 45, and 5 out of 36), as well as in Zodiac and Matchball games.
Winnings are divided into two categories:
The first category is cash prizes between ₽20 and ₽1,000,000,000 won during the January Russian Lotto draw.
The second category is material prizes: cars, dachas, houses, vouchers, practically anything, depending on the rules and conditions of a particular lottery.
Certain restrictions apply to winning payouts: up to ₽10,000 for instant lotteries and ₽600,000 for draws. Winnings are credited within 180 days, and the winnings tax is 13-15%.
Lotteries CAIXA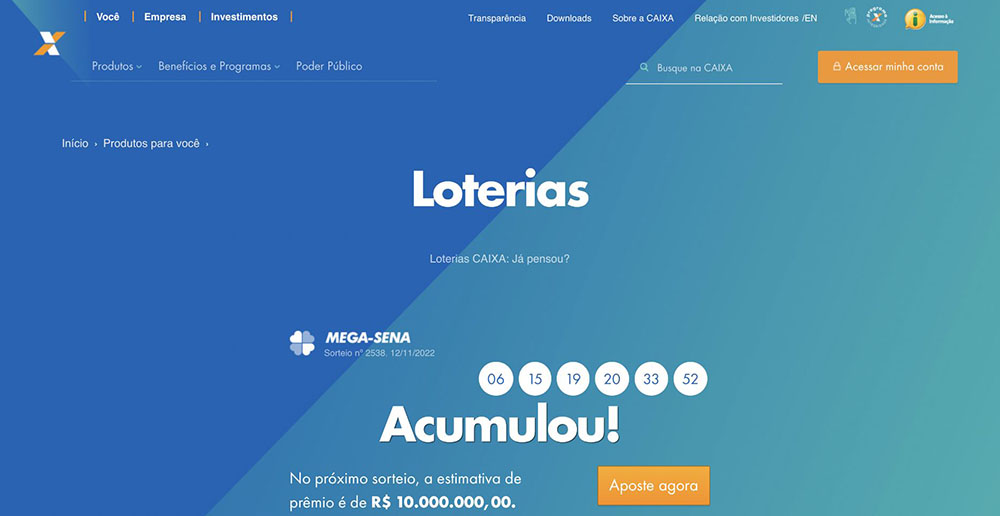 CAIXA is a bank founded on January 12, 1861, to raise the general reform level among the Brazilian population. One hundred years later, the establishment created Loterias.caixa.gov.br so that the people of Brazil could get rich and fulfill their dreams.
CAIXA holds a strong position on the market as a large, solid, and modern bank. As the primary agent of the state policy of the federal government, it spread throughout the country without losing sight of the original mission.
Its website grants access to the following games:
Millionary;
Mega Sena;
Lotofacile;
Kina;
Lotomania;
Timania;
Hollow Hay;
Federal;
Loteka;
Dia De Sorte;
Super Set.
MILLIONARY
+Milionária is a unique lottery that offers the bettor higher chances of winning a prize of R$10 million.
Every +Millionaire ticket is a brochure with two matrices: the Number Matrix and the Numbered Trevos Matrix. The Number Matrix has fifty non-universal numbers from 1 to 50. The Numbered Trevos Matrix contains six trevos from 1 to 6.
MEGA SENA
Mega Sena promises millions for the lucky winner who would guess the two exact lines of six numbers. You can also win prizes by matching 4 or 5 of the 60 numbers available on the betting flier.
Lotofacil
Lotofácil, as it is called, is easy to play and win. You tick 15-20 numbers from among the total of 25, and the prize will be awarded if you hit 11, 12, 13, 14, or 15 numbers square on the head. You can let the system choose the numbers for you randomly through Surpresinha every time or participate with the same combination in 3, 6, 12, 18, or 24 consecutive competitions via Teimosinha.
KINA
Compete for epic prizes like Quina: select 5-15 numbers out of the available 80 without turning the steering wheel. If you prefer a more direct approach, you can select everything by hand via Surpresinha.
Lotomania
Lotomania is easy to play and easy to win: pick 50 numbers, then compete for prizes by matching 20, 19, 18, 17, 16, 15, or any other amount of numbers. The game also allows you to dial on the fly, so you can still dial less than 50 numbers and let the system complete the row for you.
Taimania
Timemania is a lottery for football fans. When your heartbeat is racing, you should still bet with your head! Choose 10 numbers out of the available 80 and test your luck!
Hollow of the Seine
You only have two chances to win with a single ticket here: there are two draws per round, and you win by matching 3, 4, 5, or 6 numbers.
Federal
The Federal Lottery is intuitive and provides good winning odds. Choose a ticket listed at the lottery house or purchase one from an accredited lottery retailer, then select the number on your ticket you wish to compete for.
Loteka
Loteka is ideal for those who understand soccer and are invested in the process. Simply mark who will win each of the 14 tournament matches by setting one, two, or of the three columns for normal, double, or triple game respectively. Participating football clubs are printed on all issued tickets.
Dia de Sorte
Dia de Sorte is a number betting lottery. Choose between 7 an 15 numbers from among available 31. One of them must be higher than "Mês de Sorte."
Super Set
Super Set is a numerical prediction lottery whose tickers contain seven columns with ten numbers each (from 0 to 9), and the player must choose one number in every column.
Mega Seine
Mega Seine promises millions to the winner who will correctly guess just six numbers. You can also win prizes by matching 4 or 5 of the 60 numbers available on the betting flier.
Conclusion
Lotteries are considered by some to be a relic of the past, but they continue to attract people around the world, offering an opportunity to win big without making a significant financial investment.
As you can see, most big lotteries are monopolies owned by individual countries. On the one hand, this is good for stability and public trust, but on the other hand, it often prevents monopolist companies from modernizing.
The apparent reason for state-owned lottery games' success is that they can offer unrivalled prize pools that serve to attract huge crowds of casual players. If the jackpot were to be split among multiple lotteries, it would likely shrink, decreasing the lottery's appeal in the eyes of the public, which would almost inevitably lead to a significant drop in ticket sales.