The Most Popular iGaming Websites You Have Not Heard About. Part 1
31 Oct, 2022
We have selected the most interesting cases from among the top 40 worldwide iGaming projects.
Bookmakers have long accepted bets on horse racing on every notable racetrack around the globe, and it remains a popular pastime to this day, even as the advancement of technology has provided more convenient opportunities to bet on sports events online and watch the races themselves broadcast via the internet.

Here are a few reasons why horse racing has proven to be one of humanity's favorite things to bet on throughout history:
Horses are generally loved by people everywhere on the planet;
They are also culturally significant animals for many nations;
Horse race betting is a clear and intuitive process;
The total jackpot is shared among all winners, meaning that the fewer bets were made on the winning horse, the better the payout will be for the lucky few who made the right call.
With so much information on horse racing, it is easy for betting enthusiasts to make correct decisions. Information is power, and experienced gamblers know this better than anyone.
In this article, I am going to analyze three popular websites exclusively focused on horse races.
Our list of top services looks like this:
| | | | | | | |
| --- | --- | --- | --- | --- | --- | --- |
| Position | Name | Languages | Number of Languages | Licenсes | Mobile app | Traffic 04.2022 |
| 4 | netkeiba | JA | 1 | Japan (unspecified) | X | 77 600 000 |
| 13 | TJK | EN, TR | 2 | Ministry of Agriculture and Forestry (Turkey) | X | 25 210 000 |
| 18 | HKJC | EN, ZH | 2 | Hong Kong (unspecified) | X | 18 290 000 |
Let us start with netkeiba!
netkeiba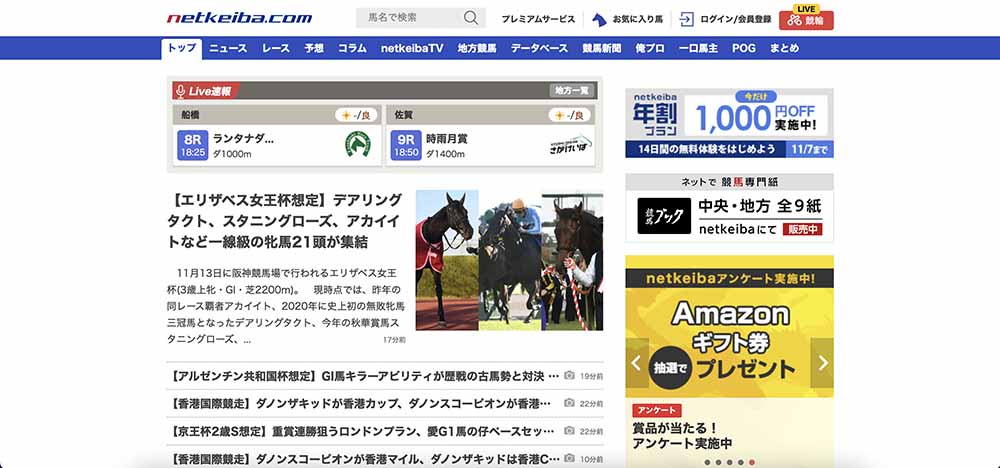 Horse racing is a very popular sport in Japan, with over 20,000 racehorses taking place every year and a huge number of races held on Saturdays and Sundays, even during major holidays.
Horse betting is legal and there exist a well-established betting system, governed by the Japan Horse Racing Association (JRA), which, in turn, is controlled by the Japanese Ministry of Agriculture, Forestry and Fisheries. Bets can be placed both remotely and at the stadiums where the races actually take place.
netkeiba is a comprehensive service on the networks operated by Net Dreamers Co. Ltd. It is also one of the major horse racing information websites in Japan with the largest number of users.
The platform has a news page structured like a sports newspaper. The articles are divided not only into central horse racing and local horse racing around Japan, but also covers international horse racing events. netkeiba.com provides a full range of information about its field of expertise.
The database contains large amounts of information. The racehorse rankings display details such as popular racehorse results, the origin, pedigree, and owner of any particular horse, as well as current prize pools. It can also serve as reference material when predicting race results before buying tickets. You can easily search the archive by racehorse title and jockey, trainer, or breeder names.
There is also a paid subscription option, which includes a premium course for ¥550 per month and a super premium course for ¥871 monthly. The super premium service comes with a 14-day trial period. While the extra content varies depending on the plan, in general, subscriptions grant unlimited access to all data available on the website.
The content is certainly limited for free accounts, but it is still possible to make horse racing predictions based on it. Many users opt to get the premium status, and those wanting to set up a horse racing news service or use netkeibaTV subscribe to the super premium course.
netkeiba displays race results 30 seconds after a particular race is finished. If you look at the 30-second bulletin, you will immediately see which horse took 1st through 3rd places. In addition, the refund amount is displayed, so you can see how much you will be refunded before the race is confirmed. However, only premium and super premium subscribers gain access to the 30-second newsletter.
netkeiba also provides a service known as "Umami Betting Ticket." Many tipsters sell tips on Umai betting tickets, and you can buy them for points from netcabe. Tipster's profile is also detailed and divided by genre, such as training, index, and data, so it is easy to find tipsters who buy betting tickets just like you. In fact, only 11 out of 117 tipsters have an annual return rate of over 100% when it comes to 2020 central races.
There is a forecast competition to predict the results of 5 races every week that was made popular due by the option to predict the results of the race taking place on the weekend, available to everyone. You can submit your prognosis upon logging in, check the most popular horses, their ratings, winning rates, and the number of people who have designated particular steeds as their favorites.
There is also a separate section for Japanese bicycle racing (Keirin) with several betting types: you can name two or three winners in exact or random order, name the winner of the last seven races, etc.
Turkey Jockey Club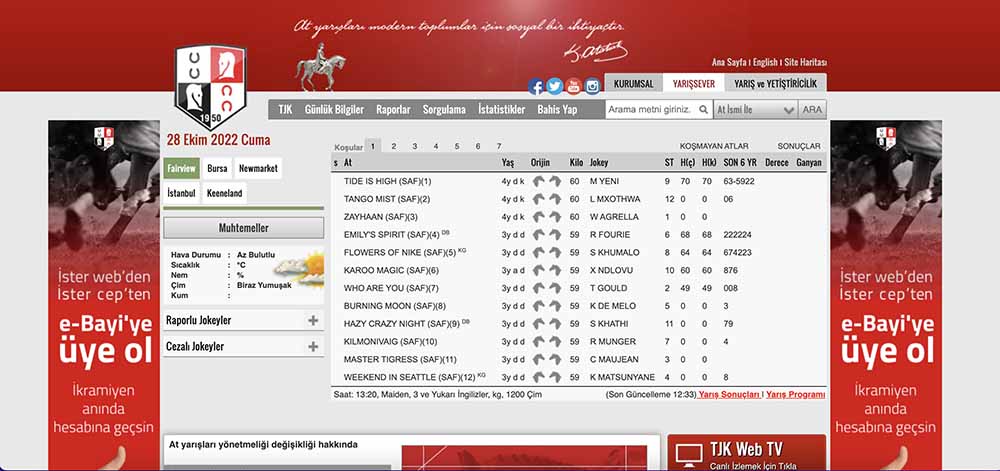 TJK.org is an exclusive platform for placing horse racing bets. Although the races are mainly held in Turkey, you can also find races taking place in different countries here. You can always bet on horse races held at the 9 racetracks in Turkey, including in Adana, Ankara, Bursa, Diyarbakir, Elazig, Istanbul, Izmir, Kocaeli, and Sanliurfa. In addition to this, TJK also keeps watch over races in the United States, England, and France.
The Turkish jockey club is a federation and is included within the state tax system. As of July 20, 2011, Horse Racing (TJK) games cannot be played at other dealers, as virtual dealership contracts have been cancelled by the Jockey Club of Turkey pursuant to the Horse Racing Joint Bets Regulation.
Horse races in Turkey are only played on "e-bayi" (https://ebayi.tjk.org/) within the Turkish jockey club or offline, which is entirely due to the corresponding article in the constitution of the Republic of Turkey.
Like many legal bookmakers in Turkey, TJK.org does not offer a welcome bonus to its new members. There are currently no promotions or campaigns, and their last promo event was held in December 2019, where users could win the right to a lottery with coupons worth ₺20 each. Several big prizes were handed out after the raffle.
The website is very similar to its competitors in regard to the upper bet limit and the minimum amount that can be withdrawn: sums as low as ₺10 can be withdrawn, and the max one-time bet amount is ₺2,500.
TJK.org has an app compatible with Android and iOS devices. In addition to betting, it is also very useful for watching live broadcasts and tracking race results. All functions, including financial transactions, are also readily available in the mobile version.
So, why is horse racing so popular in Turkey?
First, horses hold a very important place in Turkish history. In the recent past, Mustafa Kemal Atatürk personally attended horse races to promote social harmony and socialization in the Turkish society. In fact, he was the one to coin the quote "horse racing is a social need for modern societies."
For this reason, among other things, horse races are very popular in Turkey, attracting many gambling enthusiasts.
Going back to the website in question, there are still functions that could use improvement when compared to their international counterparts, especially when it comes to adding real-time bets and making them more convenient. There are also no incentives and benefits for newcomers.
The Hong Kong Jockey Club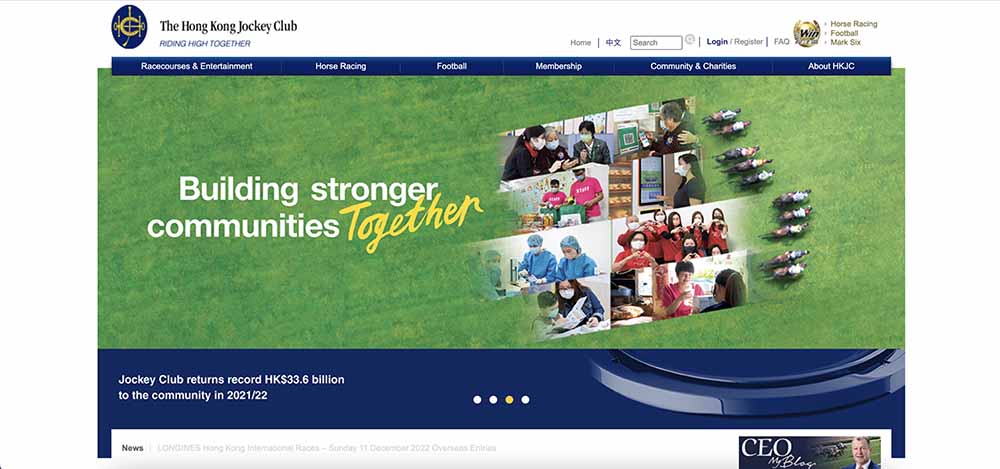 A non-profit organisation providing horse racing, sports, and betting entertainment in Hong Kong, holding a state-granted monopoly in providing parimutuel betting on horse racing, the Mark Six lottery, and fixed odds betting on overseas football events.
The HKJC was instrumental in persuading the Hong Kong government to pass the Gambling (Amendment) Bill 2002 to combat unauthorised cross-border gambling and the related promotional activities in Hong Kong, making it a criminal offence for any person in Hong Kong to bet with an unauthorised bookmaker, even when the bets are received outside Hong Kong. The offence applies to tourists and local residents alike.
The website is simple and intuitive, although loaded with lots of unnecessary data. It is available in Chinese and English, providing plentiful information about the company, the licenses, the rules, charity events, etc. In the upper-right corner, you will find the registration and authorization buttons. Below is a link to the Experts Column with useful daily predictions.
HKJC offers betting exclusively on horse racing and football events. Like in the situation with the Turkish project above, this project provides no bonuses, promo codes, promotions, or even loyalty bonuses for bettor.
Bet-makers wishing to register in any of the HKJC outlets must provide the following documents which must be submitted to an HKJC agent, for a successful registration:
Minimum deposit of HK$100;
A legit travel document or HKID;
ATM card or a savings/current account at a Hong Kong bank.
Conclusions
To summarize, the fact that it is a legal and intuitively understandable event is among the main factors that bring horse races into the forefront of worldwide entertainment.
Horse betting is one of the oldest forms of gambling, as old as the sport itself, and its rich heritage has helped in developing laws and regulations that guide the industry going forward. Even some countries that ban online gambling still allow horse betting as its own form of gambling activity.
More and more online sportsbooks emerge that include horse races among their services. There are established laws that govern horse betting, so the bettors feel safe enjoying their favorite hobby.
Horse racing remains a popular sport as well as a benchmark gambling activity. There are still more factors that make horse racing popular, including quick results, large payouts, legality, and diverse betting options.
And in a follow-up article, you can expect a deeper analysis of the most popular national lottery websites.