Overview of the iGaming Events: May-June 2023
13 Apr, 2023

Gambling events are an integral part of the gaming industry, providing a platform for operators to showcase their products, network, and share industry knowledge. The gambling industry is constantly evolving, and staying abreast of the latest trends and developments is very important not only for projects located in the Capital of the iGaming Industry, but also for everyone else who is connected with gambling.
In our last article we reviewed the iGaming events of March – April. In this article we will look at the main gambling events scheduled for May – June 2023.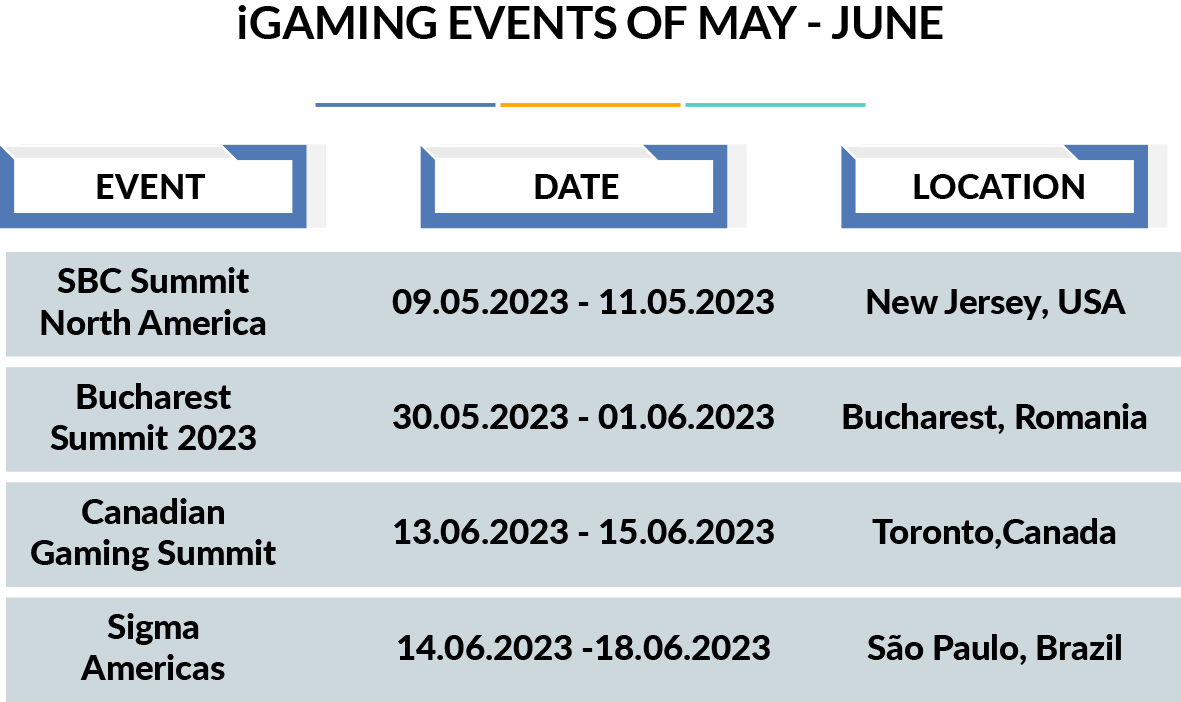 SBC Summit North America (formerly known as Betting on Sports America) is the largest conference and exhibition dedicated to the online betting and gambling industry in the United States and Canada. The third annual event, held in New Jersey on May 9-11, home to one of the largest sports betting and iGaming markets in North America, will once again bring together the heads of all major operators in the region to exchange ideas about new opportunities and how to cope with the inevitable growth difficulties that will accompany the expansion of the industry.
The event covers a wide range of topics related to the sports betting and gaming industry, including regulation and compliance, marketing and affiliation, emerging technologies, responsible gaming, and sports integrity.
At its first event in 2021, the summit gathered more than 1000 participants. This year, attendance is expected to increase to 2500 participants.
The Bucharest Summit 2023 is an international conference focused on the technology, innovation, and digital transformation sectors. It will take place on May 30 – June 1, at the Radisson Blu Hotel Bucharest, Romania.
Key themes of the conference will include artificial intelligence, cybersecurity, fintech, telecommunications, and emerging technologies. Exhibitions and interactive sessions will showcase the latest innovations and advancements in these areas, providing opportunities for networking and collaboration among industry professionals.
The Bucharest Summit was first held in 2017, attracting around 1000 participants from various fields, including technology, business, and academia. This year, the event organizers expect to welcome over 3000 visitors from over 40 countries, reflecting the growing global interest in digital transformation and the latest technological developments.
The Canadian Gaming Summit is an annual event that brings together professionals from the gaming industry, including operators, regulators, suppliers, and others. It is a premier event in Canada for networking, learning, and showcasing the latest innovations in gaming.
Taking place at the Metro Toronto Convention Centre on June 13-15, the 26th famous industry event will be, for the first time, proudly produced by SBC in collaboration with the Canadian Gaming Association (CGA) and expects 2000 participants to attend.
The Summit features a variety of keynote speeches, panel discussions, and workshops focused on the latest trends and developments in the gaming industry. Some key themes include responsible gaming, regulatory updates, emerging technologies, and digital transformation. The event also hosts a vibrant exhibition showcasing cutting-edge products, services, and solutions from leading gaming suppliers and vendors.
In 2023, SiGMA Group is expanding into 4 completely new markets – Brazil, Kenya, Manila and Cyprus. The regional event in Brazil will be more specialized than other SIGMA Group events, and a more exclusive audience will be here.
The key themes that will be covered at the event include new technologies, regulatory changes, emerging markets, and industry trends. The event will also feature exhibitions showcasing the latest products and services from gaming suppliers and other industry stakeholders.
This will be the first Sigma in Brazil and the event is scheduled for June 14-18, 2023. With a large South American market, 4000 visitors are expected, including top managers of the gaming industry, entrepreneurs, investors and others.
Benefits of attending iGaming events
Businesses can take advantage of events and gatherings to introduce new products or services to potential customers, showcase their strengths and expertise, and pique interest in what they have to offer. Additionally, participating in these events provides opportunities for networking and building relationships with other industry players, which can lead to future partnerships and collaborations. By leveraging the knowledge gained from attending these events, companies can set themselves apart from their competitors and establish themselves as thought leaders in their respective fields.
To keep you up to date with all the events in the iGaming industry, our team has collected a dataset on the 155 events of 2023 in one list, on the basis of which this article was written. By buying iGaming Events and Expos 2023 Calendar, you will receive information about upcoming events, such as exhibitions, summits, conferences, tournaments and much more.