Gamedev events recap: January – February 2023
Apr 10, 2023
Every year, precisely 562 gamedev events take place, offering a vast range of opportunities for the gaming community to network and stay abreast of the industry's latest advancements. Over the past two months, various significant gaming events occurred, presenting the gaming community with a chance to connect and gain insights into the latest developments in the field. This article will examine some of the most prominent gaming events of the year and delve into the topics discussed, such as emerging technologies and trends, new game releases, and updates.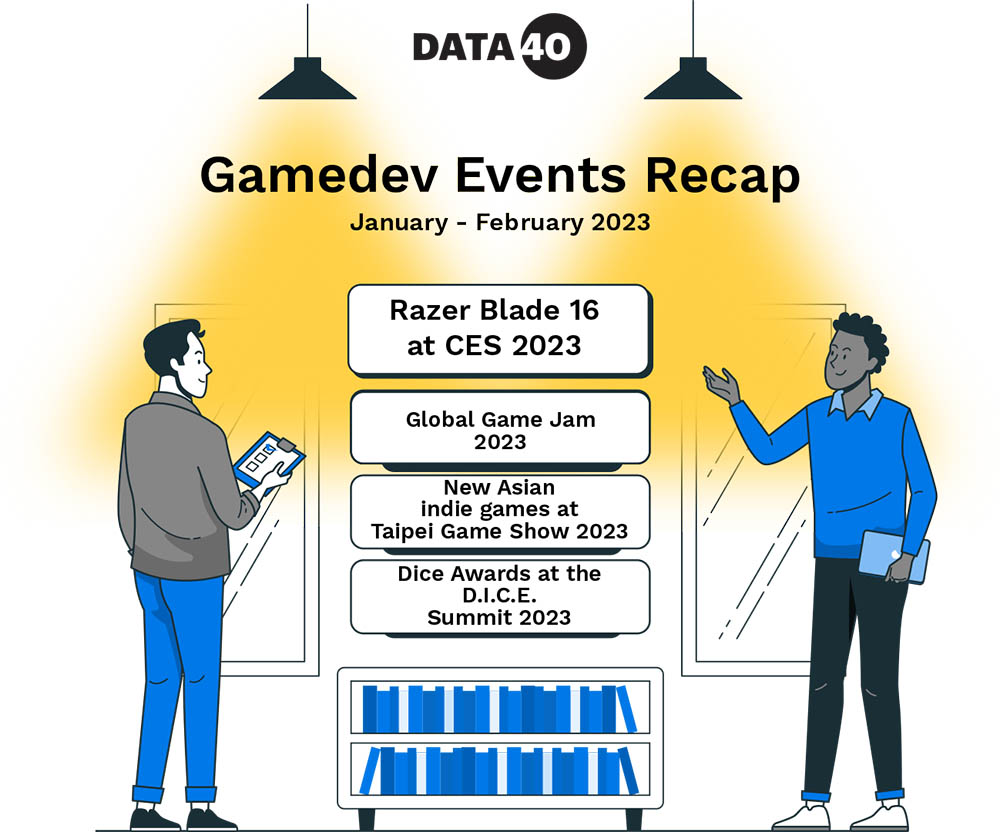 Razer Blade 16 at CES 2023
Razer, a well-known manufacturer of gaming hardware and accessories, has provided a sneak peek of their upcoming products – the Razer Blade 16 and Razer Blade 18 – to the public. While the Blade 18, their largest and most powerful product yet, has generated a lot of excitement, it is the Blade 16 that is garnering everyone's attention due to its unique and unprecedented features.
One of the standout features of the Blade 16 is its Mini LED screen, which is vibrant, bright, and boasts deep blacks that make colors pop. With 1,000 local dimming zones, the laptop's display offers superior image quality that surpasses that of other gaming laptops currently on the market. Razer also displayed a separate panel constructed from Mini LEDs that replicated the Blade 16's display. When the local dimming zones brightened and dimmed on the Blade, the corresponding diodes on the panel also brightened and dimmed, showcasing the extensive number of independent lights present within the laptop and their impressive performance.
The Razer Blade 16 is equipped with a 16:10 screen and a massive 95.2Wh battery. The taller screen design contributes to a more extended chassis, which allows Razer to incorporate a robust battery to support the laptop's advanced features. The device features Intel's 13th-Gen Core i9-13950HX and up to Nvidia's GeForce RTX 4090 graphics, with a starting price of $2,699.99.
Razer has not allowed people to play games on the Blade models yet, but they released a video of game footage showcasing the laptop's impressive features. The Blade 16 has a toggle feature that enables users to switch between 4K/120Hz and 1920 x 1200/240Hz modes effortlessly. Despite weighing 5.4 pounds and measuring 13.98 x 9.61 x 0.87 inches, the Blade 16 is not the lightest gaming laptop available, but its unique features make it a worthwhile compromise for gamers.
Overall, the Razer Blade 16 has revolutionized the gaming industry with its unprecedented features. The Mini LED screen produces excellent image quality, and the laptop's 16:10 screen and large battery make it an ideal device for gamers looking for the best gaming experience available. Although the Blade 16's size may be a trade-off, it is a minor sacrifice for such a powerful device. With the release of the Blade 16, Razer has once again raised the bar for the gaming laptop industry.
Global Game Jam 2023
The Global Game Jam® (GGJ) 2023 was a huge success, as 40,000 participants from 108 countries collaborated to create over 7,600 games centered around the theme of "Roots". The event took place in 800 sites worldwide, including online, hybrid, and in-person locations, with a focus on promoting creativity, community, and collaboration. GGJ Prep Week started the event, offering over 60 hours of content on Twitch and YouTube to help jammers prepare.
The highlight of the event was a fun stream hosted by Alanah Pearce, Mary Kenney, and MacNcheeseP1z, which revealed the theme and allowed participants and organizers to share their experiences with GGJ. GGJ Executive Director Tim Cullings gave a welcome message, and Oleksii Izvalov of GGJ Ukraine, Fereshteh Forough, Executive Director and Co-Founder of Code to Inspire, and Jabari Alii, Systems Designer from Skydance Interactive, delivered inspirational addresses.
For the first time, GGJ Next allowed young creators to participate in the jam alongside the main event. The success of GGJ is thanks to the hundreds or thousands of volunteers who generously give their time to host jam sites, organize regions, provide translations, and sit on GGJ's board of directors.
New Asian indie games at Taipei Game Show 2023
The Taipei Game Show is a large exhibition that displays popular platforms like Nintendo, PlayStation, and Xbox, along with local games. It was held from February 2 to February 5, with a growing emphasis on Taiwan's indie games and locally-developed games. IGN Japan covered the event by constructing a small live stream studio inside the venue for three days, showcasing nearly half a dozen impressive games made in Taiwan. One of the games is The Legend of Tianding, created by Creative Games Computer Graphics Corporation. It is a challenging 2D action game set in Taiwan during the early 20th century Japanese colonial rule, featuring martial arts combat that offers both fun and a deeper layer of culture and history. Another game on display is OPUS: Echo of Starsong from Taiwanese developer SIGONO, a space-themed adventure that is part visual novel and part puzzle-action game.
During the Taipei Game Show, a variety of international games were showcased, including RP7 from Turtle Cream, a South Korean developer, which received the Best Innovation Award at the Indie Game Award due to its combination of classic Japanese role-playing game and puzzle game features. Additionally, Urnique Studio's Timelie, from Thailand, has been moderately successful since its release, while Toge Productions, an Indonesian developer, discussed two games: A Space for the Unbound and Coffee Talk Episode 2: Hibiscus & Butterfly. Koei Tecmo, a Japanese publisher, was also present, demonstrating their upcoming Soulslike game, Wo Long: Fallen Dynasty, developed by Team NINJA from Koei Tecmo Games, which is set in China's Ming dynasty and features Zhao Yun from the Dynasty Warriors series.
Dice Awards at the D.I.C.E. Summit 2023
The Dice Awards 2023 recognized the top video game creations and highlighted the significance of accessibility, inclusivity, diversity, and global unity. Insomniac Games' leader, Ted Price, kicked off the event, emphasizing that video games unite people through a common language. He commended the industry for making games more accessible to a wider audience and mentioned God of War: Ragnarok as an example of a game that incorporates accessibility features to ensure all players feel included. Tim Schafer, the founder of Double Fine Productions, received the AIAS Hall of Fame award for his extensive contributions to the industry. He encouraged students to be true to their inspiration, rather than financial viability, and expressed his belief that generative AI can spark the creative process, but human artists are essential to completing it.
At the Dice Awards 2023, Christopher Judge, the voice of Kratos in God of War: Ragnarok, received the award for Outstanding Achievement in Character. During his acceptance speech, Judge expressed some guilt in accepting the award, as he believed that the cast and team had all put their hearts into the project. He stressed that acting for video games is no different from acting for other mediums like theater, film, or television. According to Judge, the actor's process is the same, and the deeper and more painful the experience they bring to the table, the better they will be. Judge also expressed his desire to thank everyone at the studio by name and the fans for their support, urging them to remember that they have more in common than what separates them.
The Dice Awards 2023 acknowledged the significance of video games as a language that brings people together, with a focus on accessibility, inclusivity, diversity, and global solidarity. Through the stories of Tim Schafer and Christopher Judge, the awards demonstrated how the creative process in video games can be fascinating to watch and how video games can evoke powerful emotions and responses from players. In summary, the Dice Awards 2023 was a celebration of the finest in video game artistry, serving as an inspiring reminder of the power of video games to bridge divides and connect people.
Are these all of them?
There are numerous events taking place each month in the world of gaming. If we were to provide a comprehensive account of all of them, it would take several hours to read the article. To obtain information on which events are scheduled to occur in the upcoming years and where you can participate, you can anticipate our upcoming report that includes a catalog of all the gaming events in 2023.
Our services