Exploring the Best Social Media for Promoting Gambling
08 Jun, 2023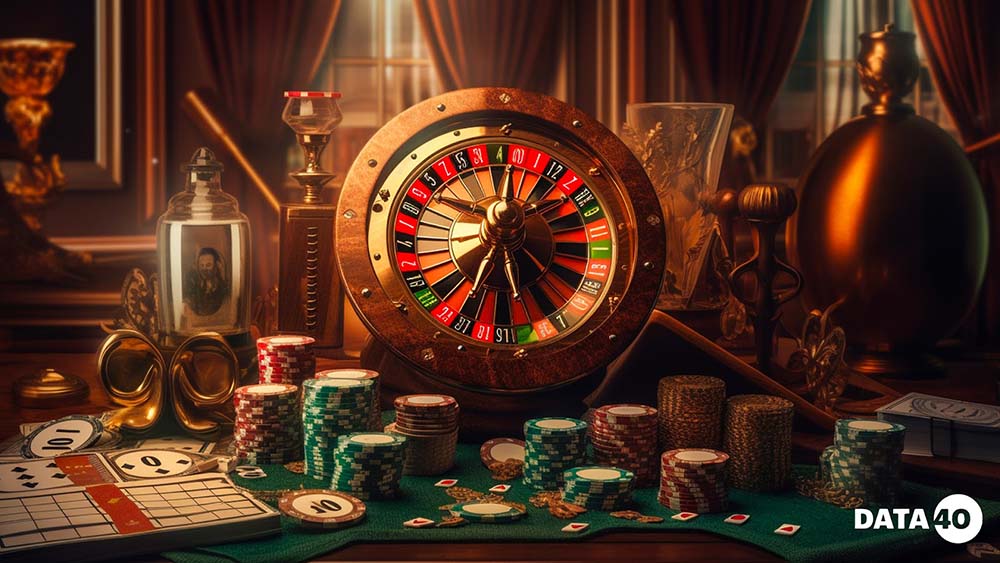 Social media have become powerful marketing tools for businesses of all sizes. Advertising here allows companies to reach a vast audience, engage with potential customers, and promote products or services effectively. In the previous article "iGaming Business: How to Attract Customers through Social Media", we compiled statistics on popular social media and which advertising methods are more often used on platforms. We will start this article with the reasons for the popularity of social media.
There are several reasons why social media continue to experience a growth in their active audience each year. Here are some key factors contributing to this phenomenon:

Internet connection.
As internet connectivity becomes more accessible worldwide, more individuals are gaining access to social media. The proliferation of smartphones and affordable data plans has played a significant role in expanding the user base, especially in developing countries. The convenience of accessing social media on mobile devices has contributed to the increased adoption of these platforms.
Expanding the possibilities.
Social media have evolved beyond their initial purpose of connecting friends and family. They now offer a wide range of features and services that cater to diverse interests and needs. From entertainment and news consumption to e-commerce and professional networking, social media have become multifaceted hubs that appeal to various segments of the population. This expansion of offerings has attracted new users and kept existing users engaged.
Improved user experience and interface.
Social media continuously strive to enhance user experience by refining their interfaces and introducing new features, as Instagram did when it added stories to the application. These improvements make it easier for users to navigate and engage with the platforms, leading to a more enjoyable and seamless experience. As the user experience becomes more satisfying, users are more likely to spend more time on social media, contributing to the growth in the active audience.
Growing influencers.
Social media influencers, who have amassed substantial followings and influence on these platforms, contribute to the increasing active audience. Influencers create engaging content, provide recommendations, and share their experiences, which resonates with their followers. Their presence on social media attracts and retains users who value the content they produce, leading to a broader and more engaged audience.
Targeted advertising.
Social media have advanced targeting capabilities that allow advertisers to reach specific audiences based on demographics, interests, and behaviors. As a result, users often receive personalized content and ads that align with their preferences and needs. This targeted approach increases the relevance and value of the content users encounter on social media, thereby encouraging them to remain active users.
Brand awareness.
Social media provide a unique opportunity for brands to engage directly with their customers and create a sense of community. By sharing valuable content, responding to inquiries, and fostering conversations, brands can establish a genuine connection with their audience, leading to increased brand loyalty and advocacy.
The following platforms have each found success by offering unique features, formats, and communities that resonate with their users, resulting in their widespread popularity and significant user bases. Social media have become a great way of monetization for both influencers and business owners. Each type of advertising in social media has a price list and restrictions. Gambling advertising is one of the most expensive and regulated advertising. Although these restrictions may make it difficult to promote iGaming products, there are other methods of advertising. One of which is influencer marketing.
Influencer marketing involves partnering with influential individuals who have a significant following on platforms such as Instagram, YouTube, TikTok, Twitch, Facebook, etc. These individuals have established credibility and authority in specific notes or industries. They possess the ability to say their followers' opinions, preferences, and behaviors, making them valuable assets for brands looking to promote their products or services. Being an effective way to distribute game content, finding influencers can present significant difficulties. As an analytical team, our task is to simplify data collection and analysis for iGaming-related businesses. We have collected 10,453 influencers and channels on different platforms that can be useful in your marketing strategy.
| | | | |
| --- | --- | --- | --- |
| idx | Platform | Accounts | Followers |
| 1 | YouTube | 2,718 | 121,545,492 |
| 2 | Twitch | 2,505 | 149,707,225 |
| 3 | Instagram | 2,461 | 167,808,883 |
| 4 | Twitter | 2,152 | 70,318,194 |
| 5 | Facebook | 1,666 | 70,902,172 |
| 6 | TikTok | 977 | 167,134,294 |
| 7 | Reddit | 126 | 3,468,062 |
| | Total | 10,453 | 750,884,322 |
Please do not forget that the information is relevant at the time of collecting information and writing the article.
YouTube, the renowned video-sharing platform, was founded in February 2005 by Chad Hurley, Steve Chen, and Jawed Karim, all former PayPal employees. This platform revolutionized the way we consume and distribute video content, offering an opportunity for individuals and businesses alike. With its intuitive interface, extensive content library, YouTube has emerged as a powerhouse in the digital landscape.
YouTube is not a restriction-free platform. Gambling advertising is regulated on YouTube, which means that advertisers need to follow the platform's policy. Following the rules, bloggers continue to advertise gambling, shoot broadcasts, educational videos and the process of playing at the casino.
Within this vibrant ecosystem, our research "Gambling/iGaming YouTube Marketing Inventory List 2023" holds immense significance. Composing a list of 2,718 YouTube channels, this resource empowers gambling marketing specialists to navigate the vast realm of content promotion. As the gambling industry continues to thrive, leveraging the potential of influencer marketing becomes increasingly vital. Below is a small part of our dataset as an example.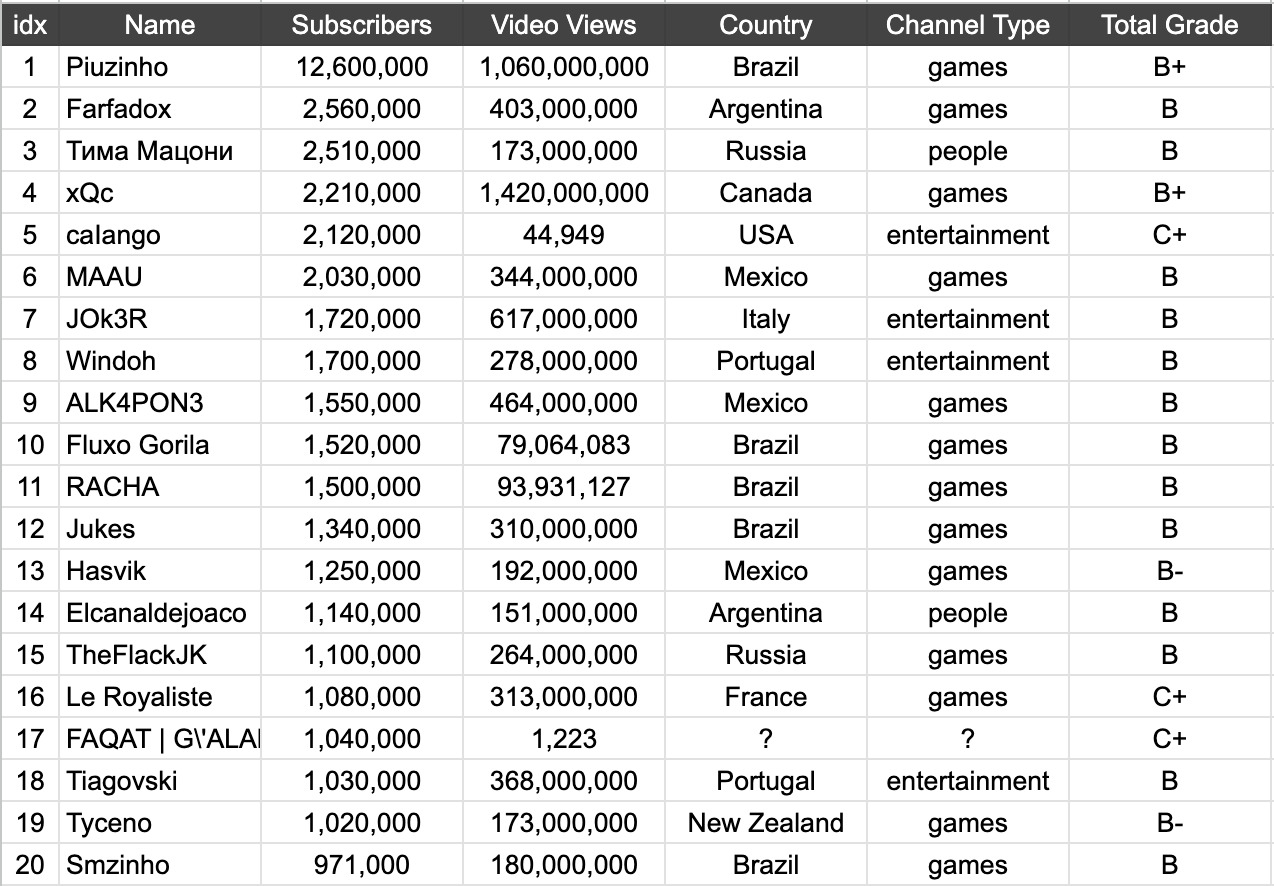 It is worth noting that this list, along with all those listed below, can be an excellent resource for advertising video games, as the lists include not only accounts, channels, and communities related to gambling, but also feature influencers who live stream gaming content on various topics, such as playing GTA, CS:GO, Dota 2, and etc.
YouTube's profound impact on the world of video-sharing cannot be overstated. It has revolutionized the way we create, share, and consume content, while its potential as a marketing tool is undeniable.
Instagram, founded by Kevin Systrom and Mike Krieger in October 2010, is a photo and video sharing social networking platform. It enables users to capture, edit, and share visual content with their followers. Instagram gained popularity due to its emphasis on visual storytelling, creative filters, and the rise of smartphone photography. The platform's user base grew rapidly, attracting influencers, brands, and celebrities.
After the introduction of Reels on Instagram, a new advertising opportunity for iGaming projects has emerged for businesses. Here, you rarely come across live broadcasts from casinos, but marketers often make use of various Reels where they insert the logos of gambling projects directly into the videos. At the same time, the video may contain completely different content, such as movie trailers, mini vlogs, or cooking videos, for example. The second popular method of advertising is through influencer stories. Below is a demo version of the "Gambling/iGaming Instagram Marketing Inventory List 2023" who are willing to promote gambling-related products.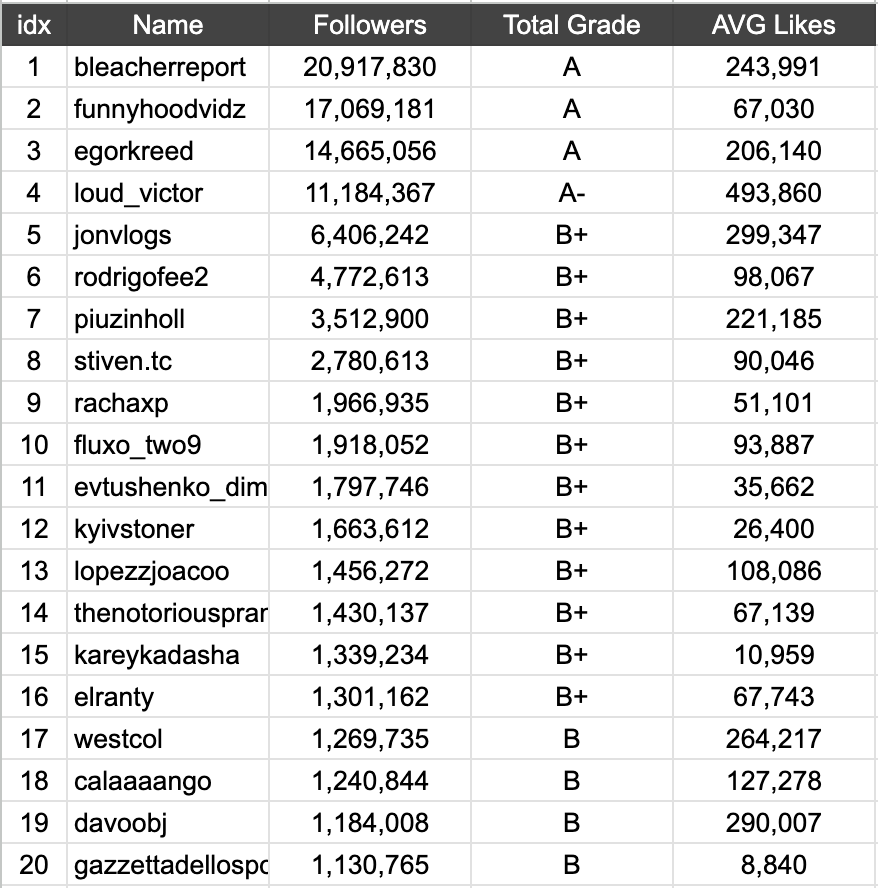 Twitch is a highly influential live streaming platform with a primary focus on video game live streaming. Launched in June 2011 by Justin Kan and Emmett Shear as a spin-off of the renowned streaming platform Justin.tv, Twitch has emerged as a powerhouse in the streaming industry. It has garnered immense popularity among gamers and the gaming community by delivering exceptional gaming content and enabling real-time viewer-streamer interaction through its chat feature.
Today, Twitch has evolved beyond gaming, expanding its horizons to encompass diverse genres such as music, art, and etc. Twitch also stands as the platform for broadcasting the captivating experience of casino games. This makes it an indispensable tool for effectively promoting iGaming-related businesses.
We present to you "Gambling/iGaming Twitch Marketing Inventory List 2023", a comprehensive compilation of 2,505 Twitch streamers. This invaluable resource serves as a catalyst for propelling your gambling content forward, leveraging the power of influencer marketing.
Here is a sample excerpt from our dataset as an illustration. Kindly bear in mind that the information provided was accurate at the time of data collection and article composition.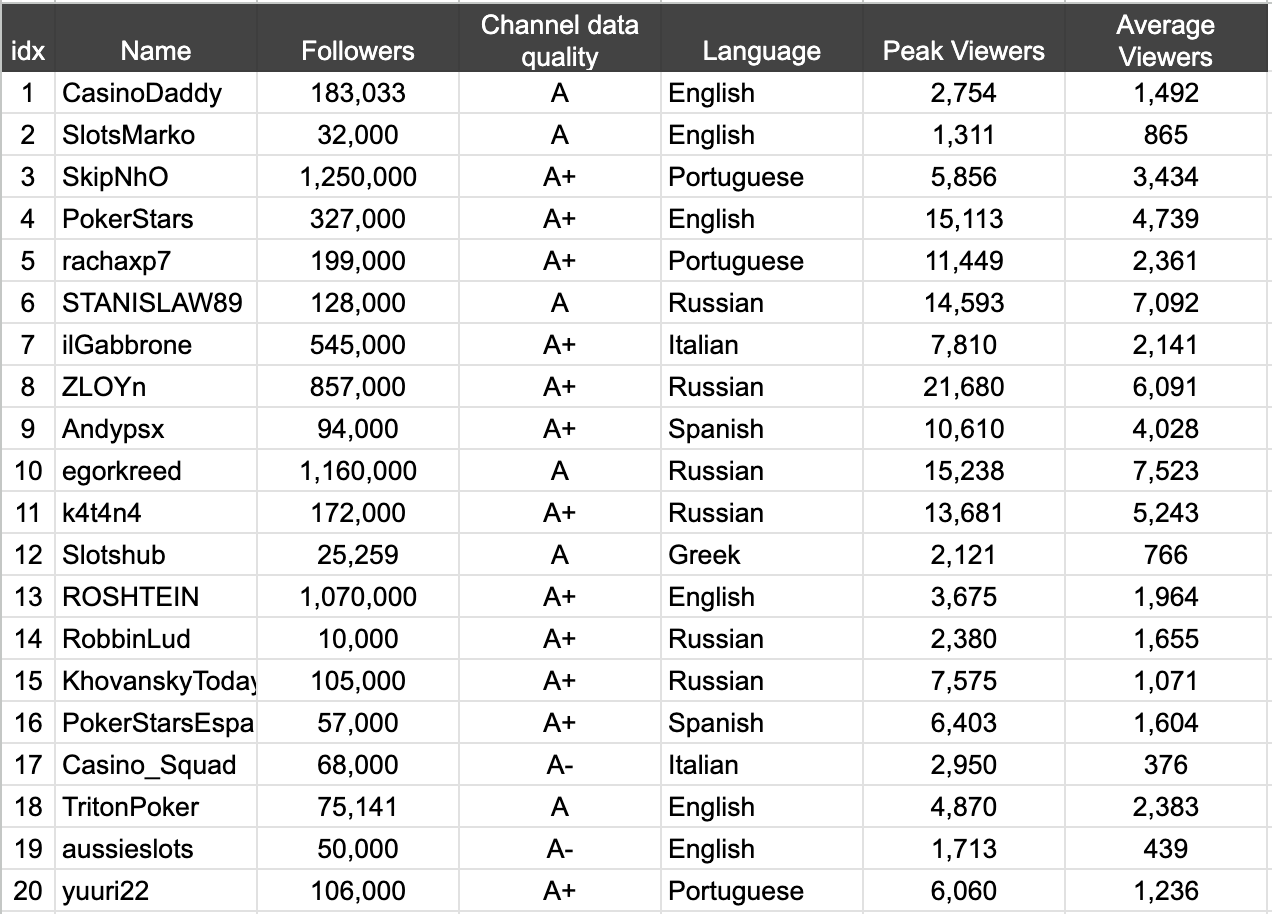 Using the reach and engagement potential of these 2,505 influential Twitch streamers who broadcast slots, poker and virtual casino games, etc., you gain access to the target audience, which allows you to increase brand awareness, customer engagement and, ultimately, achieve your marketing goals.
Twitter, the renowned microblogging platform, was founded in March 2006 by Jack Dorsey, Biz Stone, and Evan Williams. With its concise and real-time format, Twitter offers individuals and businesses alike a powerful platform to share ideas, connect with others, and stay informed.
While some restrictions are in place, there are still opportunities for gambling-related content on Twitter. Influencers continue to share content about gambling. This includes discussions on various aspects of the industry, highlighting new games, strategies, and the overall experience of gambling. Most prominently advertised on this platform are bookmakers, as it is associated with the fact that sports betting is a legal business in many countries, thus permitting advertising.
In the dynamic world of social media, our research "Gambling/iGaming Twitter Marketing Inventory List 2023" becomes a valuable asset. This resource comprises a curated list of 2,152 Twitter accounts, facilitating iGaming businesses navigation through the diverse landscape of content promotion. As the gambling industry evolves and grows, harnessing the power of influencer marketing on Twitter still remains significant.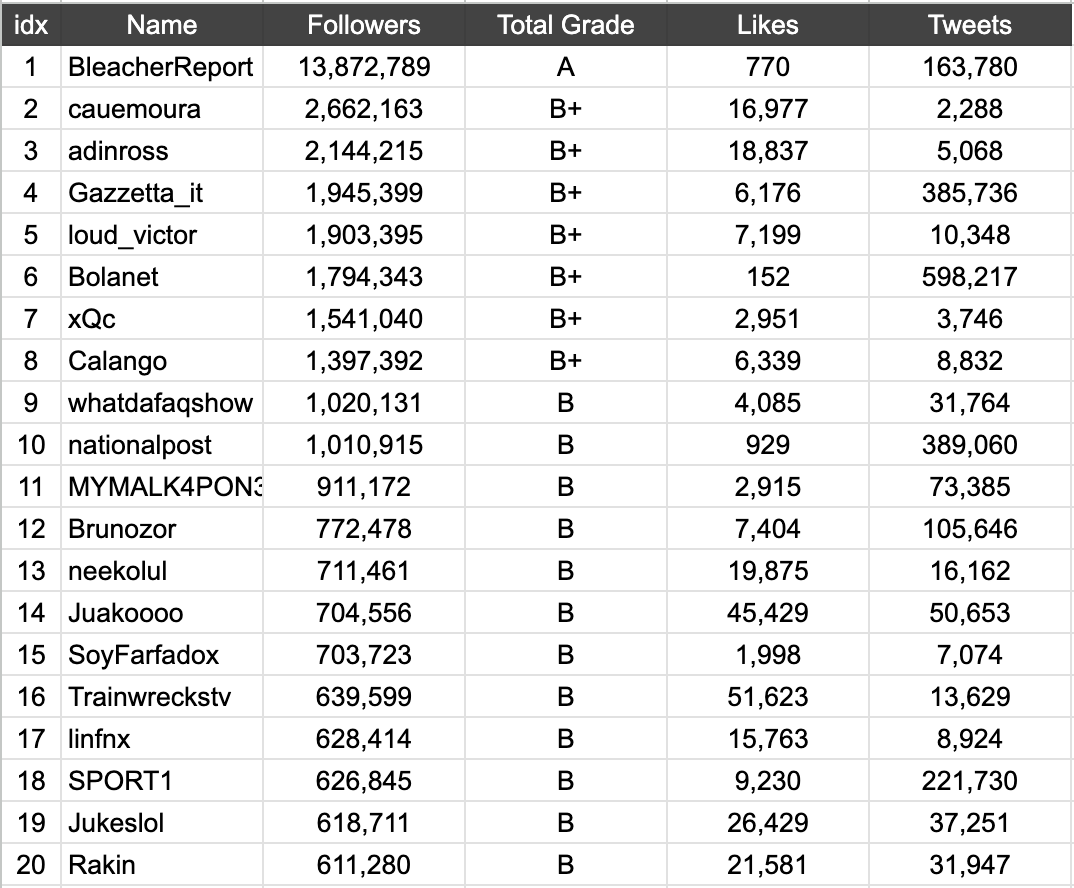 We have devoted a separate article to the description of the top 10 Twitter accounts for advertising gambling products. With its vast user base and real-time nature, Twitter presents endless possibilities for both individuals and businesses to engage and thrive in the digital world.
Facebook was created by Mark Zuckerberg and his college roommates in February 2004. Facebook allows users to create profiles, connect with friends, share updates, photos, and videos, and joint interest-based groups. The platform's popularity grew due to its widespread adoption, user-friendly interface and a lot of new opportunities. Here people can also live stream, advertise, conduct business, etc.
According to our research "Gambling/iGaming Facebook Marketing Inventory List 2023" there are 1,666 accounts ready to advertise content related to gambling. Of these, 1,097 groups and 569 personal accounts. Below are 20 accounts with limited information about them. These are the pages that can be easily found on the internet, but what about the rest? How long will you search for suitable accounts, and do you have the skills? That's why our team has prepared ready-made lists of influencers on the most popular social media, including Facebook.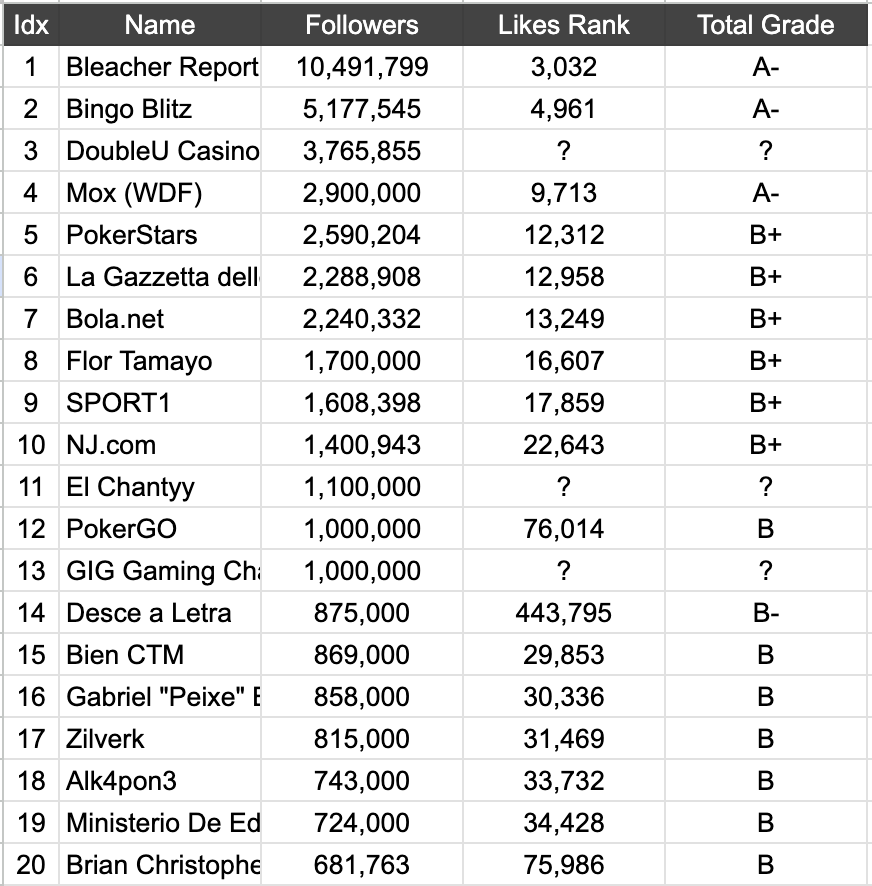 Advertising gambling on Facebook is quite challenging, even if you utilize influencer marketing. It's important to familiarize yourself with the platform's policies and meet all the requirements. Video games are subjected to fewer restrictions, so Facebook, along with our dataset, can be an excellent platform for game advertising.
TikTok, originally launched as Douyin in China in September 2016, was developed by Zhang Yiming's company, ByteDance. It is a short-form video platform where users can create and share 15 to 60-second videos set to music or sound bites. TikTok gained immense popularity due to its addictive, entertaining content, ease of use, and its ability to quickly go viral. The platform's algorithmic feed and the ability to easily collaborate with others contributed to its rapid growth.
We introduce to you the "Gambling/iGaming TikTok Marketing Inventory List 2023", a meticulously curated collection featuring 977 TikTok accounts with 167,134,294 followers. This statistic proves a high level of engagement and interest from the audience towards the format of this social network. On another video platform, YouTube, we have gathered the largest number of gambling-related accounts, while in terms of subscriber count, YouTube ranks fourth among the listed platforms.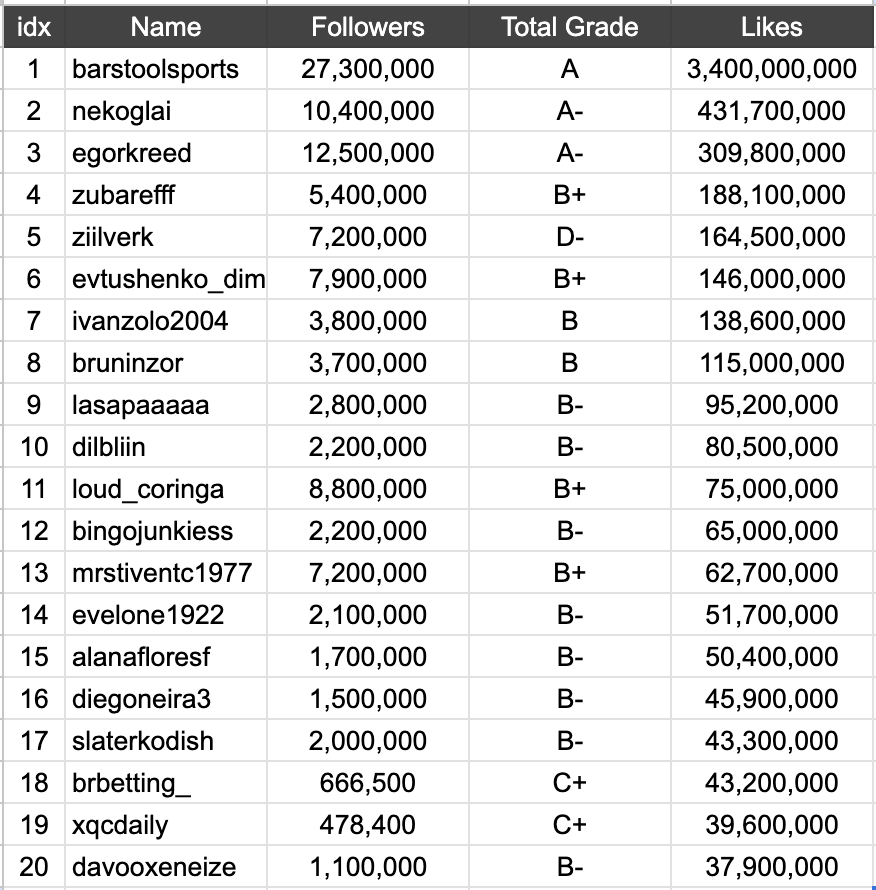 It was in TikTok that the first advertisements with logos appearing in videos emerged, and from there, this type of advertising transitioned to Reels on Instagram. Today, TikTok is one of the most influential social media platforms where effective advertising is possible, as there is a high likelihood of creating a viral video and receiving a significant response. However, it is crucial to approach advertising campaigns on TikTok with great care, as it has one of the most negative audiences, and it is easy to attract hate and backlash.
To avoid encountering haters, you can make use of our dataset, which includes accounts with a positively inclined audience towards gambling-related advertising. Above is just a partial list of such accounts.
Reddit, founded by Steve Huffman and Alexis Ohanian in June 2005, is a social news aggregation, web content rating, and discussion platform. It consists of various communities, known as "subreddits", where users can post content, engage in discussions, and vote on posts and comments. Reddit gained popularity due to its diverse range of communities, which cover almost every topic imaginable, from news and entertainment to hobbies and niche interests. The platform's democratic voting system and anonymity attracted a large and active user base.
Since Reddit is a highly popular social media in the United States, the majority of iGaming businesses continue to engage their audience here. One of the popular advertising campaigns is guerrilla marketing. As a marketer, you can prepare several related articles and comments to generate interest in the project. To make the strategy work, it's important to select the right subreddit, and we have a ready solution: "Gambling/iGaming Reddit Marketing Inventory List 2023". In this dataset, we have compiled all the communities dedicated to gambling, ranging from fantasy sports to sports betting.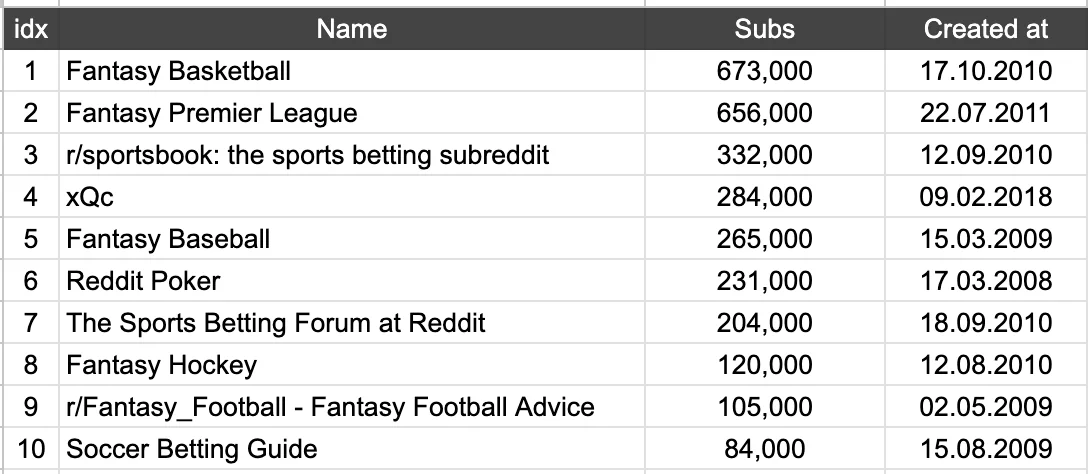 The demo version of the research is presented above, but the dataset also includes information about the best time for publications on subreddits.
Saving time and resource
Influencer marketing has become an integral part of promotion strategies in the modern world. It provides brands with the opportunity to effectively reach their audience, based on the trust and authority of influential individuals and communities. 750,884,322 people are interested in gambling and have a positive attitude towards its advertising. And we have gathered all 10,453 accounts in our research. There are several reasons why you should pay attention to ready-made lists. The most important one is time savings, as you don't know which accounts you'll need to find and how much time it will take for the search. Hence, the next advantage is resource savings. You will likely spend a lot of money on independent search, while there is a risk of making mistakes or missing data. By acquiring a ready resource, you receive a list of all influencers in a specific social network. Additionally, each account undergoes verification, which includes analyzing their popularity, audience, engagement, and relevance to the target audience. Thus, marketers gain access to influencers who have already proven their effectiveness and alignment with the specified criteria.