Our Experts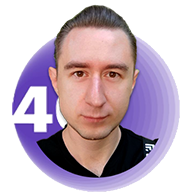 Evgeniy Groover
Expert
I get high from ingenious solutions in game design, I play all major games (PC/Playstation).
And not the main taste;
Interested in psychology;
Нealthy lifestyle;
Sports;
Learn English.
Working with a large amount of information; User behavior analysis.
Konstantin Shavruk
Expert
15+ years ofproject management experience in business and entertainment software development.Responsible for 20+ finished projects and released products.Working with remote teams and on-site teams up to 25 people.
More that 20 years in game journalistic. More than 100 published games reviews in different Russian medias.